In Remembrance Of Bessie, The Forgotten Car Of Doctor Who's Third Doctor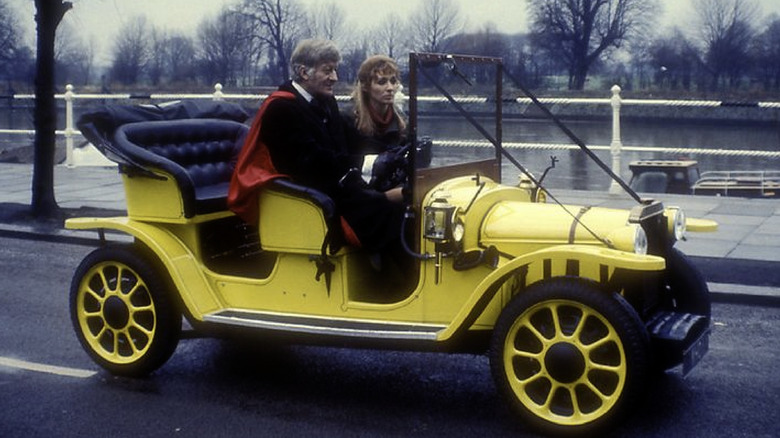 BBC
The expansive universe of BBC's "Doctor Who" predates even some of pop culture's most beloved sci-fi franchises, including "Star Trek" and "Star Wars." Since it first aired in 1963, the series has proved that its lasting relevance is fueled by its knack for reinvention. All thirteen eras of the show so far have had their own regenerated Doctors, quirks, and loveable supporting cast of companions, weaving a rich lore from decades upon decades of TV episodes, spin-offs, comics, and audio dramas.
In a series designed to be ever-changing, one constant is the Doctor's transportation method, a time- and space-traveling ship called the TARDIS, disguised as a British police box. But have you ever heard of Bessie, the third Doctor's bright yellow Edwardian roadster?
The Doctor modified Bessie with advanced technology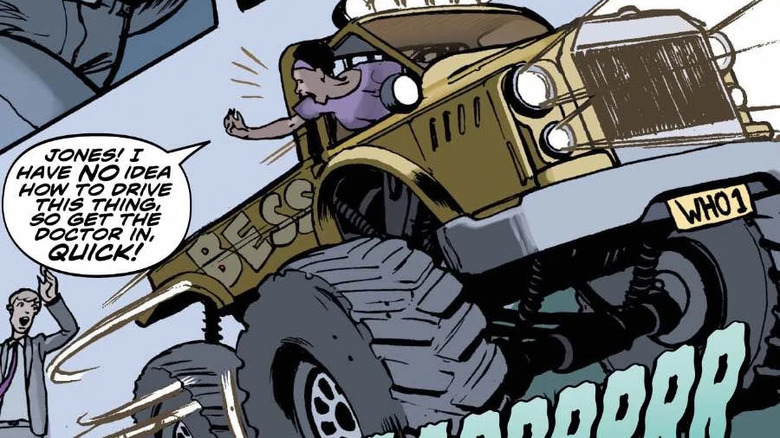 Titan Comics
In the 1970 story arc "Doctor Who and the Silurians," Jon Pertwee's Doctor is put on trial by the Time Lords and is punished by exile on Earth for as long as the Time Lords deemed proper. In his first days of exile, he commandeers the charming yellow car to get around. He'd grown so fond of the car that one of his specific demands when he joined the United Nations Intelligence Taskforce (UNIT) was that they allowed him a replica to modify with his own technology, with the license plate WHO-1. The replica was named Bessie, possibly after the First Doctor, William Hartnell's, Aunt Bessie, who passed away during the production of his run.
Bessie remained an important part of Three's toolset throughout the rest of his run. He equipped her with special features, such as an anti-theft force field that would trap and contain anyone trying to make off with her, a remote control, and a minimum inertia hyperdrive allowing the Doctor to drive at full speed and come to a complete stop without sending its riders flying through the window.
The yellow roadster's last physical appearance on the show would be the Fourth Doctor's very first story arc, "Robot" from 1974. But she would live on in smaller appearances such as short stories and comics. Her most recent appearance was in the third issue of Eleven's comic run, in which the Doctor takes Bessie out of the TARDIS storage and modifies her into a monster truck.
Bessie lives on beyond the series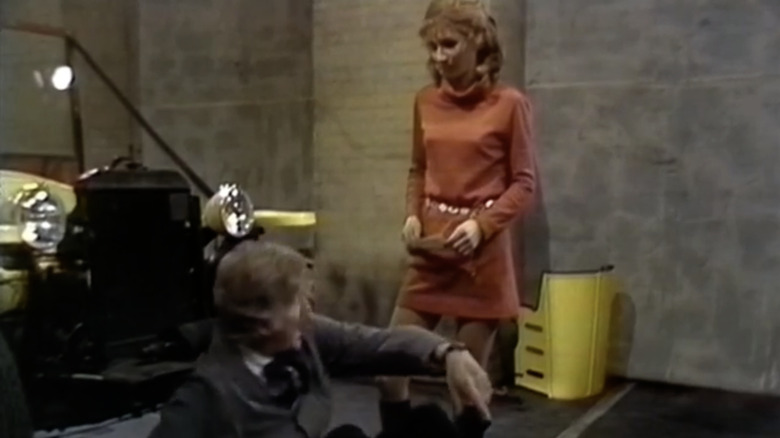 BBC
While her whereabouts in canon are unknown, in real life Bessie now has a home at the National Motor Museum in Beaulieu, England, for a road show based on famous cars in film and television. The car is actually not a vintage roadster, but instead a 1954 Ford with a modified Edwardian body, installed from a kit. To this day, she is fully functional and street legal, but her actual license plate is registered under "MTR-5."
One of the main lessons to take away from "Doctor Who" as a whole is learning when to say goodbye. Eventually, every companion traveling with the Doctor must return to their normal life somehow. Every lovable actor portraying the Doctor must come and go as the story continues to reinvent itself for the next generation. Departure is something deeply ingrained in the show's formula, and yet it's always easier said than done. Here's hoping we get a proper sendoff to Bessie in the future, either in Jodie Whittaker's final season as Thirteen or the fresh new beginnings of Ncuti Gatwa's debut as Fourteen.