Doctor Who Centenary Special Trailer Teases Jodie Whittaker's Final Episode, Return Of Classic Companions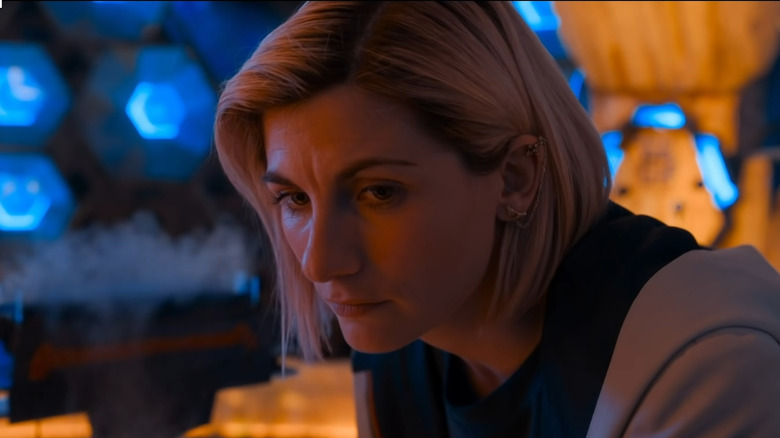 BBC
The Doctor is in ... for one last time.
Whovians have been preparing themselves for the end of Jodie Whittaker's final appearance as Thirteen for some time now, ever since "Doctor Who: Flux" brought the previous season to a pretty unsatisfying end in December of 2021. Luckily, fans have been able to look forward to three separate specials in the time since: this year's New Year's Day special back in January, the recently-aired "Doctor Who: Legend of the Sea Devils" on Easter Sunday, and the grand finale that will bring Whittaker's run as the character to a close later this fall.
But for those feeling rather wistful as the Doctor is due for yet another regeneration, the BBC has released a brand-new (if brief) look at the "Final Adventure" for our Thirteenth Doctor. Thrillingly and fittingly enough, it seems as if the creative team will be pulling out all the stops to make this one last go-around as memorable as possible. The footage teases plenty of dire stakes for Thirteen and no shortage of threats against her very existence, but she won't be facing these foes alone. The latest trailer comes with the reveal of a couple of very familiar — if somewhat unexpected — faces who'll no doubt make fans even more excited for what's to come. Check out the footage below!
Watch the Doctor Who trailer for Whittaker's final episode
"Nothing is forever..."
Longtime viewers of "Doctor Who" know just how true those words ring, though this third and last special of 2022 certainly appears set to bring things full circle in a big way. Sandwiched in between a few quick looks at Thirteen and Mandip Gill's companion Yaz (whom the creative team have promised to further explore her romance with Thirteen as "delicately" as possible), the new trailer released yesterday after the spring special aired also held a few shocking surprises, as well. In a reveal that's sure to send fans into a tizzy, we now know that classic "Doctor Who" companions Ace and Tegan, portrayed by Sophie Aldred and Janet Fielding respectively long before the 2005 relaunch of the series, are set to reprise their original roles for this last remaining special.
Many likely expected the return of Daleks and the Cybermen, but Ace and Tegan? Invested fans will need no reintroduction, but Tegan starred on "Doctor Who" in the early 1980s, serving as the companion to the Fourth (portrayed by Tom Baker) and Fifth (Peter Davison) Doctors. She has received brief namedrops and other various teases over the years, but this will be her first major appearance in the long-running series in several decades. The ever-popular Ace, meanwhile, appeared in 31 episodes from 1987 to 1989 and quickly became a fan-favorite companion of Sylvester McCoy's Seventh Doctor. We still don't have any inkling of who will replace Whittaker for the upcoming Fourteenth iteration of the good Doctor, but the return of two classic companions will make this year's Centenary feel even more, well, special.
Jodie Whittaker's final voyage in the TARDIS is set to premiere on the BBC later this fall.