The Daily Stream: Glow Up Is A Creative Makeup Competition That's Pure Joy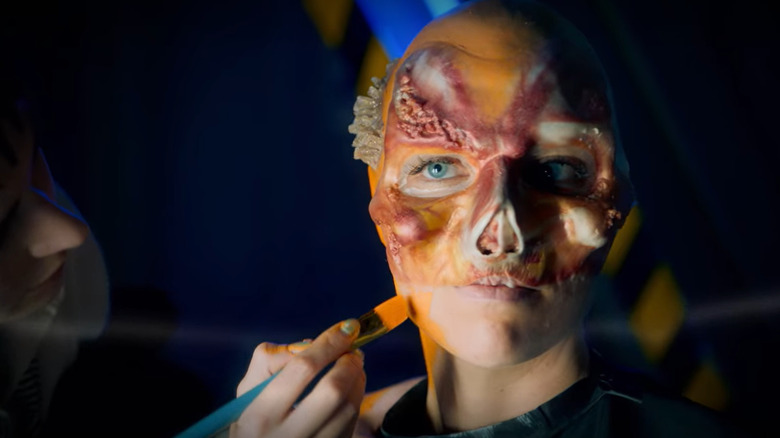 Netflix
(Welcome to The Daily Stream, an ongoing series in which the /Film team shares what they've been watching, why it's worth checking out, and where you can stream it.)
The series: "Glow Up: Britain's Next Makeup Star"
Where you can stream it: Netflix

The pitch: Ten rising makeup artists from around Great Britain compete in weekly challenges to determine who will be "Britain's Next Makeup Star." The winner is given opportunities to work with industry professionals that might be unobtainable otherwise, and they learn a lot about their craft along the way. The makeup artists in competition range from beauty DIYers who share their skills on TikTok to university students in school for special effects and creature design, so there are all kinds of makeup on display. It's a wildly creative show with fun challenges, great industry guest judges, and a friendly competitive vibe that's pure feel-good television. Unlike so many competition shows, "Glow Up" is full of positivity and focuses on the competitors building friendships, making it something like the makeup version of "The Great British Bake Off" instead of just another show where chaotic creatives get into catfights. 
Why it's essential viewing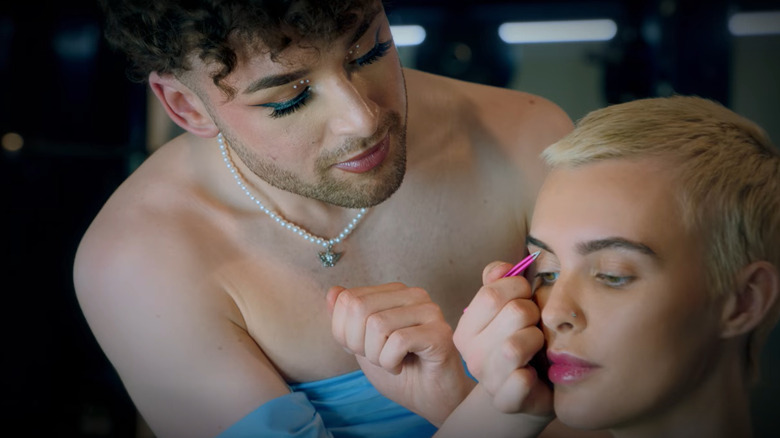 Netflix
Competition reality shows can be brutal. Not only do people get sent home each week, but they also face drama on top of crushing disappointment. The success of shows like "America's Next Top Model" inspired many producers to embrace chaos, manufacturing problems even when there aren't any in order to drive viewer engagement. Unfortunately, even shows like the special-effects makeup challenge "Face Off" became prone to melodrama and a focus on the contestants struggling or having meltdowns instead of the genius behind the art. 
"Glow Up" seems to want to focus instead on the incredible makeup artistry on display, along with the stories of the people who have decided to compete. There's an incredible amount of diversity and people's unique perspectives are prized. Just in season 4, there are two non-binary contestants, a few gay and bi contestants, and two contestants who are African immigrants. All of them discuss their experiences as marginalized people in the world, and how that has impacted their work, but it never feels ham-fisted or preachy. Instead, the series is just shining a spotlight on some talented, incredible people who have faced some additional challenges on their way to success. 
By highlighting positivity and empathy instead of harsh competition, it's easy to become attached to the competitors. Viewers really get to know each of them and their skills, hopes, and dreams, so when someone is sent home or manages to eke by for another week, it matters.  
Art on a living canvas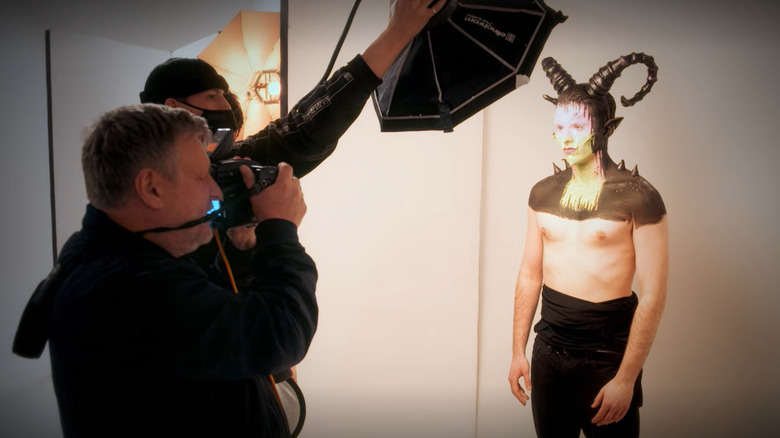 Netflix
On top of being progressive, warm, and uplifting, "Glow Up" also features the work of some truly talented artists. In the most recent season, several of the artists use prosthetics in many of their designs, stepping up the game from two-dimensional skin painting to something even more evocative. Each of the designs has some kind of story behind it, and learning of the inspirations behind each piece is part of the fun. The dedication to highlighting creativity makes the series feel extremely inspirational, and artists who watch are likely to want to pick up their pencils and brushes after watching a few episodes. 
There have been two hosts for "Glow Up." Journalist Stacey Dooley was host for the first two seasons, then television presenter Maya Jama took over as host for seasons 3 and 4. The series' two official judges are Dominic Skinner (Senior Global Artist at MAC Cosmetics) and Val Garland (make-up artist to the stars and L'Oréal Paris Global makeup director), and their banter is fun and fluffy without ever feeling canned or corny. They have a different industry guest judge each week and manage to get major players from all over the makeup world to come offer their help, instruction, and eventually, judgment. 
If you want to watch a series that feels like a warm hug with a nice sprinkle of creative inspiration on top, then check out "Glow Up: Britain's Next Makeup Star" on Netflix.