The Elephant Man's Makeup Went Through A Disastrous First Draft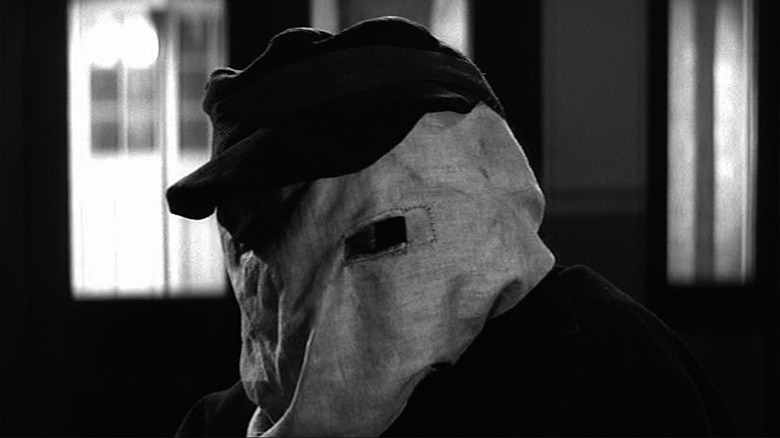 Paramount Pictures
In the late 1970s, David Lynch's debut film, "Eraserhead," captured the morbid imaginations of curious audiences — including beloved comedian Mel Brooks, who was blown away by Lynch's approach to storytelling. Brooks and producer Jonathan Sanger approached Lynch with the offer to direct "The Elephant Man," a biographical prestige film about the real-life circus performer Joseph Merrick. Lynch accepted, and since Brooks had full confidence in Lynch and his vision, he deliberately removed his name from the film and branded it a Brooksfilms release to avoid any comedic association.
While we might think of Lynch as a master today, there were still plenty of growing pains he and his producers had to face as he transitioned into his first major studio film. As a perfectionist, his ego was majorly bruised working on this set. His general inexperience wasn't able to support the weight of his ambitions, as represented by a disastrous makeup incident that Lynch genuinely feared would get him fired from the production.
Lynch's prototype prosthetics gave him nightmares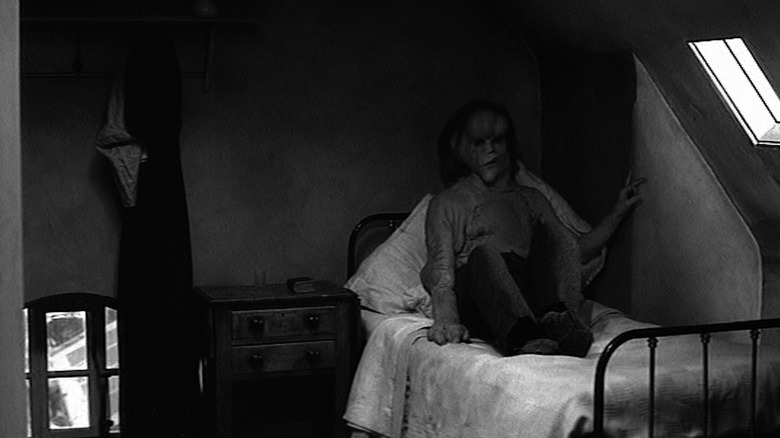 Paramount Pictures
As the movie headed into production, early concepts for "The Elephant Man" needed to be changed. At one point, Dustin Hoffman was attached to star as Merrick, which met with large objection from Sanger because of Hoffman's popularity at the time. Lynch also proposed for "Eraserhead" lead Jack Nance to play the role, but after seeing John Hurt perform in "The Naked Civil Servant," Lynch found his Merrick. Hurt's work in "The Elephant Man" became one of the most celebrated performances of his career, so it is humbling to find out he wasn't always seen as the obvious choice. 
Another initial plan was for Lynch himself to fully do the makeup and prosthetic work to transform Hurt into Merrick. In 1979, Lynch spent time in London and created a prototype mask that was designed to fit over Hurt's torso, but the material was deeply uncomfortable and made it impossible for Hurt to move, let alone perform. While Hurt called it "a valiant effort," Sanger described it as a "devastating" moment for Lynch, and the failure would continue to haunt him even as they brought in makeup and prosthetic designer Christopher Tucker to rectify Lynch's attempt.
In an interview for "The Elephant Man," Lynch opened up about his makeup malfunction and shared that for the next four days, he had nightmares thinking about it:
"I was having nightmares about this, and when I woke up, so-called 'real life' was so much worse that I wish I could go back into the nightmare. Mel [Brooks] came over, and I was sure that he was going to let me go. Before he came over, Jonathan Sanger made a deal with Chris Tucker to do the makeup. All Mel said was 'David, you shouldn't have even worried about that. You should be thinking about directing...' Once again, Mel was golden."
Hurt hated the process of becoming Merrick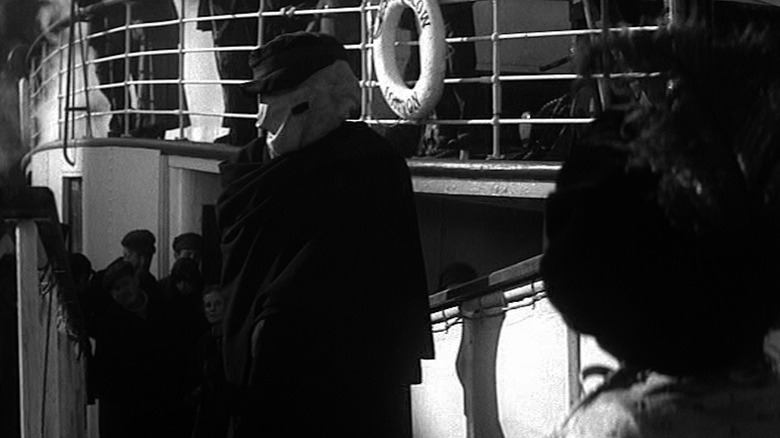 Paramount Pictures
As they continued production, the Royal London Hospital museum surprisingly granted Tucker access to an extremely fragile plaster cast of the real-life Merrick, which he used as the basis for a new mold. Sanger remarked that the cast had "actual hairs in the plaster that were from Joseph Merrick." Though it was more flexible than Lynch's initial prototype, the process of putting the prosthetics on and off was still an arduous task, taking up to eight hours to transform Hurt into Merrick and up to two hours to remove it all.
Despite Lynch's anxieties, "The Elephant Man" was a success, and would later be nominated for eight Academy Awards and win three BAFTA awards, including Best Picture. It was an oddball matchup of talent that blossomed into a creatively invigorating project, one that spared a tremendous amount of empathy for a deeply misunderstood subject. As a film that finds something so deeply human in the midst of dread, it fits very comfortably in Lynch's idiosyncratic filmography. It is also deeply comforting to know that even one of cinema's most beloved auteurs can still fail and be completely unsure of himself sometimes.