Empire Of Light Trailer: Sam Mendes Returns With A Movie About The Movies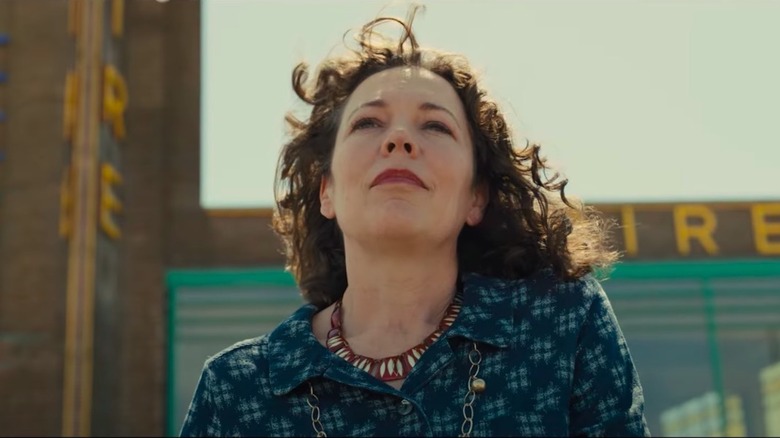 Searchlight Pictures
It's practically a rite of passage in this business: A widely acclaimed prestige filmmaker, after decades of success in developing award-winning hits and attracting the most talented collaborators to his productions, finally dispenses with all subtlety and makes a movie that's all about the magic of movies and may or may not be based on his own life experiences. How can any lover of film not feel romantic about that?
The latest director to get in on this time-honored trend is none other than Sam Mendes, the man behind classics like "American Beauty," the brilliant "Road to Perdition," and arguably one of the best "James Bond" films ever in "Skyfall." Three years after turning the technically ambitious war film "1917" into an Oscars darling, Mendes is reteaming with some of the best and brightest in the entire industry for "Empire of Light." If the idea of a sweeping 1980s romance about the power of cinema that stars Olivia Colman doesn't light your world on fire — and why wouldn't it! — perhaps the novelty of seeing Mendes reunite with cinematographer legend Roger Deakins and joined by brilliant composers Trent Reznor and Atticus Ross might do the trick?
Luckily for us all, you don't have to take my word for it. Earlier today, Searchlight Pictures dropped a new trailer for the upcoming film. Check it out below!
Watch the Empire of Light trailer
I don't know about you, but when an actor with as much gravitas as Toby Jones starts monologuing about the beauty of motion pictures and how 24 frames per second tricks the optic nerve into seeing motion and not the darkness between the otherwise static frames, I sit up straight and listen. Our first extended look at Sam Mendes' aptly-named "Empire of Light" pulls out all the stops to burrow its way into the hearts of anyone who'd be an easy mark (present company most definitely included) for a movie about just how influential, vital, and romantic movies can be.
With Mendes directing, writing, and producing, "Empire of Light" is set to bring together an absolute murderer's row of talent. As if Roger Deakins' involvement alone wasn't enough, composers Trent Reznor and Atticus Ross ("The Social Network," "The Girl with the Dragon Tattoo," HBO's "Watchmen") are also bringing their musical talents to the fore. The buzzy film stars Olivia Colman (fresh off her fantastic performance in "The Lost Daughter"), Micheal Ward ("Small Axe"), Tom Brooke ("The Crown"), Tanya Moodie ("The Man Who Fell to Earth"), Hannah Onslow ("This Is Going to Hurt"), Crystal Clarke ("The King's Daughter"), Toby Jones ("Tinker Tailor Soldier Spy"), and Colin Firth ("The King's Speech").
"Empire of Light" is set for a prime awards campaign with a theatrical release in December of this year.
Set in an English seaside town in the early 1980s, EMPIRE OF LIGHT is a powerful and poignant story about human connection and the magic of cinema, from Academy Award®-winning director Sam Mendes.