How An Unassuming Scene In All About Eve Became A Source Of Controversy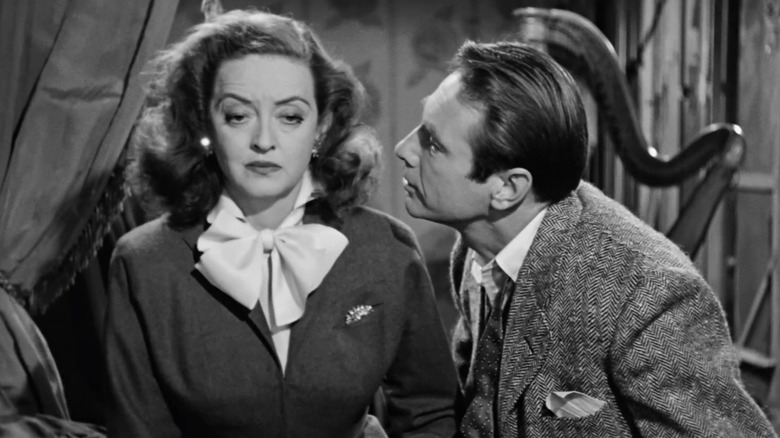 20th Century Fox
In the opening scene of "All About Eve," as theater critic Addison DeWitt (George Sanders) gives his voice-over at an awards dinner, more than one character sits smoking. Broadway star Margo Channing (Bette Davis) joins DeWitt in lighting up a cigarette indoors, and it's not the last time we'll see her doing that in the movie, as she deals with the machinations of another careerist actor named Eve Harrington (Anne Baxter).
With recognition in 14 categories, "All About Eve" became the most Oscar-nominated film of all time, a record that only two films, "Titanic" and "La La Land," have been able to tie since 1950. However, as detailed in the Sam Staggs book, "All About Eve: The Complete Behind-the-Scenes Story of the Bitchiest Film Ever Made," one scene where Margo smokes in bed caught the attention of a concerned viewer. J.R. Moser, a member of the Evansville, Indiana Fire Prevention Committee, was so disturbed by the scene that he wrote a letter to the National Fire Protection Association, saying the scene "encourages smoking in bed, as the public are quick to act on what they see done."
At the time of the book's publication, the Academy of Motion Picture Arts and Sciences still had the letter preserved, in which Moser further expressed, "I believe it is time we asked the cooperation of studios to not show actors smoking in bed." This prompted NFPA member Melvin Freeman to write to the Motion Picture Association of America, asking, "Isn't there something we can do to see that producers eliminate such sequences in films?"
Joseph Breen, a film censor for the MPAA, eventually quashed the controversy, writing that the association had "no authority, under the provisions of the Production Code, to withhold our approval of a picture" because of a smoking-in-bed scene.
Modern developments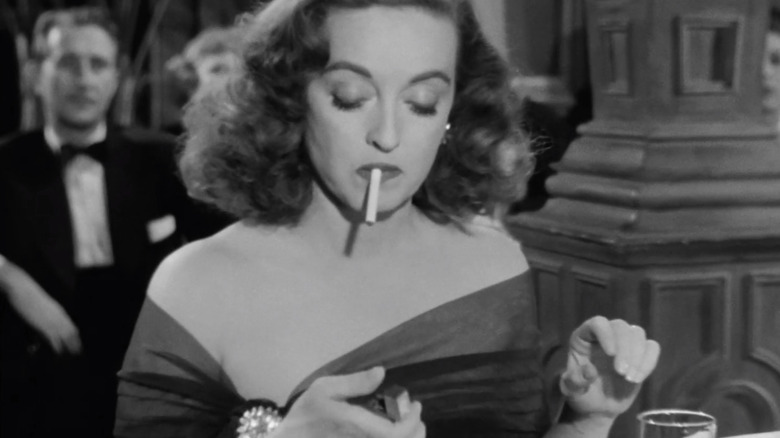 20th Century Fox
Joseph Breen wrote that the elimination of smoking scenes had to be "done voluntarily and willingly by the studio making the picture." This put the onus on studios to be responsible about how they were depicting smoking, and to this day, it's not uncommon for movies to carry a disclaimer in the closing credits: "No person or entity associated with this film received payment or anything of value, or entered into any agreement, in connection with the depiction of tobacco products."
Actors in modern movies often use nonaddictive, tobacco-free herbal cigarettes for smoking scenes, and for her part, Bette Davis seemed to regard the cigarette as a useful prop that gave her something to do with her hands and could help build characterization. She later said:
"I discovered that for a performance a cigarette is a marvelous prop — sometimes for emphasis, sometimes for anger. For so many things. What emotions you can convey merely by putting one out! If I played a character who smoked, I didn't just take a puff or two in one scene only. I smoked all through the film, as any serious smoker would."
While the "All About Eve" smoking controversy might seem like a tempest in a teacup — or ashtray — it wouldn't be the last time in Hollywood history that such controversy arose. A 2019 Surgeon General's report (via the Centers for Disease Control) concluded that "exposure to onscreen smoking in movies causes young people to start smoking" and recommended "giving an R rating to future movies with smoking." CNN reported the same year that onscreen smoking in PG-13 films had doubled since 2010, and for anyone who's ever lost a loved one to lung cancer, it's understandable why they might not be thrilled to see smoking romanticized under glamorous key lighting on film.