How All About Eve Revived The Career Of A Hollywood Legend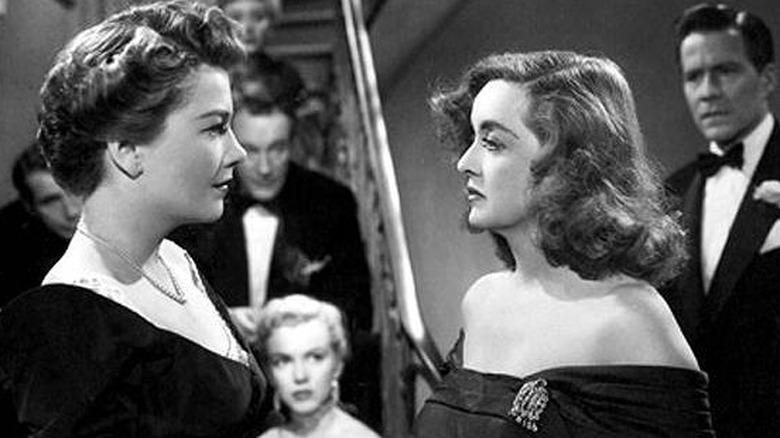 20th Century Studios
While many movies have used the setting of show business as a backdrop for larger stories about greed or ambition, few have done it with the venom of "All About Eve." Joseph L. Mankiewicz' 1950 film about the cruel and unforgiving world of the theater tells the story of two women at odds with one another: one older, an established and beloved actress, the other younger, hungry for more and prepared to do whatever she can to get it. Despite the movie being a classic backstage melodrama, with backstabbing and massive egos, there's a certain pathos to its story of an older actress that related to the woman playing the lead role. Themes of tension between the old and the young, and the price of stardom, even affected young Marilyn Monroe on set.
As Margo (Bette Davis) smokes a cigarette, legendarily expressive eyes cast downward, she barely pays any mind to the coronation of Eve (Anne Baxter) at a banquet at the movie's outset. Flashbacks will show how they got to this point in detail, but we can already sense the distrust, and how the two women got to this point. It may have been easy to think of "All About Eve" as the story of a woman holding jealously to stardom long past the point of it being realistic. In a way, Davis' career history, full as anybody's with ups and downs, might have even helped that impression.
Davis had a history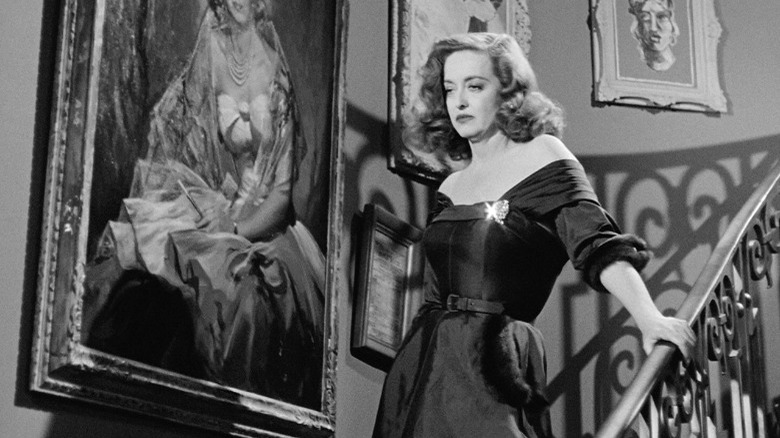 20th Century Studios
As many of classic Hollywood's stars (born in the early 1900s) moved into middle age, many of the women ended up thrown to the side. Bette Davis was no exception. As a star who'd already developed a reputation for combativeness with the higher ups, she also had a reputation for quality — more than one person who saw her in the many Warner Bros. movies she made over the '30's would note that she was the best part. A key component of her screen persona came from the roles she liked to take, whether her vicious role as Mildred in "Of Human Bondage" or the Oscar-winning part she played in "Dangerous," as an actress fallen on hard times.
In her work with the great William Wyler, especially "Jezebel" and "The Little Foxes," Davis embraced the role of the villain. Her distinctive eyes and command of the screen gave you a full view of her characters, controlled by passion and a sense of self-sabotage. Whatever the nature of the role, whether she was playing young, old, demure, promiscuous, she would almost rebuild the movie around her performance, and she was unafraid of being unsympathetic.
She was unafraid of being unsympathetic in her professional life as well, leaving a trail of "difficult" stories around high-profile collaborators like Wyler or producer Jack Warner. When she prematurely broke off her contract with Warner Bros. after the failure of 1949's "Beyond the Forest," her career looked finished.
Casting delays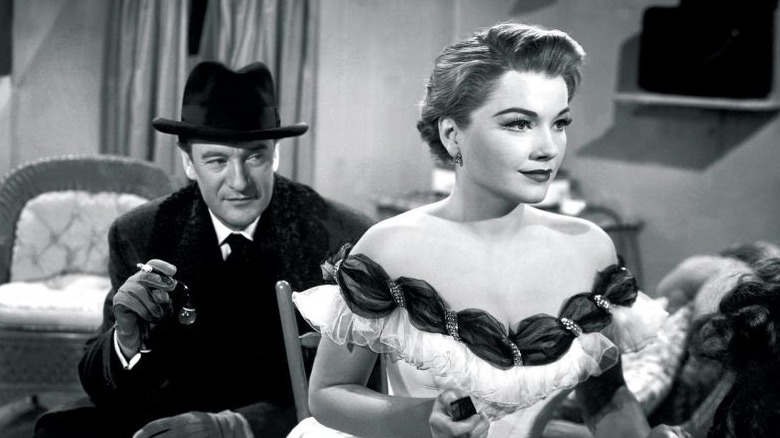 20th Century Studios
Mankiewicz was already developing a story about an aging actress when he read Mary Orr's short story "The Wisdom of Eve." In that story, he found the elements he would need for a film treatment, one that would play the movie as a conflict of egos. Developing a wonderful adapted screenplay with producer Darryl F. Zanuck, the two went back and forth about actresses they would want for Margo. The casting of Margo demanded perfection and delicacy, a coup on the level of getting Gloria Swanson to perform in that year's  thematically similar "Sunset Boulevard." 
After running down the line from any available actress who'd been in the business long enough, the two settled on Claudette Colbert. Colbert's comedic sensibilities and soft features hid her fastidiousness around her image, with one apocryphal story stating that after 1939's "Drums Along the Mohawk" she never wanted to be photographed in Technicolor again. While filming a movie called "Three Came Home," she received a back injury that immediately took her out of the running, with just weeks to go before the filming of "All About Eve" would begin.
All about Margo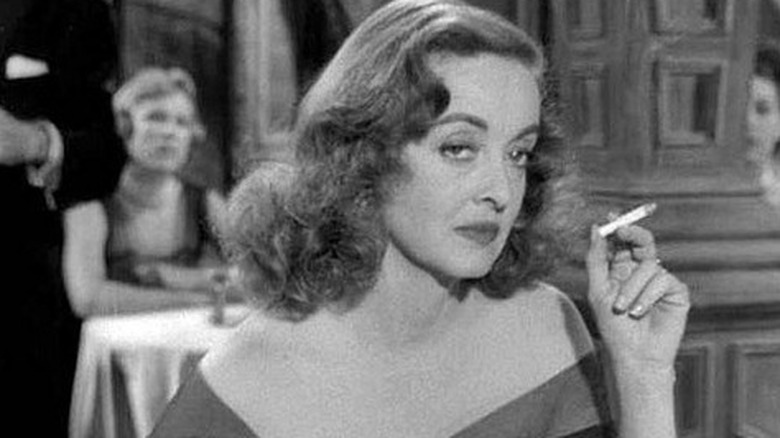 20th Century Studios
With her career irretrievably damaged by a string of flops at that point, Davis was surprised to hear Zanuck on the line about a role, not even trusting that it was the famed producer. But she listened as he told her about Colbert's injuries, the production's predicament, and how the script could be good for her. By the time she read the script, she didn't even care that she only had 10 days before production was set to begin. She knew she wanted the part.
Colbert's injury and Zanuck's fateful reaching out led to the creation of a classic movie that came to define Bette Davis' screen image like few others. The image of the older, resentful women Davis had relished playing as a twenty-something had finally caught up with her, making Margo uniquely sympathetic no matter how acerbic her dialogue. Margo's reversal of fortune, bearing witness to the manipulations of a younger woman, moves from juicy, snippy melodrama to tragedy, giving the audience some of Davis' greatest work. The richness of the casting even led to multiple Oscar nominations for Lead Actress.
While she ended up having a difficult decade, Davis lucked out in getting the chance to play Margo, all by chance. "All About Eve" not only gave her the financial and critical comeback she needed, it set the stage for the latter half of her career, giving her the necessary tools to age gracefully onscreen and to dominate whatever stage she could, whether it was movies, TV, or the same Broadway world skewered in this, one of her most rightfully famous movies.