How Sarah Chalke Almost Missed Her Chance At Scrubs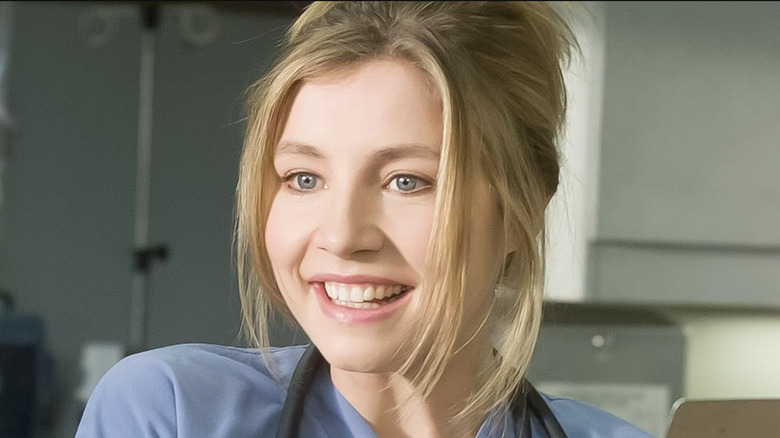 NBC
Lasting nine seasons and a staggering 182 episodes, the medical comedy series "Scrubs" is cited as one of the best television comedies in history. Created by Bill Lawrence ("Spin City," "Cougar Town," "Ted Lasso") and starring Zach Braff, Donald Faison, Sarah Chalke, Judy Reyes, John C. McGinley, Ken Jenkins, and Neil Flynn, "Scrubs" centered on the lives of the medical professionals and patients of Sacred Heart Hospital, effortlessly balancing the tone of a workplace comedy with the heart of a serious medical drama.
The narrator and protagonist of the series was Braff's John Michael "J.D." Dorian, who arrives as an intern and leaves as a doctor. Throughout the series, J.D. has an on-again, off-again relationship with Sarah Chalke's endocrinology expert Elliot Reid, a character Lawrence completely rewrote to better suit Chalke's personality. "Pilot Elliot," as she's often called by fans, is ruthless and curt, a far cry from the lovable mess she'd become over the course of the series.
The role helped solidify Chalke as a tour de force comedic actress, and it's a role she almost missed out on. "I was 24 when I got it, so I spent my entire 20s in this creepy, abandoned hospital out in the Valley where we shot it, and it was a dream, and I almost screwed it up," Chalke said during an interview with The Ringer. 
As it turns out, Chalke narrowly avoided missing the role of a lifetime in favor of attending a concert for a band she can't even remember seeing.
Ah, the arrogance of youth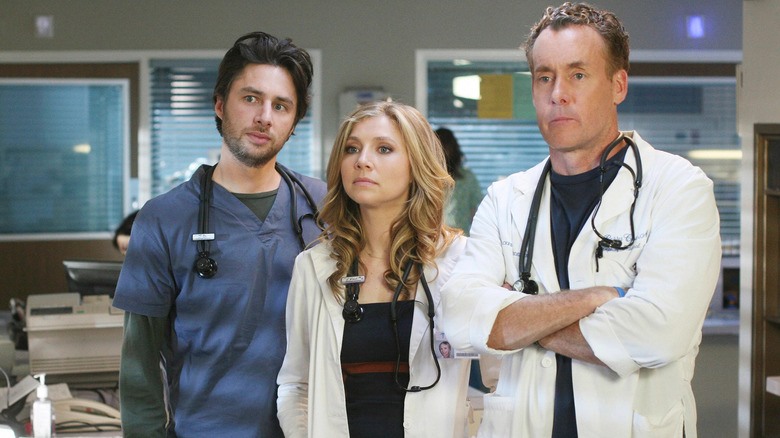 NBC
Chalke told The Ringer that she had just moved to Los Angeles a few months prior with a friend and that they'd spent all of their time focusing on work. Realizing they needed to take a break and actually enjoy themselves, the two made plans to attend a concert, even though Chalke had two interviews the following day. Chalke said that she's super "Type A" and often buried herself in a script from the moment it arrived until the audition, but that she decided to forego her usual practice in order to attend the concert. She and her friend got home sometime around midnight when Chalke finally decided to open the audition package (this is before emailing audition sides) and realized she might have made a grave mistake. "It was a tiny little venue with a tiny indie band ... I honestly don't even remember which one it was," she said.
"I open my package and I'm reading through and I'm like, 'Oh s*** this is so good, oh my god, this is so good, this is like the best thing I've ever read and I really wanna be in it,'" Chalke said. "So I didn't even open the other package, and just focused on 'Scrubs.'" Chalke stayed up late to focus on her audition, which was scheduled for 9:00 a.m. that morning. She got a little sleep, went to the audition, and landed the role that would change her life.