The Daily Stream: The Beatles: Get Back Is An Expansive Docuseries That Brings The Biggest Band In History Down To Earth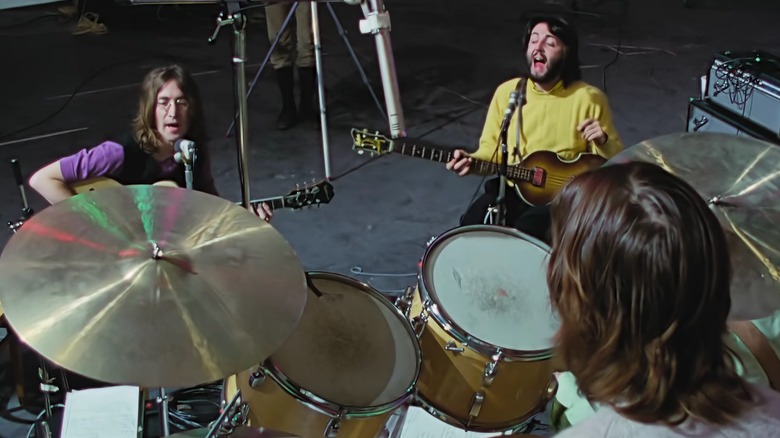 Disney+
(Welcome to The Daily Stream, an ongoing series in which the /Film team shares what they've been watching, why it's worth checking out, and where you can stream it.)
The Series: "The Beatles: Get Back"
Where You Can Stream It: Disney+
The Pitch: On a very basic level, "Get Back" is a vivid, verite-style, three-part docuseries of recovered and revitalized archival footage that documents the making of The Beatles' final album, "Let It Be." It begins with the band's first day in the studio, and ends a few weeks later, with what they didn't realize at the time would be their final live performance together. This is the gist of "Get Back," but it's not what it's really about.
With a nearly eight-hour runtime that's devoted almost entirely to the day-in and day-out moments of studio life, it's a portrait of creative collaboration in all its intriguing, frustrating, cool, stressful, strange, and ultimately cathartic glory. The fact that it's about a creative collaboration within the biggest band on Earth, and that it takes place at the tail end of their fraught working relationship, is at once awe-inspiring and also not particularly the point. 
There's as much to glean from what's not shown in "Get Back" as there is from what we do see: Lessons about the ways we love, and take each other for granted, and how the two often go more hand-in-hand than we'd like to believe. There are also countless lessons about creativity buried in the hangout doc's myriad behind-the-scenes moments. "Get Back" is a documentary triumph that will appeal even to the most Beatles-ambivalent viewers, as it ties together ideas about life, music, love, and creation in a way that is, like a riff replayed a dozen times, impossible to get out of one's head.
Why it's essential viewing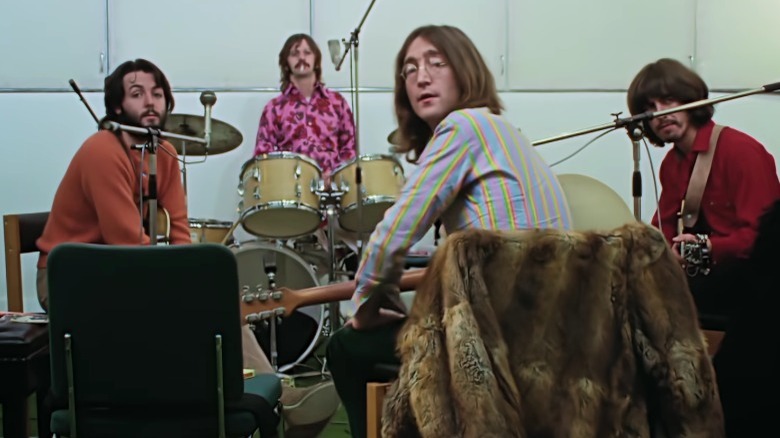 Disney+
Past documentaries about The Beatles have created countless monuments to the artistic stylings and distinct personalities of John Lennon, Paul McCartney, George Harrison, and Ringo Starr. But director Peter Jackson's expansive, intimate restructuring of this archival footage isn't a monument so much as the block of marble that contains the uncarved sculpture, waiting to be excavated through each individual's gaze. Jackson and editor Jabez Olssen carve out countless beautiful and challenging moments from the footage Michael Lindsay-Hogg captured in 1969, but it's up to audiences to take what we want from the nearly eight-hour undertaking that is "Get Back."
There is, without a doubt, a lot to take from "Get Back." It's less a documentary that's meant to be watched, and more one that's meant to be lived in. After my first viewing, I found myself putting it on in the background while I worked for weeks afterwards, noticing different elements each time. There are of course, the headline-grabbing moments, like when Harrison briefly quits the band, or when McCartney snatches the rudimentary music and lyrics for the song "Get Back" seemingly out of thin air.
But there are also the quieter revelations. There's Yoko Ono sitting quietly on an amp, not causing any drama at all except, possibly, through the sheer disruption of her presence between the nearly-telepathically close Lennon and McCartney. There's Starr gamely playing with young Heather McCartney, and McCartney doing a dramatic reading of a gossip column about the band, and Lennon doing countless chirpy, goofy voices, and Harrison getting zapped by a faulty microphone. There are a million little pieces here that take the over-inflated myth of The Beatles and tether it back to Earth, revealing them to be something as simple and unpretentious as friends.
An endlessly watchable inside look
And then there's the music. "Get Back" has a lot of it, and though it might seem wearying, this too, is surely by design. By the time the group gets on the rooftop of the Apple building for a climactic, unannounced final concert that angers the police and confuses and enthralls passers-by in turn, we'll have heard all of "Let it Be" a dozen times over. The docuseries puts us into the headspace of rehearsal, making the act of creating music feel as tangible as it is exhausting. Yet there's an instinctive joy to the film's music, too, from jokey throwaway takes to the gorgeous, off-the-cuff covers to versions of then-new songs that evolve step by step in front of our eyes.
"Get Back" is a perfectly crafted musical documentary, one that shows Jackson's mastery of his form as well as The Beatles' mastery of their own. It might mean more to Beatles fans, but newcomers can easily get swept up in the charms, foibles, and creative intricacies of its subjects: It inspired and reignited more than a few cases of belated Beatlemania when it dropped last November, my own included. Ultimately, "Get Back" is a satisfying and compelling prism through which viewers can look at these four men and their collaborators from any angle we choose. It's a love letter, a deconstruction, a concert film for the ages, and a piece of history — playing out in front of our eyes in vivid color and emotion.