Every Main Character In Amazon's A League Of Their Own Ranked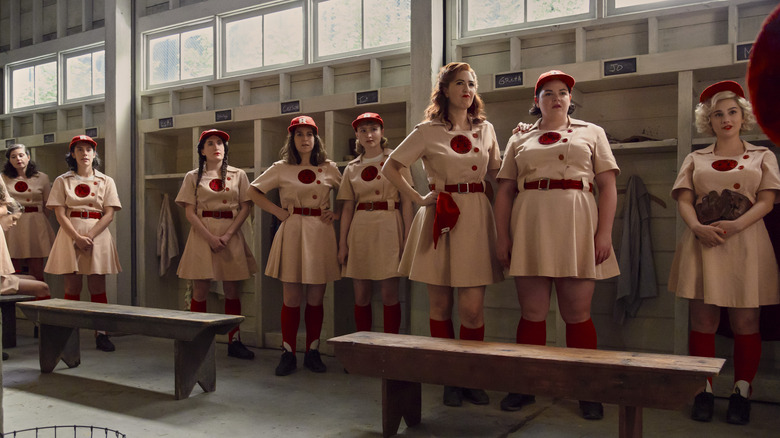 Amazon Prime Video
"Batter up! Hear that call! The time has come for one and all to play ball!"
It's summertime and the Peaches are back to prove once again that there's no crying in baseball! 30 years after the original film ran away with our hearts, the girls of summer return with Amazon's "A League of Their Own," an all-new retelling of the All-American Girls Professional Baseball League (AAGPBL). With the men off to war and a country badly in need of entertainment, women came from far and wide to lace up their cleats and take to the diamonds. Prime Video's mostly fictional story follows two players, Carson Shaw (Abbi Jacobson), catcher for the Rockford Peaches, and Maxine Chapman (Chanté Adams), a Black pitcher barred from trying out for the league because of the racist color barrier.
Helmed by creators Jacobson and Will Graham, the new Peaches play the same positions but have all new stories to tell, this time with a more expansive view of the league's queer diversity. The eight-episode season follows the league's own first season, from tryouts to playoffs as the Peaches fight their way out of last place and find a way to keep the league afloat. With an all-star roster, this season has no shortage of talent. Let's go down the line-up, ranking each key player from least to most valuable.
18. Dove Porter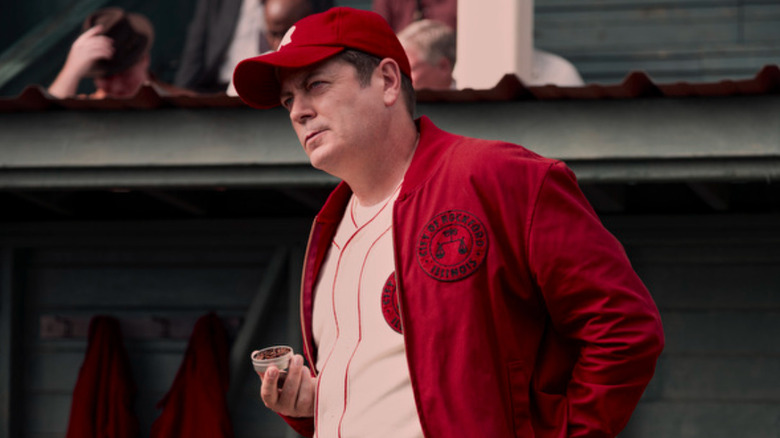 Amazon Prime Video
Position: Coach
Special Skills: Reliving his glory days, Opportunism
Dove Porter (Nick Offerman) may be a talented pitcher, but he's no peach. Taking on the role of manager for the Rockford Peaches, he impresses the girls with his star power, but quickly shows he doesn't care much about them. In fact, he doesn't take them seriously at all and laughs off this job as a stepping stone on the way to bigger things. The second he gets a more lucrative opportunity, he ditches the girls to take another management position without even saying goodbye. However, this betrayal ends up working out in the Peaches' favor and they soon find themselves with a coach who actually cares about the team's success.
During his short time with the Peaches, Dove manages to stir up long-term trouble. His narcissistic coaching style and obsession with his own trademark forkball nearly blows the arm of his starting pitcher. And how great of a coach can he be if he needs his players to show him how to study plays? With his biggest claim to fame being the poor dove he killed with an errant pitch, Dove Porter is a selfish jerk who thankfully is not around long enough to do any real damage.
17. Gary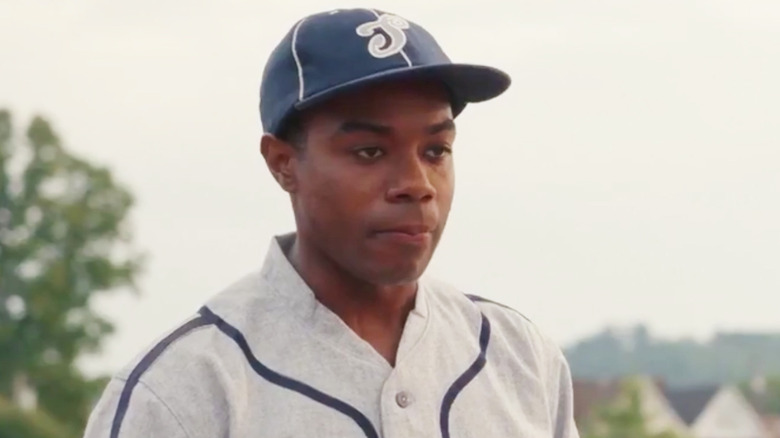 Amazon Prime Video
Position: Pitcher
Special Skills: He's a pretty good guy
The new starting pitcher for the Rockford Screws, the local factory baseball team, has a great arm and an even better conscience. After paying his dues on the bench, Gary (Kendall Johnson) is more than ready to step up to the mound and become the new Screws hurler even though it means taking the spot away from his would-be girlfriend Maxine (Chanté Adams). When she bets two weeks of wages that she can outpitch any man on the team, Gary encourages his coach to take her seriously and give her a chance. Let's also not forget he put his own job on the line by getting her the factory position that allows her to try out in the first place by pretending not to know that "Max Chapman" — the name on her application — is actually a woman. He's a good friend, a great dancer, and he'll probably make a great husband someday.
But all this chivalry compensates for a major deficit: he's terrible at reading the signs. When Max makes a surprise visit to his apartment, hoping for some ill-advised intimacy, he gives her approximately 45 seconds of gameplay before crossing home plate and throwing in the towel. Max has barely even stepped up to bat before the ump calls the game for the home team. Hopefully in the off-season, this star pitcher will pay more attention to the signs his teammate is sending to make sure they both hit a home run.
16. Edgar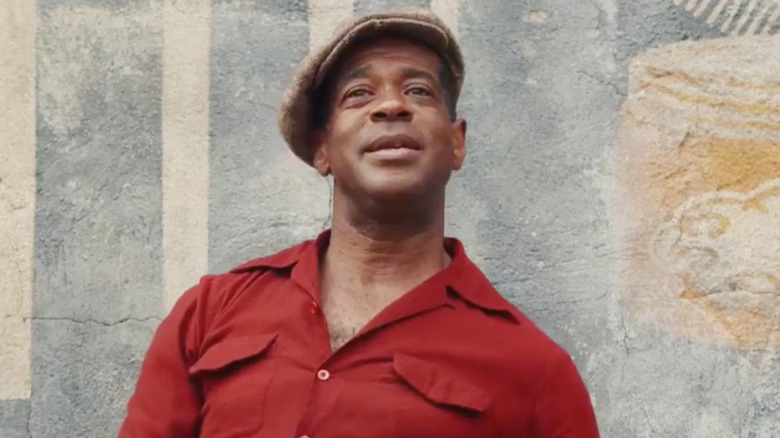 Amazon Prime Video
Position: Father
Special Skill: Advice
Honor: Position Coach of the Year
Edgar Chapman (Alex Désert) is the glue that holds his family together. As husband to Toni and father to Max, he's managed to make a home with two strong-willed women and knows just how to give them the support they need. Toni could make it on her own, but her tender testimony during the church revival tells us how much better her life has been since she married Edgar. He is content to let his wife be herself and never makes Toni feel like her success is a challenge to his ego.
Edgar's other gift is in his sage advice and fatherly wisdom. He taught Max everything she knows about pitching and is always there with a much-needed word of confidence. They haven't found her nickname yet for the young pitching prodigy, but they're getting closer. Things aren't always smooth sailing in the Chapman household, but Edgar is never too busy to listen and help. He doesn't get much playing time this season, though, leading to his lower ranking, but hopefully he'll get to spend more time out on the field soon.
15. Shirley Cohen #14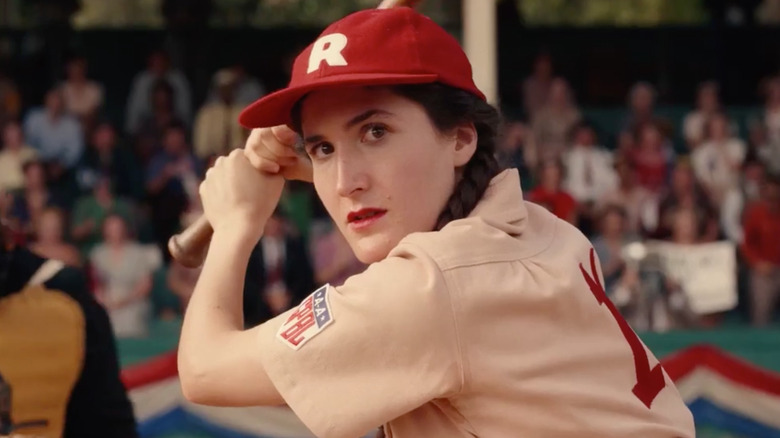 Amazon Prime Video
Position: Left Field
Special Skills: Superstition, Stats
The first Peach player to make this list, Shirley (Kate Berlant) is a bit of a nut. The slightly bubble-headed left fielder makes some killer plays from the alley and follows her hips to a much more powerful swing. However, she's afraid of nearly everything and lets her overblown anxiety control her life. On the plus side, her skill at calculating the odds of catastrophe comes in handy when figuring out if the Peaches can still make the playoffs. And her fear of canned goods and botulism (It's real!) is endearing.
Shirley is a good friend and supportive teammate as long as she doesn't suspect you of being one of "them." Most of the Peaches manage to keep their sexuality a secret from Shirley, rightfully fearing she'll turn them in. But she finds out about Carson's affair with Greta (D'Arcy Carden) and turns her back on her closest friend. It's a disappointing turn for a player who previously seemed just a little bit too naive. Shirley thankfully turns it around in the playoffs, diving all in on canned food and accepting Carson for who she is. However, her turn comes with a nonconsensual kiss and it honestly shouldn't have taken that much convincing to begin with. Soft bigotry is still bigotry and while her heart ends up in the right place, it's still a significant slump in an otherwise upbeat season.
14. Guy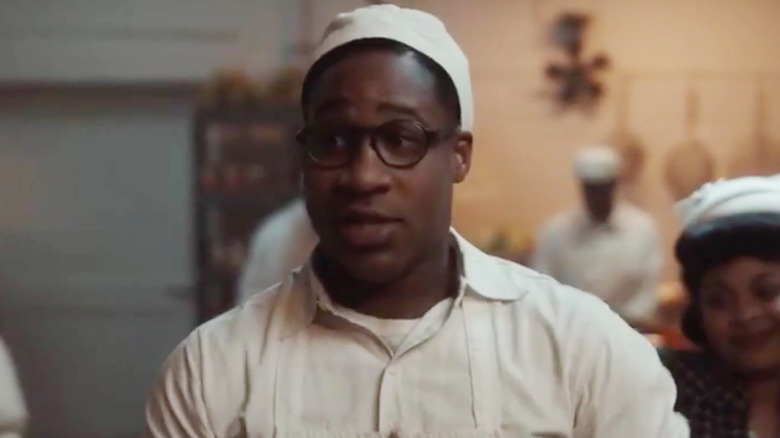 Amazon Prime Video
Position: Husband, Soldier
Special Skills: Cooking
There aren't many husbands like Guy (Aaron Jennings). Newly married to Clance Morgan (Gbemisola Ikumelo), he dotes on his wife and is excited to welcome guests into their new home. Guy always knows how to calm his wife down when she gets frazzled and reminds her that their love is all they really need. Guy is also a phenomenal cook from a long line of chefs. In fact, his renowned pork dish is what landed him Clance in the first place. People are still talking about the crab at the Morgans' housewarming party, a perfect complement to Clance's adorable invitations.
Unfortunately, Guy gets some bad news from Uncle Sam midway through the season in the form of a draft notice that takes him away from his new wife. This leads to one of the season's most heartbreaking scenes in which he and Clance have an honest conversation about their deepest fears. Clance is keeping his presence alive with a comic book inspired by his bravery, and his heavily redacted letters prove he's still alive and well overseas. Guy would be much higher on this list if not for the fact that he gets benched before the home stretch. Hopefully, he'll be back next season in time for the birth of his daughter. In the meantime, he's fondly remembered as half of Rockford's sweetest couple.
13. Esti González #15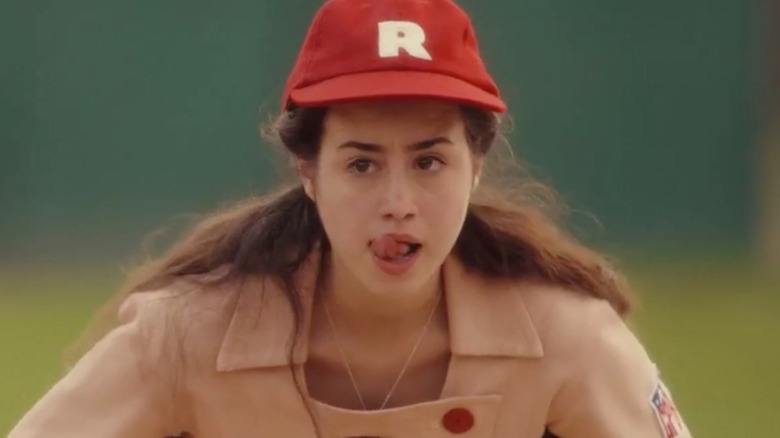 Amazon Prime Video
Special Skills: Stealing Base
Speedster Esti González (Priscilla Delgado) is the fastest, youngest, and probably the sweetest member of the Peaches. At least we think. As a non-English speaker, most of her teammates can't understand what she's saying and Lupe (Roberta Colindrez) is reluctant to translate. The teenager is kind, considerate, and loves a nice trip to the movies, but she's definitely immature and could use some guidance — not to mention driving lessons.
As the team's two Spanish speakers, Esti and Lupe have an often contentious relationship. But they have a heart-to-heart talk and form a powerful partnership, even pulling off a double steal during the final game of the playoffs. The opposing team (who apparently doesn't know the Spanish language exists) has no idea what hit them. Esti doesn't get a lot of screen time this season, but hopefully she and her teammates can learn how to more effectively communicate with each other next year.
12. Toni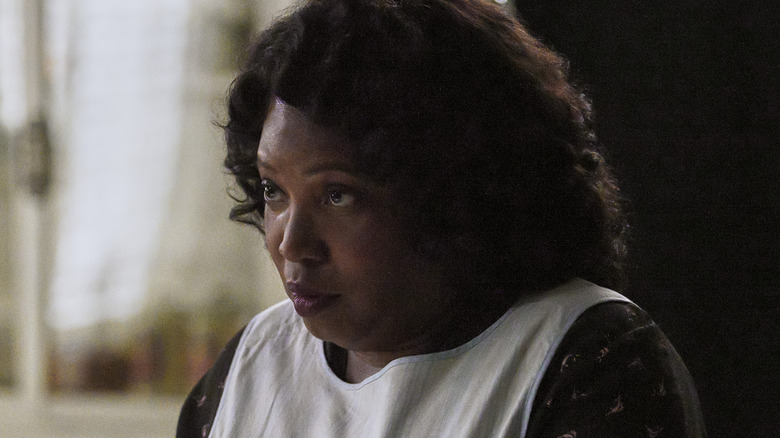 Amazon Prime Video
Position: Entrepreneur
Special Skills: Strength
Miss Toni (Saidah Arrika Ekulona) is a pillar of the Rockford community. An appointment at the salon she owns and operates is a great way to catch up on local gossip and an essential precursor to any special event. She's an inspiring figure and one of the few self-made Black women of the era. She is confident and self-sufficient, though she admits it's easier to fool the local banks if you have a male-sounding name. She is a force to be reckoned with and a tastemaker in the town, able to put even Clance Morgan on her best behavior. But she's also kind and nurturing, taking the newly pregnant woman under her wing while her husband fights overseas.
What Toni makes up for in entrepreneurial spirit, she lacks in understanding. She is close-minded and stubborn, rejecting her family when they make choices she does not approve of. She sends her brother Bertie (Lea Robinson) away for daring to live as his authentic self and turns her back on her daughter Max when she chooses a job at the factory (and hopefully a spot on the factory baseball team) over a partnership in the salon. Toni's heart is in the right place; she only wants to protect her family. Bertie reminds her that her protection comes with judgment and limitations that do more harm than good.
11. Maybelle Fox #3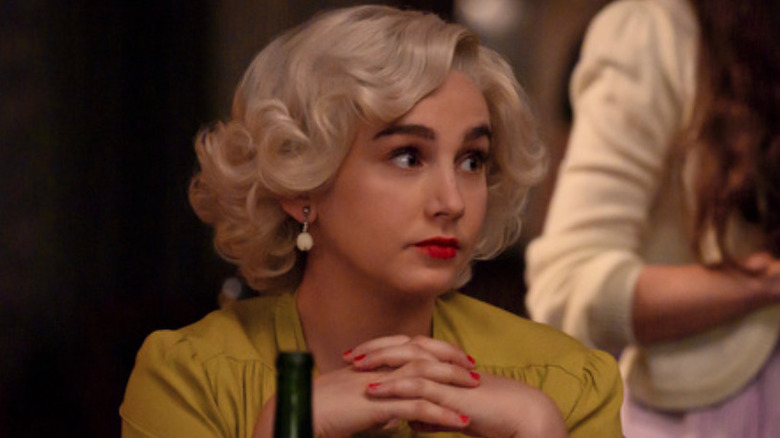 Amazon Prime Video
Special Skills: Pep Talks
Honors: The Yogi Berra Award
Maybelle Fox (Molly Ephraim) is the most fun-loving and raucous member of the Peaches. Always willing to shake what her mama gave her, she's a fun woman who seems incredibly comfortable with her body and her life. When Shirley finds out her team has been keeping secrets, Maybelle advises the naive outfielder to accept people for who they are and it's clear this is a rule she follows in her own life.
As it turns out, Maybelle has been keeping secrets of her own: the three children she left at home to play baseball. It's a wonder no one noticed given that she's always knitting baby clothes. Maybelle is determined to make the most of this season of freedom and reprieve from the never ending job of motherhood. She loves her children but has a life of her own, a rarity among women of the time period. She's more of a supporting player this season, but hopefully this six-time winner of the Little Miss Corn Chowder competition will have a chance to take center stage in Season 2.
10. Bertie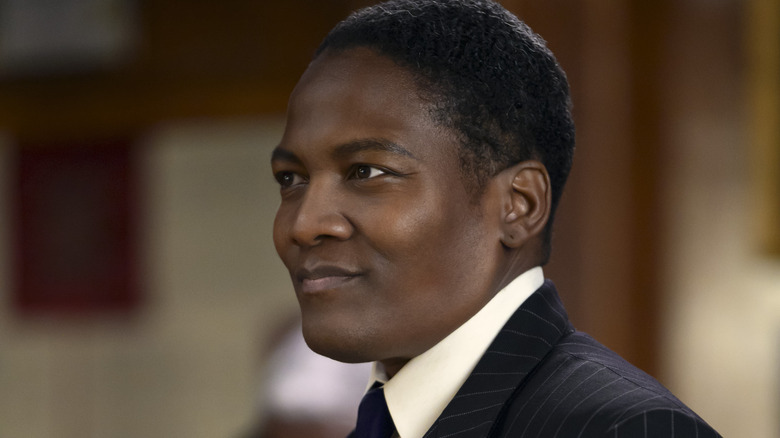 Amazon Prime Video
Position: Husband, Mentor
Special Skills: Tailoring
In several clutch moves of the season, Uncle Bertie gives his niece Maxine some of the best advice of her life. After years of her mother's estrangement, Maxine shows up on Bertie's doorstep expecting to find her aunt only to realize Bertie is finally living his dreams and dressing as himself. He's also married to a knockout who looks just like Lena Horne. Bertie pulls his niece out of a midseason slump with a haircut, a finely tailored suit, and permission to be herself.
We don't meet Bertie till midway through the season, limiting his time on screen, but he represents an essential turning point for Max. Not only does she find the courage to face her biggest fear (rejection based on her sexuality), but she finds a safe space to explore hitting for the other team. Bertie becomes like a second father to Max and even pleads with Toni to make amends with her daughter. Others receive his guidance as well. Bertie has created a new family filled with people rejected by a bigoted society. It's at one of his house parties that Max meets the mysterious "S" (Andia Winslow) who will go on to change the course of her life.
9. Jo De Luca #18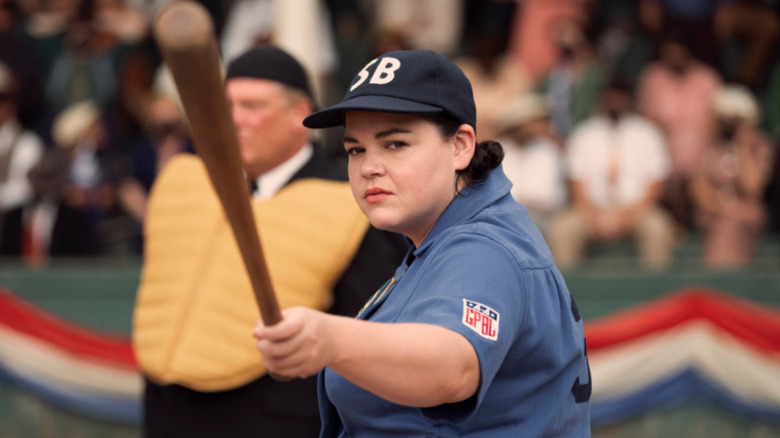 Amazon Prime Video
Position: Third Base
Special Skills: Power Hitter
Honor: Winner of the Home Run Derby 
Jo "the Bazooka " De Luca (Melanie Field) is the Peaches' best hitter and Greta's best friend. A pillar of the team, she's funny and supportive, but willing to give honest advice that's sometimes hard to hear. Jo is tragically caught up in a raid at a hidden queer bar (for "friends of Dorothy"), causing an injury and arrest that threatens her place on the Rockford team. This causes a rift between the two friends and Greta blames herself for convincing Jo to go out and then leaving her behind in the chaos.
De Luca makes the most of this trade and embraces the opportunity to stand on her own. Now a power hitter for the competition, Jo hits the winning run in the final game of the playoffs. When her injury flares up again and prevents her from running the bases, the Peaches band together to support their friend, showing that love is more important than the team you happen to play for. They help her around the bases, giving the league a walk-off home run for the ages.
8. Beverly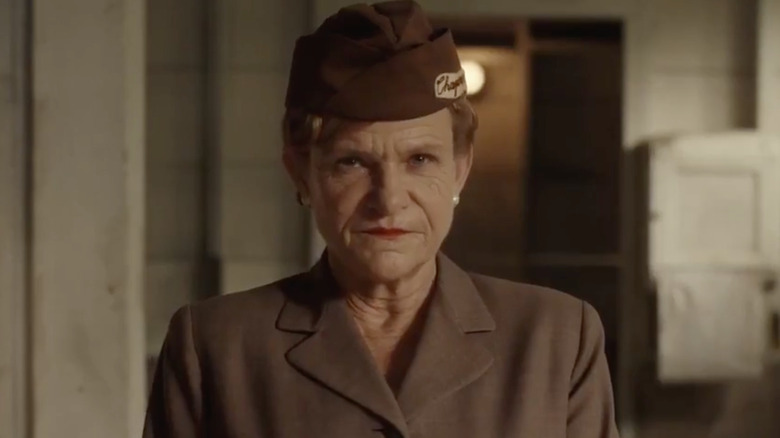 Amazon Prime Video
Position: Team Chaperone
Special Skills: Empowerment, Compassion
There's a lot more to the militaristic Beverly (Dale Dickey) than meets the eye. The former marine serves as the team's chaperone and her no-nonsense attitude holds the team together after Dove abandons them for the Orioles. Always wearing her uniform, she is professional, fair, and discreet. When newly appointed Coach Carson faces a crisis of confidence, Beverly encourages her to take charge of the team. It takes a while for Carson to find her own style of leadership, but it's Beverly's advice that turns the tide.
Beverly seems more like a mild hindrance in the early season, and if this list were based on the first four episodes, she would place near the bottom. But with a few witty comebacks, her true personality begins to show and she proves to be the silent backbone of the team. Beverly does her best to protect her girls and pays out of her own pocket to keep Jo's arrest out of the papers. Not to mention all the money she's been charging Jess McCready (Kelly McCormack) for the crime of wearing pants winds up back in the shortstop's pockets. After all, the rules only say she has to collect it, and we have to look out for our own.
7. Jess McCready #6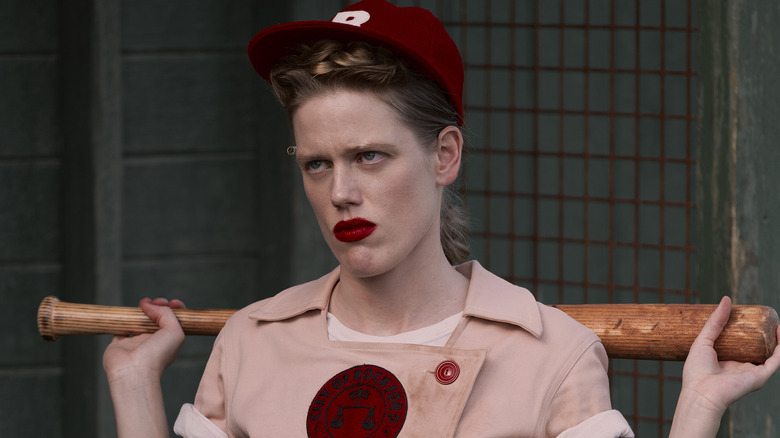 Amazon Prime Video
Position: Shortstop
Special Skills: Intensity
Honor: Golden Glove Award 
If Beverly is the team's silent strength, Jess is its fighting spirit. The aggressive shortstop detests the skirt on her uniform, has no time for makeup, and constantly begs her team to focus on the game! Her intensity provides some of the funniest moments of the season and her screaming pep talk leads the team to victory. Jess demands to be seen as herself and if not for Greta's quick thinking and even faster lipstick application, she may have been kicked off the team before the season began.
Jess is also kind, discreet, and knows how to read a room. She finds out about Greta's affair with Carson but keeps it to herself. In another scene, even though she has everything she needs to fix a flat tire, she excuses herself for supplies (ice cold cokes) giving Lupe and Esti a chance to make amends. Like Maybelle, Jess is mostly a supporting player this season, but with killer moves and a refusal to apologize for who she is, maybe we'll see more from the ferocious player in Season 2.
6. Greta Gill #9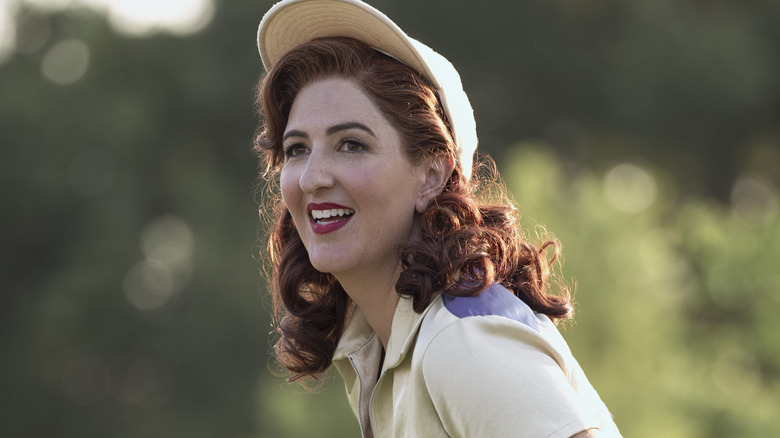 Amazon Prime Video
Position: First Base
Special Skills: Showmanship
The statuesque Greta Gill is one-half of the power corners on the Peaches infield. The tallest member of the team, she is confident and self-assured, always conscious of her image. She knows how to draw attention to herself even though some men complain that she's just a little "too much" on the field. But like the league's Glamor Consultant, we like women who are "too much," and that's why Greta ranks so high on the list. She helps Carson find her confidence multiple times and gives her the courage to pursue true happiness off the field.
Greta is also incredibly smart and protective of those she loves, though her tendency to avoid the boring aspects of life causes her to take risks that put her position in jeopardy. Despite her dedication to excitement, Greta's arc is just a little too vanilla to put her on the podium. She's a great player and teammate, but winds up mostly playing second fiddle to her girlfriend's story of self-discovery. With an exciting new off-season job in New York City and the promise of a relationship with Carson next season, our fingers are crossed Greta will have more chances to shine in the near future.
5. Lupe García #7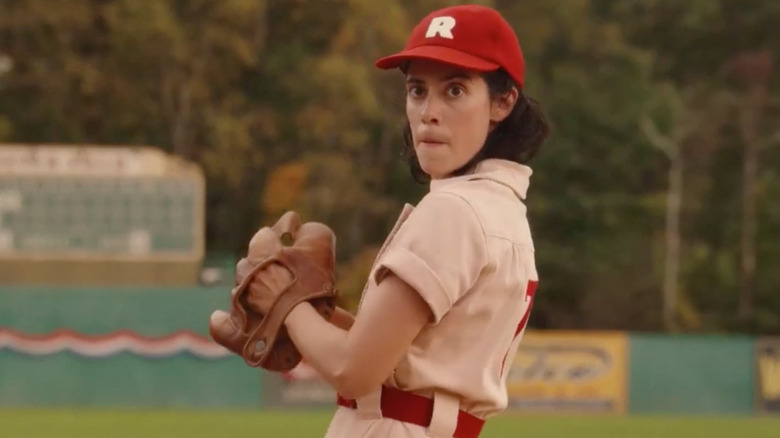 Amazon Prime Video
Position: Pitcher
Special Skills: Knowledge of the rule book, Coaching
Honor: Cy Young Award
Lupe's first season with the Peaches is a roller-coaster. As Coach Dove Porter's favorite player, the "Spanish Striker" finds herself on the outs with her team and left out of their secret practices. Dove's subtle gaslighting causes her to ignore her health and she quickly blows out her arm trying to match his patented forkball. She's forced to ride the bench for several games and her feud with Carson leaves her glowering from the dugout. Lupe is in a tough position most of her team can't understand, though. As a Hispanic woman, she's forced to fight tooth and nail for the advantages freely given to her white teammates, and she resents the fact that Carson is named Team Manager over her.
After the mid-game fight between pitcher and catcher, the Peaches seem more divided than ever. However, once Lupe and Carson mend their relationship, the team begins a hot streak that leads them out of last place and into the playoffs. Lupe is a fantastic player and leader who will hopefully continue riding this hot streak into the next season.
4. Carson Shaw #10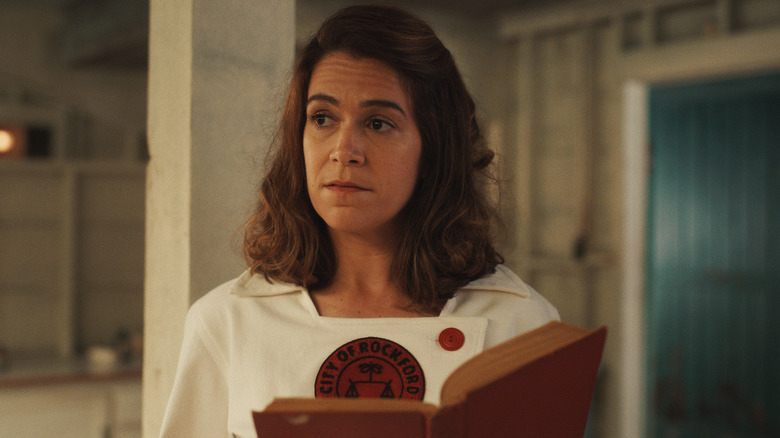 Amazon Prime Video
Position: Catcher, Coach
Special Skills: Analytics, Motivation
Honor: Manager of the Year
Carson Shaw is the catcher, coach, and all-around anchor of the Rockford Peaches. In just one season, the shy housewife from Idaho who's not that great at talking manages to find her inner strength and leads her team all the way to the playoffs. After the first day of tryouts, she writes a drunken letter to her husband admitting that she doesn't remember the last time she was truly happy and her greatest accomplishment is in finally allowing herself to go after what she wants.
Carson is a smart player and takes it upon herself to study the game stats of other teams in the league. Her meticulous game cards impress even Dove Porter and make her a natural fit for the position of Team Manager in his absence. Carson is determined to enjoy every second of the season and demands that Dove gives the team a fair shot. Arguably, her biggest strength is her ability to listen. Not the best at rally speeches, she insists that each player make a speech of their own, leaving their individual stamps on the season and the world. Carson doesn't know what her future holds, but if she can hold onto the strength she inspires in her team, she should be just fine.
3. Max Chapman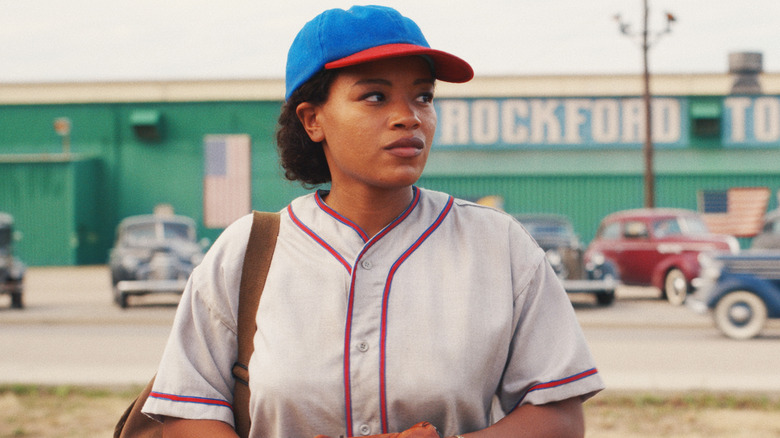 Amazon Prime Video
Position: Pitcher
Special Skills: Welding
Honor: Rookie of the Year
Max Chapman has a hell of an arm, having grown up practicing against the wall of her mother's salon. She's great at mimicking the pitches of others but gets into trouble when she tries to throw one as herself. A bad case of the yips leads to a midseason slump and a humiliating tryout for the factory team, but the Comeback Kid picks herself up and gets back to work. An unlikely friendship with Carson Shaw helps her confront her biggest fear: admitting who she really is to her friends and family. But a chance meeting with an All-Star pitcher named Esther (Andia Winslow) gives her a new lease on life and the opportunity of a lifetime.
During an exposition game, Max relieves Esther on the mound and plays one of the most exciting innings of the season. She strikes out man after man on the team who rejected her and earns her own spot on the prestigious All-Star team. Now that she finally has a team of her own — not to mention a brand-spanking new uniform — we can't wait to see her take the field next season.
2. Clance Morgan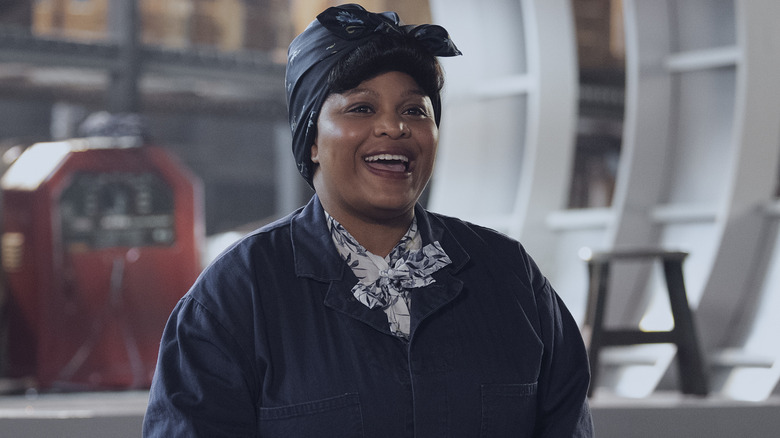 Amazon Prime Video
Position: Welder, Homemaker
Special Skills: Illustration
Clance Morgan is not only the Most Valuable Player in "A League of Their Own," she's the best friend we all wish we had. The newlywed spends early episodes trying to make the perfect home for her husband Guy and supporting her best friend Max as she starts her new job. Clance demands to be a real character, though, rather than just the best friend. When Max comes over to talk about baseball, Clance is quick to note that her husband has just shipped off to war and she doesn't have support to give at the moment. She's a kind and caring friend who never forgets that her own life matters, too.
Obsessed with comics, Clance is also a gifted illustrator and writer. Making comic books starring her friends and family is practically her love language. But what makes Clance the MVP is her sense of humor and pitch-perfect delivery, not to mention her insistence that Dorothy is actually the enemy of "The Wizard of Oz." With her husband overseas, her best friend on the road, and a baby on the way, Clance is in for some tough days to come. With the help of Toni, there's no doubt she'll prove to be a fantastic mother as well.
1. Vi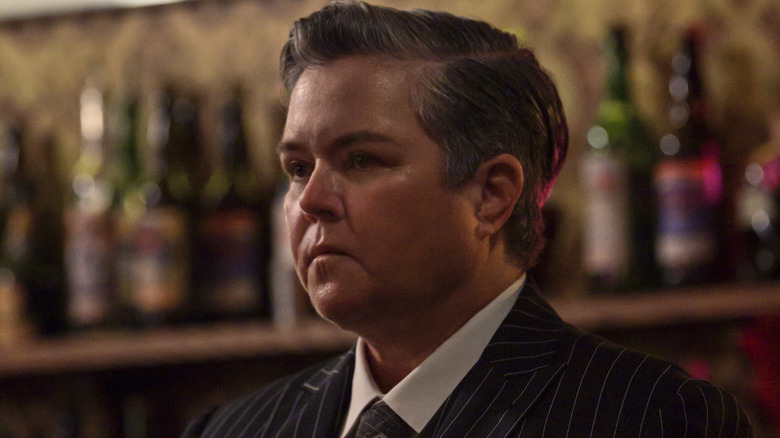 Amazon Prime Video
Position: Bar Owner, Tax Preparer
Honor: Hall of Fame Inductee
Vi (Rosie O'Donnell) is an upstanding member of the community and proud partner to a beautiful wife. As the sole returning player, Vi sets the tone for a turning point in the show as multiple characters are faced with bigotry, hate, and violence because of their sexuality. Vi owns a secret bar that is a safe haven for members of the LGBTQ+ community. At one point, Carson follows Lupe into the bar and is shocked to learn that she's not alone. Vi shows Carson a world she never knew existed and gives her a space to be with the woman she loves in public. It's in these moments of happiness that Carson decides she can't go back to her old life.
Penny Marshall's original "A League of Their Own" is a beloved classic, but has been criticized for erasing the queer history of the All-American Girls Professional Baseball League. Having come out as a lesbian in 2002, 10 years after starring as Doris Murphy in the original film, O'Donnell's role as Vi is a testament to how far we've come and a sobering reminder that we're nowhere near the finish line (made clear when Vi is brutally beaten in a police raid of the bar). With its diverse and authentic representation of queer characters, Amazon's "A League of Their Own" is a groundbreaking show that will hopefully pave the way for more inclusivity with the same pioneering spirit as the real-life women it depicts.
If you or a loved one has experienced a hate crime, contact the VictimConnect Hotline by phone at 1-855-4-VICTIM or by chat for more information or assistance in locating services to help. If you or a loved one are in immediate danger, call 911.