A League Of Their Own Season 1 Ending Explained: Wins And Losses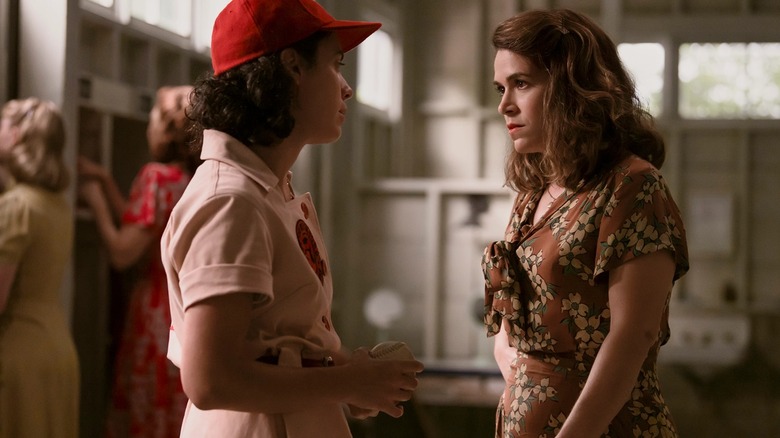 Prime Video
Prime Video's new "A League of Their Own" series is, as the saying goes, a whole different ball game — at least when you compare it with the film it's based on. The series takes place in the 1940s and follows the newly assembled members of the groundbreaking Rockford Peaches women's baseball team, but other than that, it bears little resemblance to the 1992 movie by Penny Marshall.
 Instead, the latest iteration of the story spotlights a rarely explored slice of real history: the love lives and identities of the LGBT+ teammates, and the experiences of Black athletes — namely pitcher Max (Chanté Adams) — who weren't allowed to join the team.
A show of good sportsmanship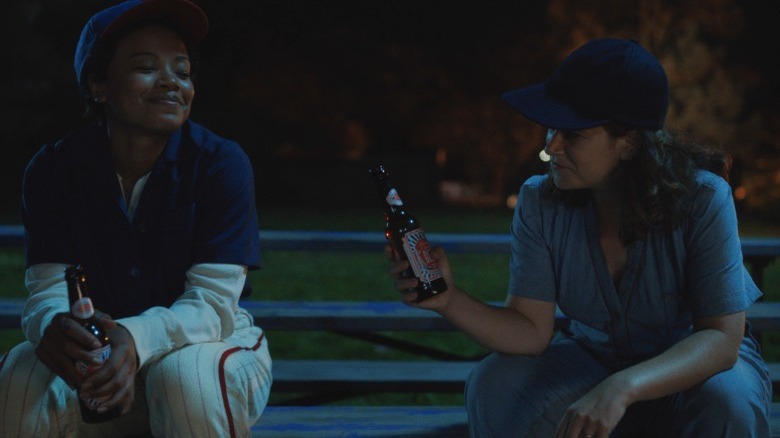 Prime Video
Most of the first season of "A League of Their Own" isn't exactly what you'd call a sports story. The show follows the newly assembled Rockford Peaches through a season of gameplay, but the team is pretty aware that the All-American Girls Professional Baseball League is in a precarious place. Women's baseball was seemingly invented to inspire and titillate, without much leadership given or attention paid to actually getting teams into tip-top shape.
Nonetheless, the Peaches make it to the championship game, where they end up facing off against the Blue Sox. Among their opponents is Jo (Melanie Field), their lovable former teammate who got surreptitiously traded after being caught at a gay bar. At first, the game is lightly antagonistic, but by the end, it's a total tear-jerker and a celebration of solidarity among all these women.
Jo keeps hitting the ball out of the park, and in the final inning, she scores what should be another homer. Only, she hurts her ankle badly on the run in, and can't make it to home base. The refs say none of her teammates are allowed to help her out, but what about the opposing team? In the end, the Peaches — led by Carson (Abbi Jacobson) and Greta (D'Arcy Carden) — help hold her up, literally supporting her as she makes her way to home plate for the league win. It's a beautiful moment, and given that the team fled and left Jo at the raided gay bar before, it's also a meaningful apology and show of support among the queer teammates.
Carson and Greta's goodbye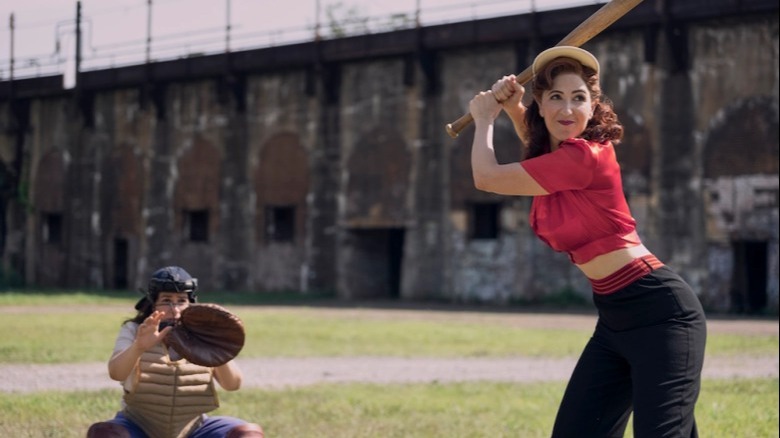 Prime Video
"A League of Their Own" is wide open for a second season at this point. The final cliffhanger saw Carson's husband Charlie (Patrick J. Adams) witness a passionate last kiss between her and teammate Greta before the two parted ways. The whole show has been about coming into one's own identity and owning one's truth, which Carson has nearly done with Charlie several times.
If the show gets a second season, it'll be interesting to see how the trio's dynamic plays out, especially given that Charlie and Carson seem to have a genuine bond. Carson is extremely into Greta, but she also tells Max that sex with Charlie can be kind of nice, so it's possible that she's bisexual (a word that wasn't commonly used or understood outside of academic circles until the 1970s, it should be noted). Still, Carson seems to be holding on to Charlie more out of a fear of breaking his heart and losing his companionship than because of any romantic love. In the last scene, she tells Greta she's planning to spend the off-season not with her husband, but with herself.
Any future seasons will surely explore all of this more, although Greta's goodbye has an air of semi-finality about it. As she heads to New York and Carson opts not to go, the pair talk about how they've changed each others' lives for the better and promise to see each other next season. So maybe this is an ending of one chapter, a sort of break-up-for-now that still leaves the pair with warm fuzzy feelings, but leaves the door open for Greta's return. Since Carden and Jacobson are old friends in real life, I have a feeling she'll be back if the series continues and calls for it.
What does Max's future hold?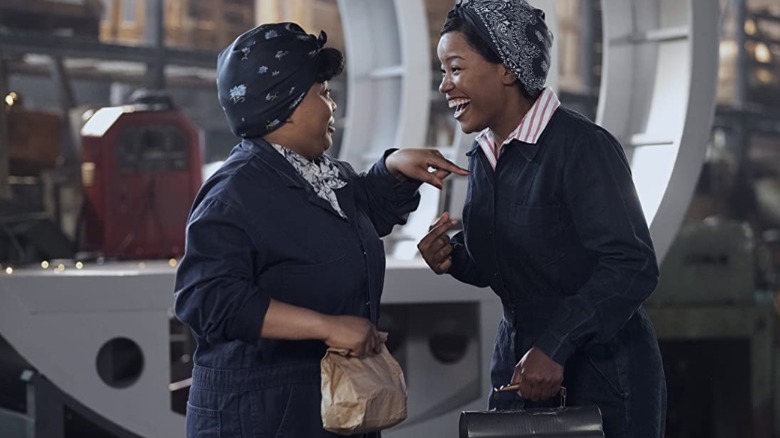 Prime Video
Meanwhile, the finale opens up plenty of other plot points worth exploring further, especially when it comes to Max. The ballplayer ends the season on tour with her newfound team, having finally gotten the chance to show off her fantastic pitching skills after being underestimated and discriminated against all season. Her best friend Clance (Gbemisola Ikumelo), meanwhile, is home and pregnant while her husband is off at war. Unfortunately, Max's mom (Saidah Arrika Ekulona), who doesn't accept her queer identity like her gender non-conforming uncle Bertie (Lea Robinson) does, is the person who is left to give Clance guidance through it all.
Max is still figuring out her own identity, as well. At the start of the series, she was having an affair with a married woman, but it wasn't a healthy or fulfilling relationship. By season's end, she's found some confidence and a gender presentation that feels comfortable, cutting her hair short and attending a party in an outfit uncle Bertie gave her. There, she meets and hooks up with future teammate Esther (Andia Winslow), who later fakes an injury to give Max a shot at an impromptu try-out. The pair are both on the All-Star team that hits the road at the end of the season, with their coach planning to market them as a duo, so Max and Esther will surely end up spending a lot of time together if the show returns.
Renewal odds and season 2 plans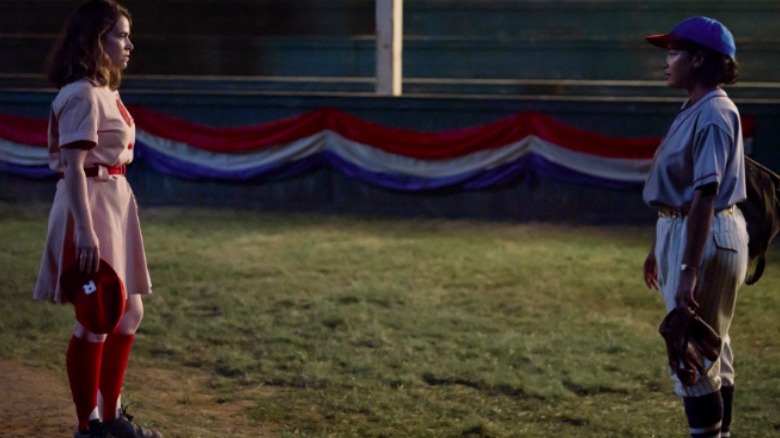 Prime Video
Star and co-creator Abbi Jacobson spoke to US Weekly about what the show's future might look like, saying that she has plans for future seasons, but that she also knows they're never certain. "I think for season 1, we were very much like, let's tell as much of this as we can and make us as meaty and juicy and full in every way," she told the outlet. "Every character's as full as we can make them in case we don't get to make more."
So far, the response to the show definitely indicates interest. While /Film's Josh Spiegel notes in his review that the series works better when it's not trying to "re-connect itself to its source material, it holds a certified fresh rating on Rotten Tomatoes, indicating that most critics are responding positively. Its ratings are a bit trickier to gauge, given that Prime Video, like most streamers, doesn't always make its viewership numbers transparent. Though ratings measurement company Nielson has added a streaming category to its website, it's too soon to tell where "A League of Their Own" could rank in viewership.
As for the original on-screen version of the Peaches, it sounds like they give their blessing, too. Geena Davis, who starred in the 1992 film that serves as a starting point for this series, has expressed her support for the show and especially appreciates that it created a cast of all-new characters. Her co-star Rosie O'Donnell even appears in the new series as the owner of a secret gay-friendly bar the teammates frequent by night.
The real history behind A League of Their Own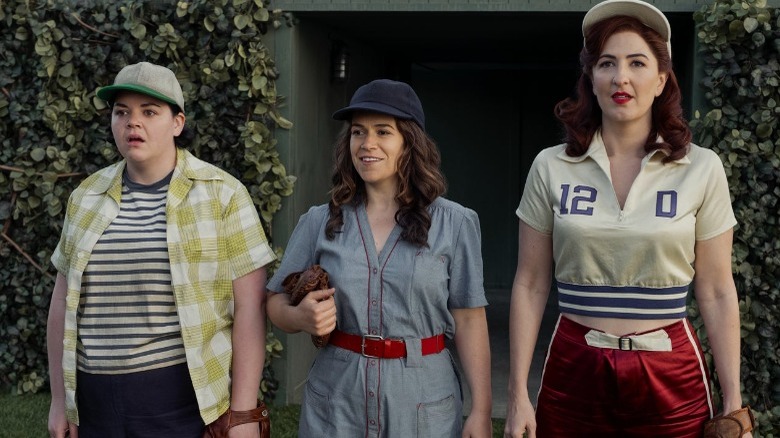 Prime Video
While a recent resurgence in blatant homophobia coupled with a persistent cultural aversion to remakes may make "A League of Their Own" subject to scrutiny as more viewers catch up with it, the fact remains that the series is portraying a real part of history. In 2020, Netflix released the documentary "A Secret Love," which followed former All-American Girls Professional Baseball League player Terry Donahue and her partner Pat Henschel as they told their decades-long love story for the first time.
Meanwhile, 95-year-old former league player Maybelle Blair, the inspiration for the "All the Way Mae" character in the film, came out publicly for the first time ahead of this series' premiere. According to Q Voice News, she spoke at a screening about how the league was mostly composed of gay women, and that they found a community together that included visiting gay bars at night, as shown in the series. A deep dive for Narratively in 2018 traced the secret queer history of the sport, including spotlighting the lives of women who were only ever outed in their eventual obituaries.
Though its characters are fictional, "A League of Their Own" exists in and pays tribute to this unique historical context, spotlighting the lived experiences of queer people who were finding themselves long before the gay rights movement made same-sex love public. Hopefully, the funny, heartfelt show will get the chance to explore these characters further with a second season. Either way, its first season ends on a note of individual fulfillment and self-discovery that feels more like a win for the one-of-a-kind Peaches than any trophy they could've gotten.