Requiem For A Dream Relied On A Massive Amount Of Rehearsals And Research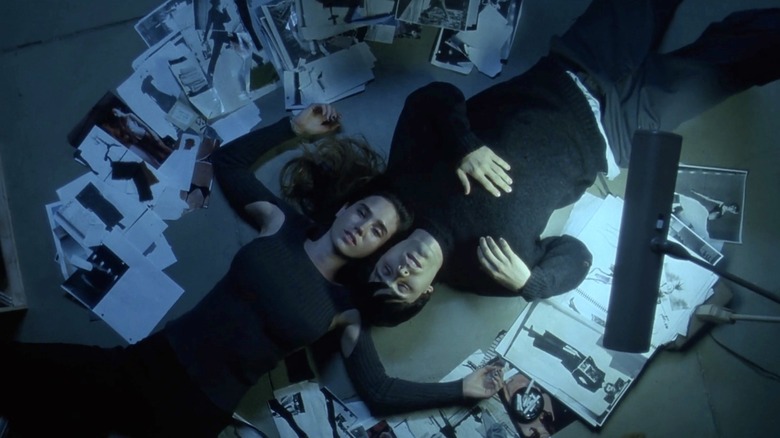 Artisan Entertainment
Darren Aronofsky's "Requiem For A Dream" is an intense film that merited intense preparation on the part of its cast and crew. Adapted from a novel by Hubert Selby Jr., "Requiem for a Dream" tells the story of four people struggling with addiction and how it takes a toll on their hopes and dreams and lives in New York. Harry, Marion, and Tyrone, played by Jared Leto, Jennifer Connelly, and Marlon Wayans, respectively, have formed a heroin dependency, while Harry's mother, Sara (Ellen Burstyn in an Oscar-nominated role) develops an addiction to amphetamines as she seeks to suppress her appetite and fit into an old dress for a game show appearance.
Writing for The Evening Standard, Burstyn called "Requiem for a Dream" her "biggest challenge," one that was "harder than 'The Exorcist'" for her. In an oral history with Vulture looking back on the film 20 years after its release, Aronofsky, Leto, Connelly, Wayans, cinematographer Matthew Libatique, and producer Eric Watson also recounted the heavy amount of research and rehearsals the younger actors went through before the cameras even started rolling. Aronofsky recalled meeting with them a month beforehand in a nightclub that "got raided by the police," while Leto said, "I think rehearsal was eight weeks, which is very rare, that a director can wrangle actors for that amount of time."
It should come as no surprise, given his later reputation, that Leto went Method, spending time with people on the streets in the East Village with addictions while getting into character for "Requiem for a Dream." "There were nights that I spent basically homeless," he said. Connelly and Wayans also met with drug users, "talking to them about their experiences" and "the effects of heroin."
Mothering actors and infants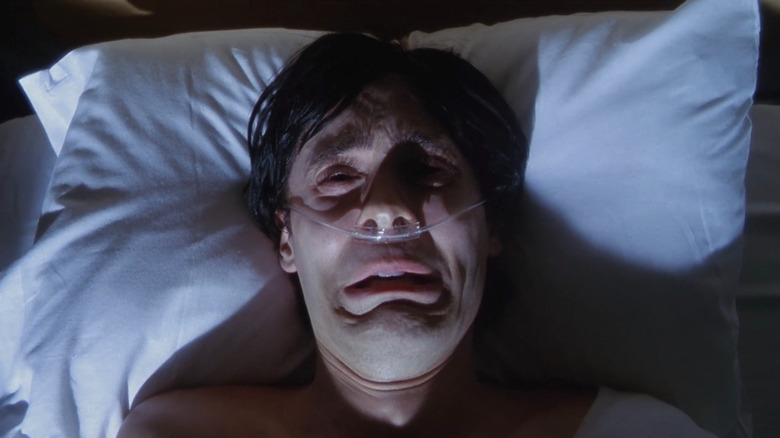 Artisan Entertainment
Jennifer Connelly got further into character for "Requiem for a Dream" by making her own clothes, while Marlon Wayans recalled Darren Aronofsky making him take his shirt off and "walk around the streets of New York in February because he wanted me to understand what it was like." Mirroring Sara's crash-diet storyline, Jared Leto also lost weight for his role, something he continued doing in films like "Dallas Buyers Club." The rationale, he said, was that "restricting my food intake ... would put me in a place of constant craving," much like his character as he was going through heroin withdrawals. This left Aronofsky "Jewish mothering [Leto], and trying to constantly feed him."
Wayans, who came from a comedy background, had a much different experience where he was able to have fun in between takes. "When they say 'cut,'" he said, "[Jared's] eating like, raisins and a nut, and I'm eating lunch. I'm not starving myself, because I noticed Black guys were still buff even though they were heroin addicts."
What further complicated matters on the set was the actors each had a different sweet spot for when they gave their best take. For her part, Connelly did not have the luxury of going Method because she had a real baby to mother. "He was with me every day," she said. "I was still nursing him. It was a very strange, split world, because the reality of my life was so different from the reality of Marion's life at that time."
In the end, all their hard work behind the scenes paid off. "Requiem for a Dream" left its mark on turn-of-the-millennium cinema and remains a brutal depiction of how addiction in all forms can ruin dreams and leave people deluded shells before their lives are destroyed.