House Of The Dragon Star Paddy Considine Struggled To Get Into Game Of Thrones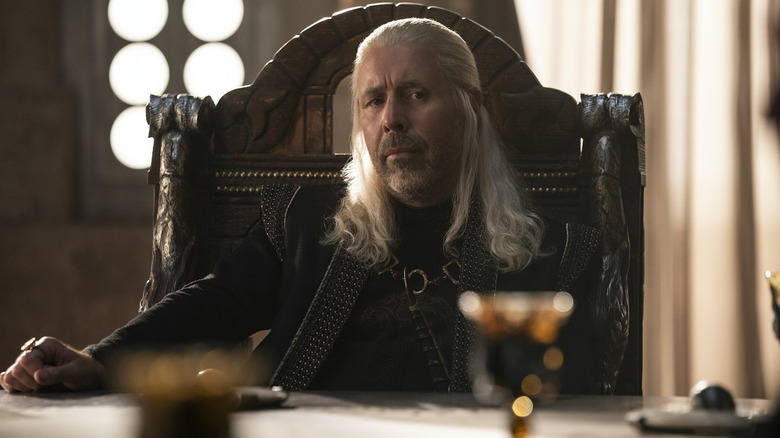 HBO
When did you get into "Game of Thrones?" I started watching the show live in its second season. This was when I was in film school, and there were minor rumblings about this fantasy show that wasn't like most fantasy stuff, which was nice to hear since I am not a particularly big fan of the genre. I pulled up the pilot episode on HBO Go (remember HBO Go?), and I was immediately sucked into the world George R.R. Martin had created.
"Game of Thrones" was one of those shows that continued to grow with every passing season as the hype spread like wildfire. Even though it became a worldwide phenomenon, there were people who never got into the show. Maybe they didn't have access to HBO. Maybe they were hoping for more of the mystical fantasy elements that I appreciated not being as much of a focal point. Maybe the bad buzz of the show's ending turned them away from ever watching it. Maybe they just didn't have the time to invest in the show.
One person who found himself coming to "Game of Thrones" massively late was one of the stars of the new prequel series "House of the Dragon." Paddy Considine, who plays King Viserys I (and gets top billing for the show), had a tough time immersing himself in the "Song of Ice and Fire." It wasn't until a major world event gave him ample opportunity and time to get into "Game of Thrones." That's right: Paddy Considine was a pandemic watcher.
Couldn't wrap his head around it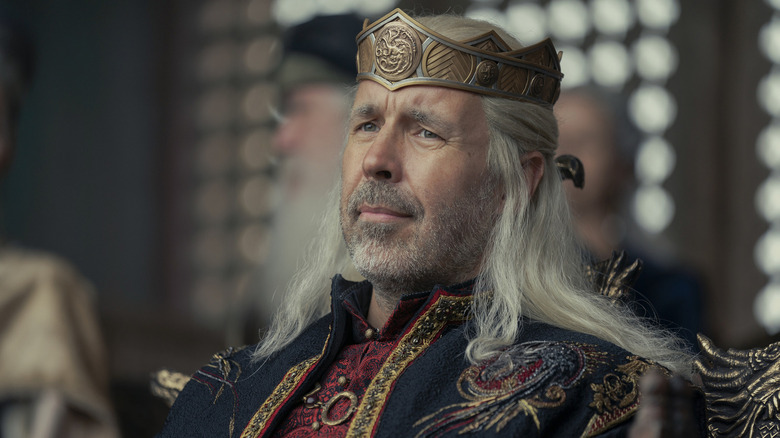 HBO
Funnily enough, Paddy Considine got the script for the pilot of "Game of Thrones," though he wasn't up for any specific part in the piece. Speaking with Deadline, Considine revealed that the teleplay did not particularly speak to him, saying he "couldn't get [his] head around it." All the different families, the dragons, and whatnot left him cold.
Then, the show started up and became extremely popular, so he gave it a look to see if the final product could crystallize what he wasn't seeing on the page. It didn't take. Considine says of his initial viewing of the show, "It takes me time to get into shows. And I didn't get very far with it if I'm being completely honest." I understand where he is coming from. Television has a stronger barrier to entry for me than films do. The time commitment is so overwhelming, and if I'm not immediately hooked by a show, I have no problem giving up.
But Paddy got a second chance. During the height of COVID, he dove back into "Game of Thrones" to see if all his newly acquired free time from being stuck at home could more easily get him into the show. It still took some time, with him citing the penultimate episode of season 3 "The Rains of Castamere" as a turning point, but he locked into what the show was all about. As fate would have it, that's when "House of the Dragon" came across his desk:
"[I]t then became this weird synchronicity, because there I was getting massively into the show when the call came for "House of the Dragon." They said, 'Are you a fan of "Game of Thrones?"' And I said, 'Well, it's funny you should ask that.'"
Now, he's become a Mushroom champion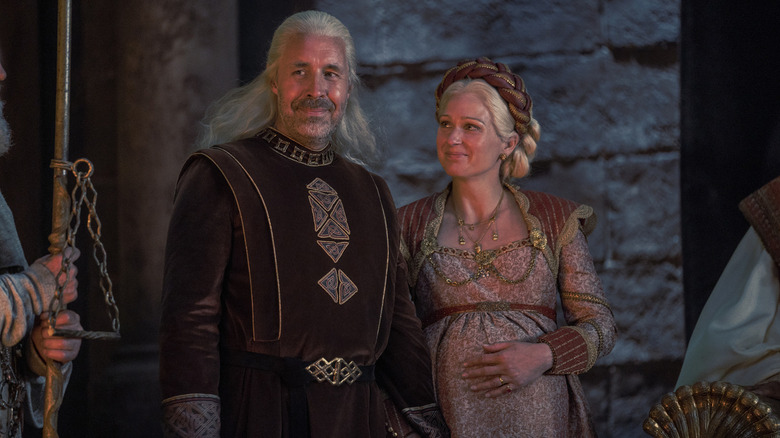 HBO
Call it fate, kismet, destiny, or what have you: Paddy Considine couldn't have been at a better place to get the "House of the Dragon" gig. Considine admits he still hasn't read the books from "A Song of Ice and Fire," but he's all-in on "Fire and Blood," the compendium book written by George R.R. Martin that serves as the basis for "House of the Dragon." That book is written as a historical recounting of the Targaryen line, particularly of the "Dance of the Dragons" civil war. It isn't written with the same point-of-view chapter structure the main series uses but as a historical document using the information from tangential eyewitnesses of the events.
One such character is Mushroom, and though he is not an important character to the story, Paddy Considine was determined to get him into the show, saying to Deadline:
"Yeah, it's written through the eyes of a dwarf character called Mushroom, who's a court jester. There's actually a banquet scene in 'House of the Dragon,' and I messaged [showrunner] Ryan Condal and said, 'Ryan, can we stick Mushroom in there somewhere?' I was fighting every minute to find an excuse to include Mushroom."
That's quite a journey to go on for Paddy Considine. At first, he isn't even really sure what "Game of Thrones" is going for, and a decade later, he is playing the king of Westeros and demanding a minor character from a supplementary book to be in the show.
I think he's a fan.