How James Gunn Took Slither's R Rating To The Limit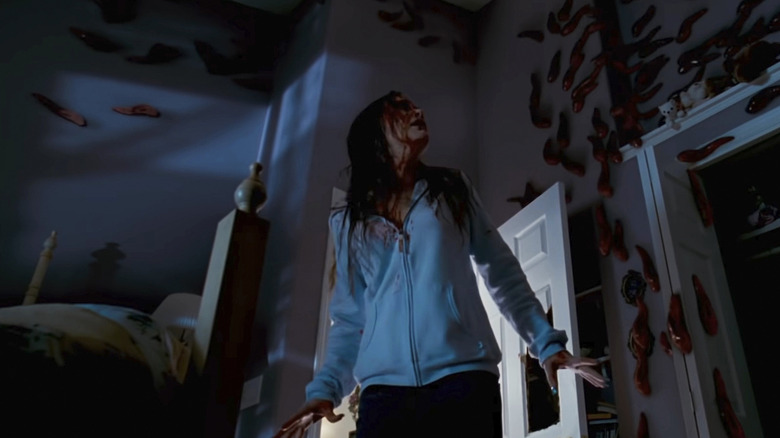 Universal Pictures
Before James Gunn was making his irreverent and heartfelt comic book blockbusters, he had firmly planted roots in low budget B-horror. His earliest screenplay credits were for Troma Entertainment, a company known for its provocative gross-out fests. Gunn's most notable work for the company was "Tromeo and Juliet," a crass black comedy take on the Shakespeare classic with a body horror twist. He would soon break into Hollywood as a screenwriter with his work on Zack Snyder's "Dawn of the Dead" and 2002's then-maligned-now-beloved "Scooby-Doo" live-action film.
Gunn's feature directorial debut, 2006's "Slither," which follows an alien parasite that infects and terrorizes a small town, was a nasty horror-comedy love letter to the genre films that awakened his love for cinema. The film featured appearances from Elizabeth Banks, Nathan Fillion, and a wonderfully villainous performance from Michael Rooker, all soon to become regular collaborators with Gunn on future projects. It was a perfect marriage between his scrappier, low-grade sensibilities and his newfound professional experience in the studio system.
The film released in theaters is the film Gunn envisioned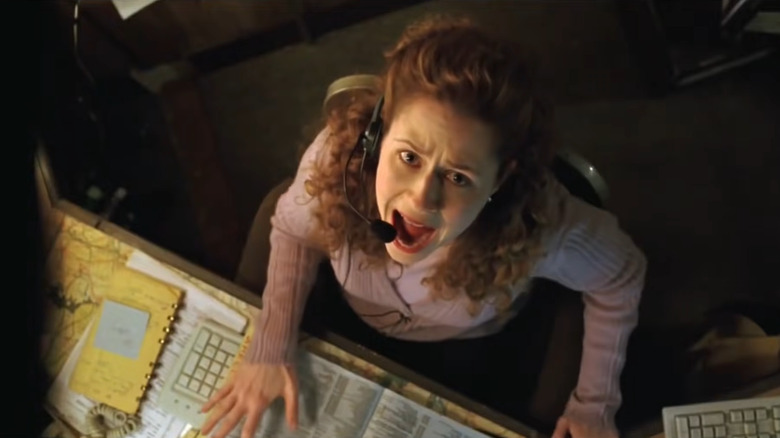 Universal Pictures
Though "Slither" underperformed at the box office, it was a critical success and a step towards building Gunn's directorial voice. One would think that translating his transgressive, over-the-top Troma qualities into a Hollywood picture that would eventually be rated by the MPAA would be a huge roadblock for Gunn, but in a 2006 interview with IGN for the film's DVD release, Gunn opened up about the surprisingly smooth process of getting the film distributed.
"This is the movie that I made and that was the movie that got the rating it did. I didn't have to go back and forth with the MPAA; we went there once and we got the rating we wanted. So there is no unrated cut, and Universal didn't make me change a lot of stuff; they had a couple of requests that in the end I probably agreed with."
Most fans of "Slither" would be shocked by this comment, especially noting how toothless some mainstream horror can often be compared to the gory, Cronenbergian filth the film revels in. However, Gunn's Troma days continued to pay off — not only as a creative, but also as a Hollywood businessman. In a press junket for "Slither," Gunn credited his experiences working with Troma Entertainment CEO Lloyd Kaufman as foundational for his filmmaking skills. With no formal education in film, his time at Troma taught Gunn everything from pre-production to theatrical release, but one crucial skill was working and negotiating with the MPAA.
Gunn learned to push boundaries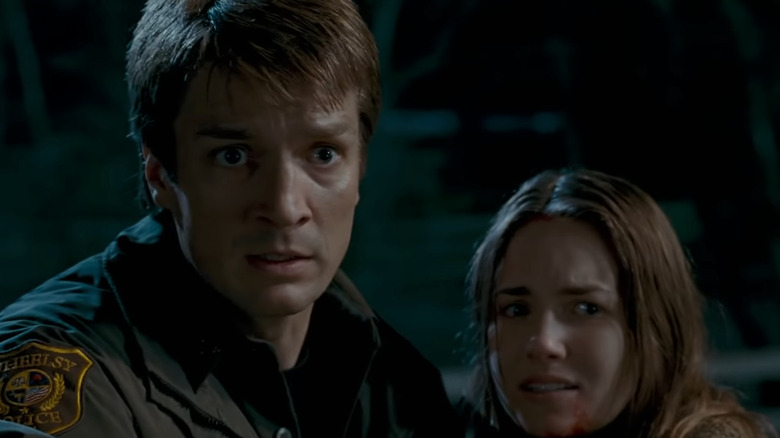 Universal Pictures
One loophole Gunn was able to take advantage of in the creation of "Slither" was the fact that the MPAA often has different standards for various types of films and their tones. Because "Slither" was a horror-comedy, and because the nature of the gore and violence of the film pushes towards the surreal, there was a lot more mileage allowed to Gunn's debut compared to many other horror films. (As Gunn cheekily added, it also helped that Eli Roth presented "Hostel" to the MPAA right before "Slither" was screened.)
In his IGN interview, Gunn remarked:
"I think 'Slither' is the weird kid in the back of the class that is putting his boogers underneath the desk, so I don't think we do fit in; it's a completely different type of movie. So I think that our over-the-topness is kind of what saved us and that's what saved us with the MPAA as well because there is that — you know, I don't think of it as cartoonish, but it's an over the top, 'so far it's ridiculous' quality that makes it fun; when you take it to such an extreme that it's fun – while still being a pretty dark movie, actually."
Gunn's knack for pushing boundaries would be something that he would carry with him for the rest of his career. "Slither" remains a beloved entry to modern horror canon, the subversive edge he brought to "Scooby-Doo" would soon find its audience, and to this day, he is debatably one of the few directors that has put a truly personal stamp on the Marvel Cinematic Universe with his "Guardians of the Galaxy" films.
As Gunn continually finds ways to surprise, shock, and move us through his flawed and lovable characters, let's celebrate the film that is most emblematic of his transgressive origins.