James Gunn Looks Back On 'Scooby Doo' And The R-Rated Cut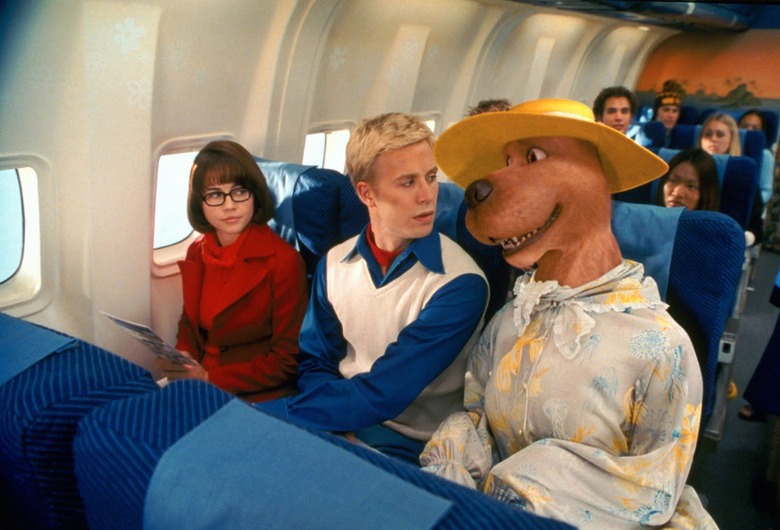 The live-action Scooby Doo is now 15 years old. Originally, the filmmakers were going for a PG-13 rating, but after filming was completed and an early cut got an R-rating from the MPAA, Warner Bros. decided to turn the raunchy teen comedy into a movie for children. Scooby Doo's writer, James Gunn (Guardians of the Galaxy Vol. 2), thought it was a mistake, but a decade and a half later, he still looks back on the experience with a great deal of fondness.
Below, learn more about the R-rated Scooby Doo film we never saw.
There are a few moments in Raja Gosnell's (Never Been Kissed) take on Scooby Doo where you can see hints of the R-rated version, like when Shaggy (Matthew Lillard) tells Mary Jane (Isla Fischer), "Like, that's my favorite name." You can also spot where they might've cut around other pot jokes, but those were far from the only gags revised or cut.
Some significant changes were made during production. Midway through the shoot, Gunn had to rewrite the whole third act because of budgetary reasons. When it was all said and done, though, Scooby Doo ended up making a lot of kids happy and grossed $275 million at the box-office.
On Facebook, Gunn looked back on the movie for its 15th anniversary:
I had loved the character of Scooby-Doo since I was a kid and was excited at the prospect of making a live action film with 2002's cutting CGI technology(!!). Yes, it was not exactly what we planned going out — I had written an edgier film geared toward older kids and adults, and the studio ended pushing it into an clean cut children's film. And, yes, the rumors are true — the first cut was rated R by the MPAA, and the female stars' cleavage was CGI'd away so as not to offend. But, you know, such is life. I had a lot of fun making this movie, regardless of all that. And I was also able to eat, buy a car, and a house because of it.
He had what sounds like a great experience shooting in Australia and, after the movie came out, it opened more doors for him:
At about 5:30 Saturday morning opening weekend Lorenzo DiBonaventura – the head of production at Warners, and one of the people who gave me my start – called me and woke me up at home to tell me we made 18 million the Friday before. Now that doesn't seem to be all that much today – Guardians will make around that on a Thursday night alone – but back then it was enough to make the movie the biggest June opening ever. Until that moment, I thought if the movie came out and didn't do well I'd be able to continue getting writing jobs, and my life was going to be the same. But in that one single moment I knew everything had changed.
And it did. I was offered every movie you can imagine. Like, uh, the Jabberjaw movie, and The Jetsons movie, and the Captain Caveman movie. I was offered tons of money to do all of these things. So, of course, me being me, I chose to write Dawn of the Dead. Go figure out my brain, who knows.
Gunn went on to write the Scooby Doo sequel, which was a little less challenging. The writer and all involved knew what movie they were making from the start the second time around. The PG-rating was set in stone for the sequel. As for the R-rated cut of Scooby Doo, it's not ignored on the special features for the first movie. The commentary and other bonus features give an idea of the movie they set out to make. I'm doubtful it'll ever happen, but it would be great to see the R-rated cut of Scooby Doo on Blu-Ray someday.
Make sure to check out Gunn's full post about Scooby Doo on Facebook, via the link above.