Alfred Hitchcock Didn't Quite Agree With The Casting Of Vertigo's Female Lead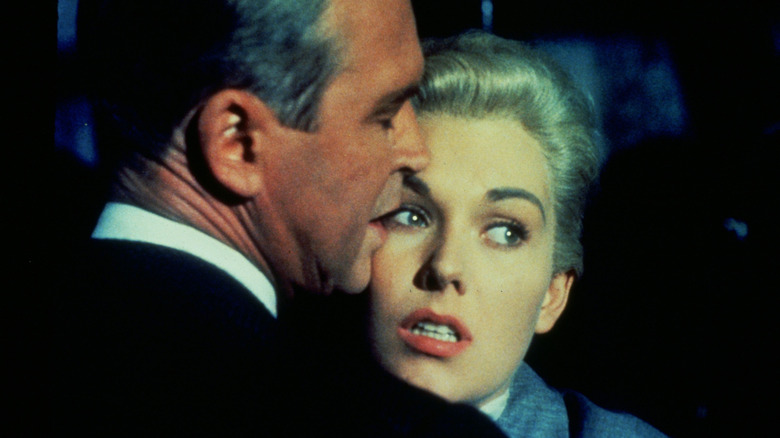 Paramount Pictures
The movie considered by many to be Alfred Hitchcock's masterpiece was also one of his most difficult productions. "Vertigo" stars Kim Novak as a woman who may or may not be playing multiple roles in a detective's (James Stewart) investigation. In an interview with Francois Truffaut, the "North By Northwest" director reveals that he once had Vera Miles set for "Vertigo," going through wardrobe, makeup, and several screen tests with her. Miles had previously worked with Hitchcock on the debut episode of his "Alfred Hitchcock Presents" TV series, followed by his 1956 noir "The Wrong Man" — part of the three-picture deal she signed with the director's Alfred J. Hitchcock production label. She would gain fame as Marion Crane's intrepid sister Lila in Hitchcock's "Psycho" in 1960, but it was her descent into madness in "The Wrong Man" that made her a strong candidate for the role of Madeleine Elster — the woman who nearly drives Jimmy Stewart over the edge. Hitchcock divulges to Truffaut:
"Paramount was perfectly willing to have her, but she became pregnant just before the part that was going to turn her into a star. After that I lost interest; I couldn't get the rhythm going with her again."
Hitchcock has long been known for his obsessions and controlling behavior over his starlets, and his reaction to Vera Miles was no different. Donald Spoto's book "Spellbound by Beauty" details the director's relationships with the women actors who contributed to his films; he is quoted telling Cosmopolitan Magazine that "Vera Miles is the girl who is going to replace Grace Kelly." But after Miles' pregnancy and subsequent withdrawal from "Vertigo," his zeal for Miles and her career subsided. Her replacement would, like Madeline/Judy in the film, be molded into the likeness of the woman he originally chose.
Made in her image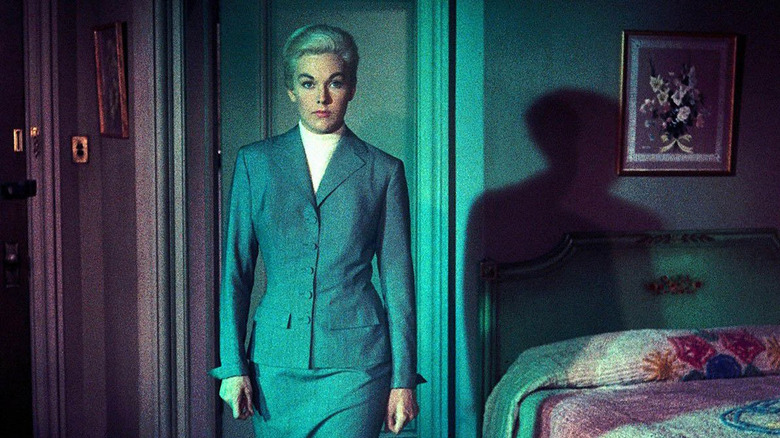 Paramount Pictures
"Vertigo" was adapted from Pierre Boileau and Thomas Narcejac's story "From Amongst the Dead" and concerns retired San Francisco detective John "Scottie" Ferguson (Stewart), who suffers from the titled medical condition after a rooftop chase ends in the death of his partner. When an old schoolmate asks for help tracking his increasingly erratic wife Madeline (Novak), Scottie becomes pulled into a web of mystique and deception. The lynchpin for the film was in its lead actress, who would have to portray a desperate woman molded into the image of another. Much as Hitchcock tried to do the same after Vera Miles' departure from the project, his creative relationship with Kim Novak was sour from the start. In their book of interviews, Truffaut praises Novak's "passive, animal quality" but Hitchcock retorts:
"Miss Novak arrived on the set with all sorts of preconceived notions that I couldn't possibly go along with. You know, I don't like to argue with a performer on the set; there's no reason to bring the electricians in on our troubles. I went to Kim Novak's dressing room and told her about the dresses and hairdos that I had been planning for several months. I also explained that the story was of less importance to me than the overall visual impact on the screen, once the picture is completed."
Hitchcock goes on to concede that the tension — which he terms as "unpleasant formalities" — may have tainted his assessment of the whole film and particularly Novak's performance in it, though he reassures Truffaut:
"I can assure you that those who admire Vertigo like Kim Novak in it. Very few American actresses are quite as carnal on the screen. When you see Judy walking on the street, the tawny hair and make-up convey an animal-like sensuality."
'We want you, but we want you to look like somebody else.'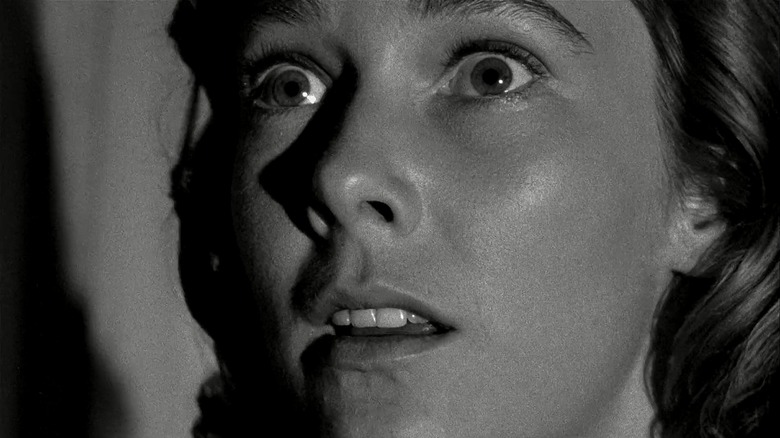 Warner Bros.
And Novak's experience? The director has long been alleged to disrespect his women actors; all actors should be treated like cattle, he once said. According to costume designer Edith Head (who previously dressed Grace Kelly, Doris Day, and Ingrid Bergman in Hitchcock's movies), the two clashed heavily over wardrobe ensembles. Another Spoto book, "The Dark Side of Genius," has the Oscar-winning designer's description of the tension:
"She announced that she wouldn't wear a gray suit with her hair dyded blonde for the Technicolor camera, since she was afraid she'd look vague and washed out. She also said she couldn't possibly wear dark brown pumps, since they would exaggerate what she thought were her rather fleshy calves ... Of course eventually when she got to the picture, she did exactly what Hitch wanted."
Remarks from Novak on Hitchcock are sparse, but "Spellbound by Beauty" captures words from the "Picnic" star comparing her reluctant makeover on "Vertigo" to her relationship with studios:
"[It was] so much of what I was what I was going through already at Columbia. We'd be told, 'You're special, you're different, we want you,' and then someone would say, 'We want you, but we want you to look like somebody else.'"
The parallel to her role in "Vertigo" — a movie with Jimmy Stewart transforming one woman to look like another he was obsessed with — is clear, and even Stewart is quoted in Spoto's book vaguely affirming, "I could tell it was a very personal film even while he was making it." 
The final product is regarded as one of the greatest ever made, containing Novak's career-high performance. And Vera Miles, the one who had a life of her own much to Hitchcock's resentment? Spoto has her zen remark: 
"He got his picture – and I got a son."