Getting Cast On Boardwalk Empire Came With A Whole Lot Of Homework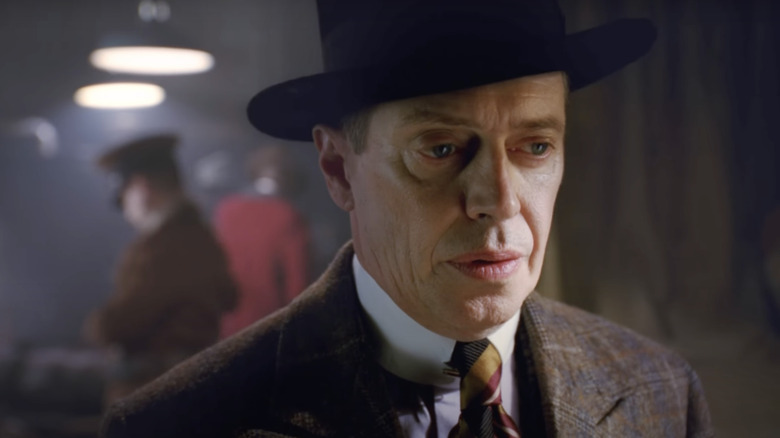 HBO
Over the course of five seasons, HBO's "Boardwalk Empire" interwove the fictional plot lines of a Prohibition-set crime drama with figures and events from real American history. Though it was based on a non-fiction book, "Boardwalk Empire: The Birth, High Times, and Corruption of Atlantic City," series creator Terence Winter took a page from the show's premium channel cousin "Deadwood" about what not to do in that he wanted to keep it from being easily spoiled by reading up on the history behind it. Steve Buscemi's antihero, Nucky Thompson, is only loosely based on politician and gangster Enoch L. Johnson, while other characters such as Nucky's protégé, Jimmy Darmody (Michael Pitt), were invented out of whole cloth or, at best, nominally inspired by real people.
Winter enlisted the aid of researchers like Edward McGinty to keep "Boardwalk Empire" historically accurate, even as it went about dramatizing situations that never happened. Speaking to Wired, however, McGinty said that the actors themselves sometimes became even more knowledgeable than the show's writers, as they went down the rabbit role researching the historical setting and basis for their characters. In short, they had done their homework. As McGlinty put it:
"The actors that play the gangsters are deeply researched on who their characters are, and I'd say probably know more than we do. We had them in Season 1 to talk to the writers about their particular characters. Michael Pitt was really, really a voracious researcher. He would always ask for a lot of information, stuff about World War I, that type of thing."
'It's a really interesting playground'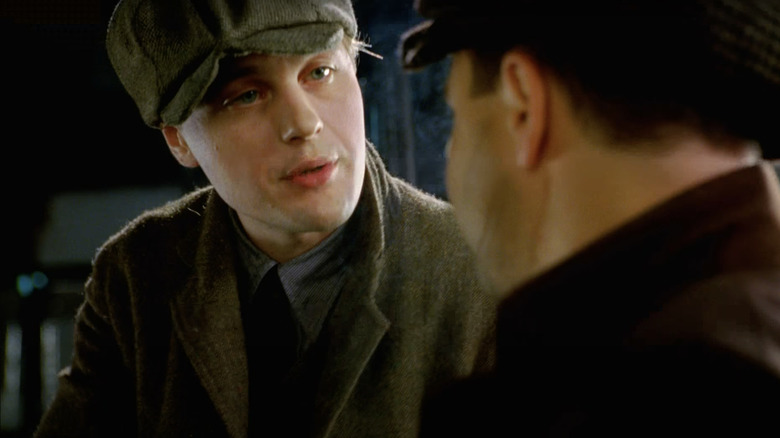 HBO
Some of the supporting characters on "Boardwalk Empire" are famous mobsters like Al Capone (Stephen Graham), Lucky Luciano (Vincent Piazza), Meyer Lansky (Anatol Yusef), and Bugsy Siegel (Michael Zegen). However, these characters are mingled with other fictional or lesser-known names like Nucky's mistress and eventual wife Margaret Thompson (Kelly Macdonald), puritanical Prohibition agent Nelson Van Alden (Michael Shannon), and mask-wearing mob enforcer Richard Harrow (Jack Huston). McGinty again pointed to Jimmy Darmody as the leader of the pack in the show's early seasons, saying:
"That was a fictional character that Terry came up with on his own accord. That's what we're playing with, real characters by name playing within a fictional world. It's interesting because you're able to connect the dots with the real characters through the fictional characters. It's a really interesting playground to play in."
"Boardwalk Empire" allowed Charlie Cox, Bobby Cannavale, and other future stars to break through to the mainstream, and the approach that it took to its period storytelling — using history as a jumping-off point for a fictional narrative — is one that we've seen other gangster shows like "Peaky Blinders" adopt in the years since.
Not every "Boardwalk Empire" cast member was immersed in heavy research; Michael Shannon, for one, told NPR, "I never know where I'm going to wind up. And I enjoy the surprise of it." That's the effect Winter was going for with the audience, too, and it was partly made possible by actors who were committed to authenticity on every level, including the historical one.