Deadwood Showed Boardwalk Empire's Creator What He Didn't Want To Do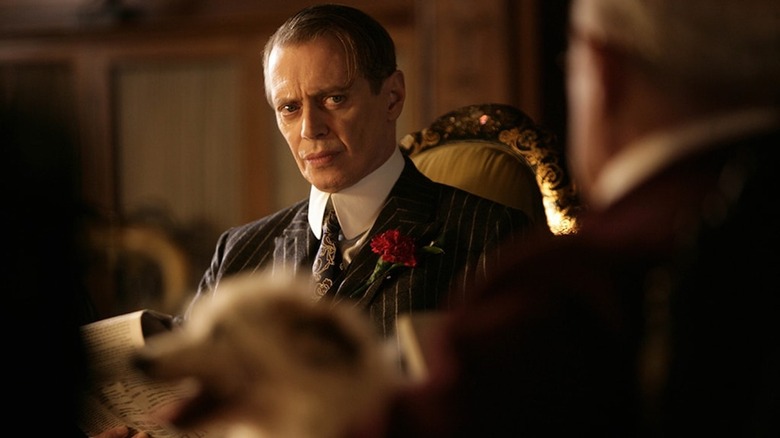 HBO
Moviegoers and television viewers have proven time and time again that they will devour films and series based on real-life events. When done well, biopics and historical dramas can immerse people in radically different eras or fascinating workplaces, conveying in a tactile sense what it was like to be there or to be that person. There's just one hitch: if a viewer so chooses, they can hit up Wikipedia and spoil the entire narrative. And if it's a recreation of a major historical event, like "All the President's Men" or "Apollo 13," who needs Wiki? Just about everyone will walk into the theater knowing exactly how the story shakes out.
This is especially treacherous for someone running a show spread out over multiple seasons. A major part of the reason people keep watching is that they've got to find out what happens next, and, ultimately, how the story will end. This was a major sticking point for showrunner Terence Winter during the development of "Boardwalk Empire," and why he opted to build the series around a fictional mobster instead of the character's very real inspiration. His rationale for doing so hinged on the one thing he didn't like about David Milch's brilliant Western drama, "Deadwood."
The burden of knowing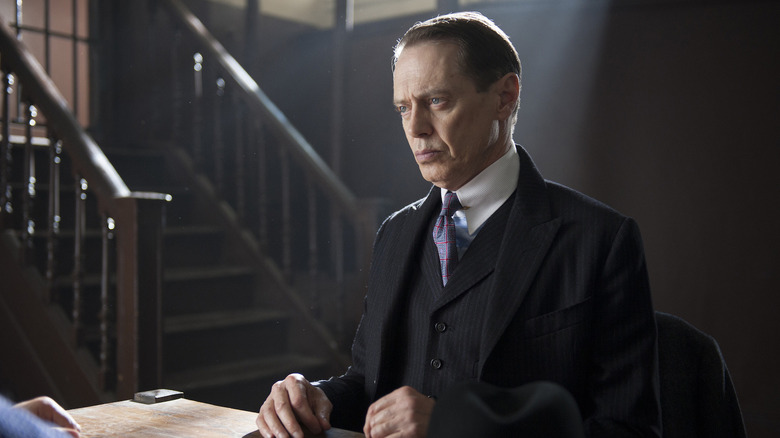 HBO
In a wide-ranging interview with Wired, Winter complained that he couldn't fully enjoy "Deadwood" because he was constantly waiting on certain obligatory scenes. He was especially annoyed by the first season's introduction of Wild Bill Hickok (Keith Carridine), whose violent death is a well-known piece of Western lore. "Every time Wild Bill Hickok would walk in," said Winter, "I'd go, 'Any minute now he's going to be sitting there at a card table, and get dealt aces and eights.' It's like looking through a crystal ball and you're like, 'Oh God, is that how it ends?' Sometimes it's better not to know." He was also bummed that he could Google the life of a lesser known scoundrel like Al Swearengen (Ian McShane), and discover that he died destitute while trying to board a moving train.
So rather than write "Boardwalk Empire" as a fact-based account of the life of corrupt Atlantic City power broker Enoch L. Johnson, he created the eminently Johnson-esque Nucky Thompson, played with a world weary contempt by Steve Buscemi:
"HBO gave me the book and said, 'Why don't you read this, and see if you think there's a series there.' The book itself is really the history of Atlantic City. There was a chapter on the real Nucky Johnson, and he's the guy who ran the town during Prohibition. I thought, 'OK, that's the guy. This is the era I'd like to explore.' Then everything else really from there was my own invention. Taking the character Nucky, and then, early on I made the decision to fictionalize him."
Altering the course of history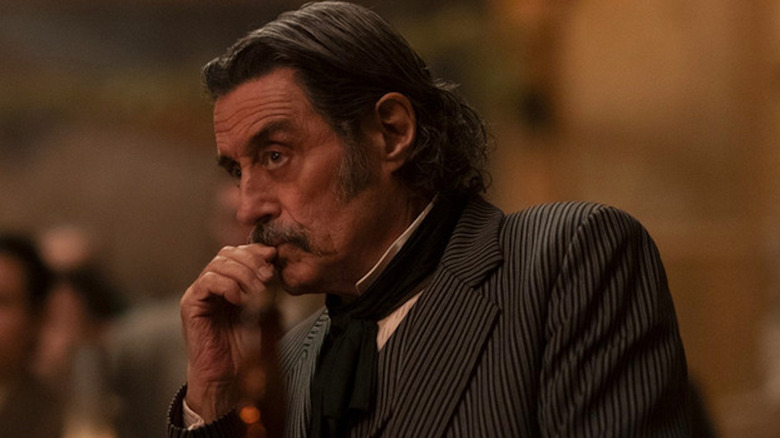 HBO
Winter gave that interview in 2012, seven years before HBO aired the concluding "Deadwood: The Movie," so it'd be nice to catch up with him now given that Milch wound up departing from the historical record and had Swearengen die, presumably in bed, of liver failure in the late 1800s. While Milch had to adhere to Hickock getting gunned down at a poker table, he ended the film before Calamity Jane met her end in 1903, and, because the vast majority of viewers knew little of a minor Wild West player like Swearengen, felt free and clear to have the saloon kingpin die in a manner that best suited the overall arc of the show.
Though "Boardwalk Empire" closed out on a satisfyingly downbeat note, the series took so many historical liberties that it's likely no one would've cared had Buscemi been playing the relatively obscure Johnson.