Jack Lemmon Wasn't The First Choice For His Some Like It Hot Role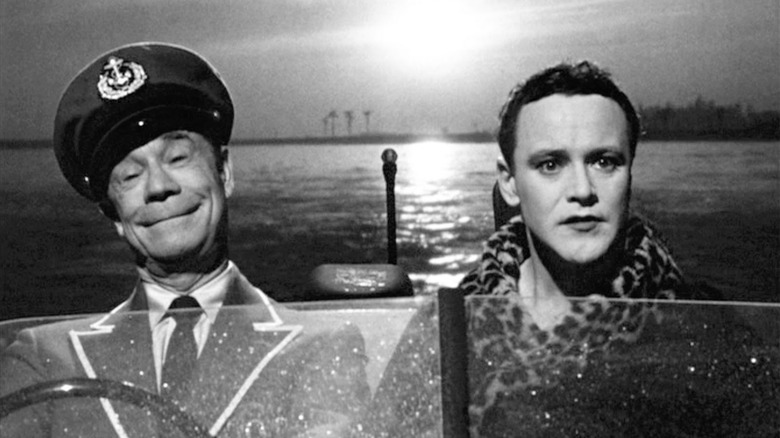 United Artists
Billy Wilder's "Some Like it Hot" is a game-changing comedy that continues to define the genre over half a century since its release, but it came very close to becoming a totally different picture. The incredible lead performances from Tony Curtis, Jack Lemmon, and Marilyn Monroe came to define the film, but the casting department almost went in a completely different direction with the role of Jerry/Daphne.
"Some Like it Hot" stars Lemmon and Curtis as two big band musicians looking for a quick buck. When they hear of a traveling band looking for a saxophone and a bass, they think it's kismet — there's just one catch: the band is all women. Desperate for work and in debt all over town, the two men disguise themselves in drag and join the band, where they meet Marilyn Monroe, a seductive but turbulent ukulele player.
Several other performers were asked to play the role of Jerry/Daphne before Lemmon. "The role was originally given to Jerry Lewis who turned it down," Lemmon's son revealed in an interview with Fox News. "But then they got Marilyn for the film. It was all the star power they needed." 
Lewis was a wildly popular comedian who performed with the singer Dean Martin in the '40s and '50s. He later admitted his regret over declining the role. "I would have had a chance to kiss Marilyn Monroe," Lewis lamented. "Instead, Wilder called me 'the schmuck who turned down 'Some Like It Hot' for the rest of his life, and Lemmon sent me chocolates every year until he died."'
Believe it or not, Lewis was not the biggest name — nor the only member of the Rat Pack — to be offered the role. In fact, one huge star reportedly accepted the offer but was later turned down.
Frank Sinatra and Jerry Lewis were offered the role first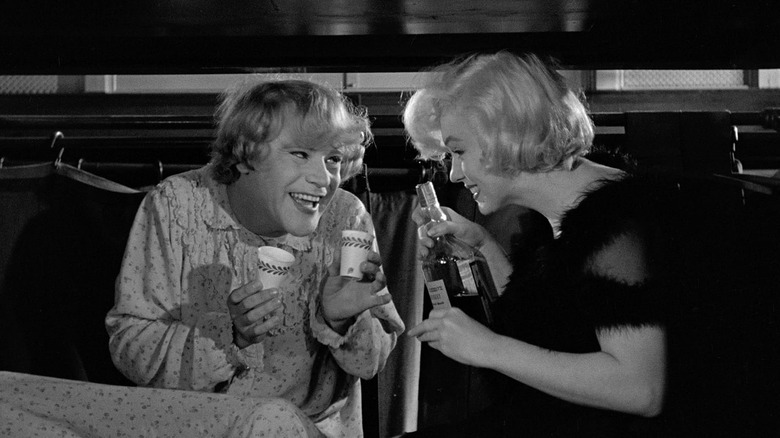 United Artists
Tony Curtis revealed in an interview with Entertainment Weekly that Frank Sinatra was also considered for the role of Jerry in "Some Like it Hot":
"​​​​Billy Wilder told me he wanted to get Frank Sinatra, and Mitzi Gaynor for the girl. Then about a week later Billy told me he wasn't going to use Frank. He said Frank would only be trouble. And he said he wanted to get Marilyn instead of Mitzi, even though everybody was warning Billy that Marilyn was going to be a lot of trouble too. He didn't care."
Wilder's choice to cast Monroe was risky and did not come without its challenges. "There was nothing laid back or amusing about Marilyn on that movie," Curtis recalled. "She was drinking a lot on the set." Luckily, Lemmon put her at ease. "He saw Marilyn for what she was, unlike the persona," his son explained to Fox. The actor "easily took to everybody," and the troubled starlet was no exception. 
Lemmon would also go on to have a great friendship with Wilder and collaborate on several other films, including "The Apartment." "We've become very close friends," Lemmon said of the director in "Portrait of a 60% Perfect Man: Billy Wilder" (via Filmagicians). "In all those years ... over twenty years now, I've never spent thirty seconds that were dull [with Wilder]," the actor declared. 
Thanks to Lemmon's agreeable nature and outstanding comedic talents, his artistic relationship with Wilder produced some of the most iconic films in the history of cinema.