Why Marilyn Monroe's Estate Supports Ana De Armas' Performance In Blonde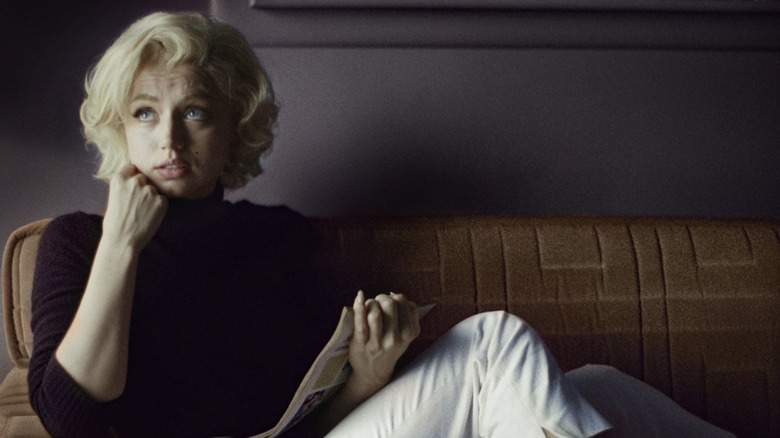 Netflix
The Marilyn Monroe Estate is not involved in Andrew Dominik's upcoming Netflix biopic "Blonde," but they do support Ana de Armas' casting — despite the recent backlash. Some social media users expressed concern about de Armas' accent in the film's trailer, which doesn't match Monroe's iconic soft-toned, breathy lilt. The Marilyn Monroe Estate, however, is unfazed. 
Marc Rosen, president of entertainment at Authentic Brands Group (ABG) — the company that owns the Marilyn Monroe Estate — told Variety: 
"Marilyn Monroe is a singular Hollywood and pop culture icon that transcends generations and history. Any actor that steps into that role knows they have big shoes to fill. Based on the trailer alone, it looks like Ana was a great casting choice as she captures Marilyn's glamour, humanity and vulnerability. We can't wait to see the film in its entirety!"
The actor previously revealed that she spent almost an entire year ahead of principal photography working on the accent she would use for Monroe in the anticipated feature. "It took me nine months of dialect coaching, and practicing and some ADR sessions [to get the accent right]," de Armas told The Times of London in January 2021. "It was a big torture, so exhausting. My brain was fried."
Marilyn Monroe's (dramatized) story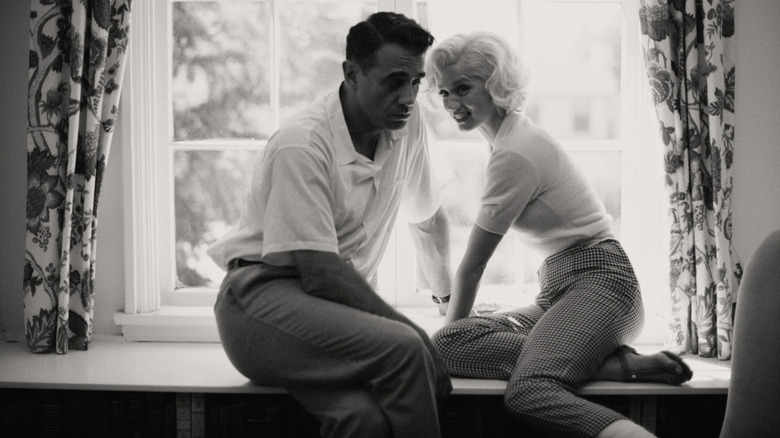 Netflix
Despite complaints about de Armas' accent in "Blonde" not being true-to-life, the "Knives Out" actor's inclusion in the film definitely highlights an important moment for marginalized representation in today's film landscape. In 2020, de Armas praised Dominik's decision to cast a Cuban actor in an iconic American role in an interview with Vanity Fair:
"I only had to audition for Marilyn once and Andrew said 'It's you,' but I had to audition for everyone else. The producers. The money people. I always have people I needed to convince. But I knew I could do it. Playing Marilyn was groundbreaking. A Cuban playing Marilyn Monroe. I wanted it so badly. You see that famous photo of her and she is smiling in the moment, but that's just a slice of what she was really going through at the time."
​​"Blonde" is based on the novel of the same name by Joyce Carol Oates. The book and film dramatizes Monroe's life and looks at her humble beginnings as Norma Jeane through to her superstardom. Monroe's famous former loves Joe DiMaggio and Arthur Miller are played by Bobby Cannavale and Adrien Brody respectively, while Julianne Nicholson, Evan Williams, and Xavier Samuel round out the supporting cast alongside de Armas. The film will debut in competition at the Venice Film Festival and premieres globally on Netflix on September 28.