Jack Lemmon Was The Only Actor Who Could Make The Apartment Work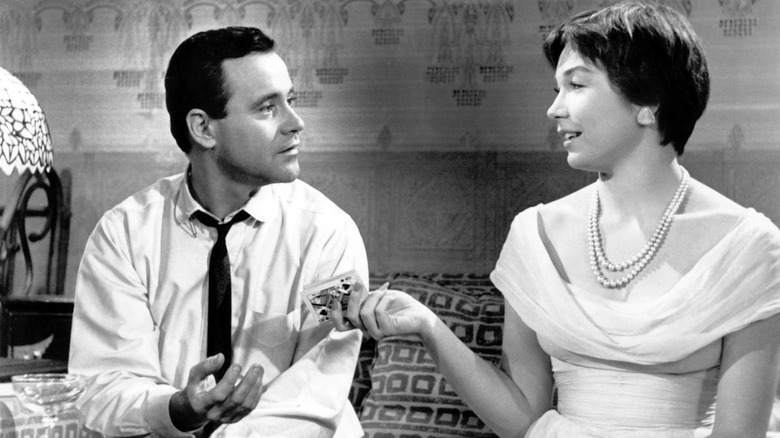 United Artists
"The Apartment" doesn't fit neatly into any film genre, let alone into the saccharine fare often reserved for Christmas time. Melancholy, satirical, and biting, it's neither a sweet rom-com nor a straight drama. Even with its dark edges, there is something comforting about Billy Wilder's 1960 film, like sitting inside a snug apartment on a wintry night. Its original tagline is a perfect summary of the film: "Movie-wise, there's never been anything like 'The Apartment.'" Actor-wise, there was no one who could play its leading role like Jack Lemmon.
Living alone can be tough around the holidays, especially when you let out your apartment to the higher-ups at the office for their torrid affairs. Such is the life of C.C. Baxter, played by the charming everyman Lemmon. His love interest is Fran Kubelik, a sassy elevator operator with a pixie cut and a wistful smile played by Shirley MacLaine. Baxter and Kubelik are earnest, lonesome souls sidelined from the main action happening at their Manhattan office. By the end of the film, they rescue each other from the brink of desperation.
In an MGM commentary looking back at "The Apartment," film critics discussed Wilder's decision to cast Lemmon, who had just come off his breakthrough role in the director's hit 1959 comedy, "Some Like It Hot." Critic and Lemmon biographer Joe Baltake noted that the actor's appeal as an average guy made him the perfect choice for "The Apartment":
"People really empathize with Jack Lemmon, and would accept anything he would do. And that's why he made 'The Apartment' so likable and so acceptable ... considering the era from which he emerged, on one hand you had the he-man actors, you know, like Robert Mitchum and John Wayne, and on the other hand you had the romantic leads like Rock Hudson and Tony Curtis and Cary Grant, and you had Jack Lemmon."
The nicest actor on the lot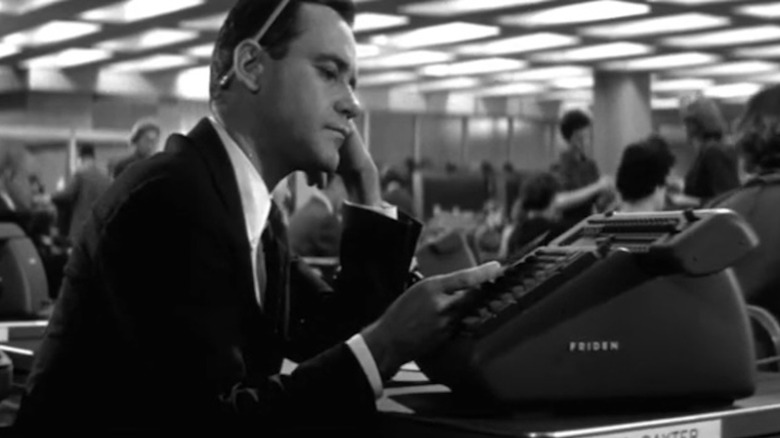 United Artists
Billy Wilder's genius in "The Apartment" hinges on his casting. For Jeff Sheldrake, the duplicitous corporate boss who plays with Kubelik's heart, Wilder cast against type by hiring Fred MacMurray, who was best known for family-friendly films like Disney's "The Shaggy Dog" and his role as the friendly father at the center of the TV sitcom, "My Three Sons." MacMurray's clean-cut, paternal looks make him all the more despicable as he strings the lovelorn Kubelik along.
The part of Baxter, on the other hand, had to be played by a likable actor. The audience must believe that Baxter is kind and trustworthy enough to care for MacLaine's Kubelik while she is passed out in his bed after a suicide attempt. Audiences are able to see themselves in Jack Lemmon's character; you're convinced that he really is a poor schlub who brown-noses his colleagues and gets shut out of his own home.
In the same commentary, Lemmon's costar, Hope Holiday, accurately describes the actor's teddy-bear-like qualities as "cute, cuddly, and warm; you loved him." It's a sentiment that was echoed by his colleagues in Hollywood, who dubbed him "the nicest actor we've had on the lot" (via The Guardian).
'Be a mensch'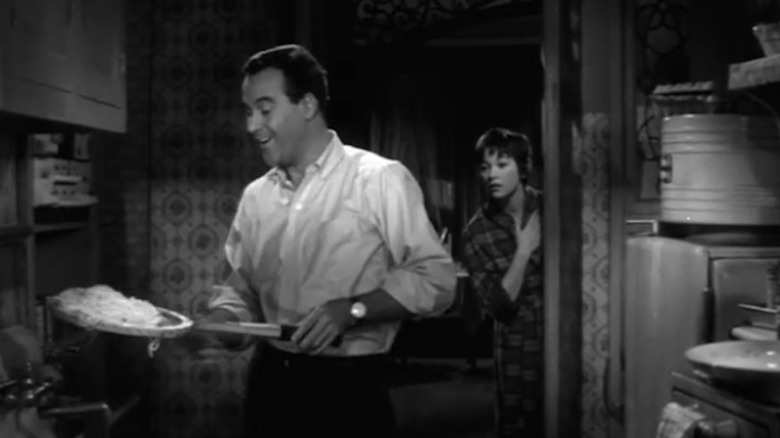 United Artists
We love Baxter — and Lemmon — even more as we watch his growth throughout the film. When Baxter's neighbor, Dr. Dreyfuss (Jack Kruschen), believes that he has been drinking and bedding women every night, he advises him to slow down and grow up.
"Be a mensch," Dreyfuss says. "You know what that means? A human being."
There's more to the Yiddish word "mensch" than just "human being." To call a man a "mensch" is the highest compliment one can give. It means they can be relied upon because they're a standup guy who has honor and integrity. Throughout "The Apartment" we see Lemmon's evolution from another Yiddish term, "schmuck," to a mensch when he decides to abandon his horrible boss and profess his love to Kubelik. That turn is one few actors could make as believable as Lemmon does.
Being a nice person doesn't seem like it would be an advantage in Hollywood. Yet an actor's real-life persona can color the audience's opinion of a performance. I can't imagine "Our Idiot Brother" succeeding as a film about a do-gooder hippie without its nice guy star, Paul Rudd. And almost any other actor playing a child inside an adult's body would come off as creepy, but it works for "America's dad," Tom Hanks, in "Big." In the same way, no one else could have tackled C.C. Baxter like Lemmon, who used his unparalleled comedic chops and lovable charm to convince us that he was a true mensch.