House Of The Dragon Trailer: The Final Trailer Brings Fire And Blood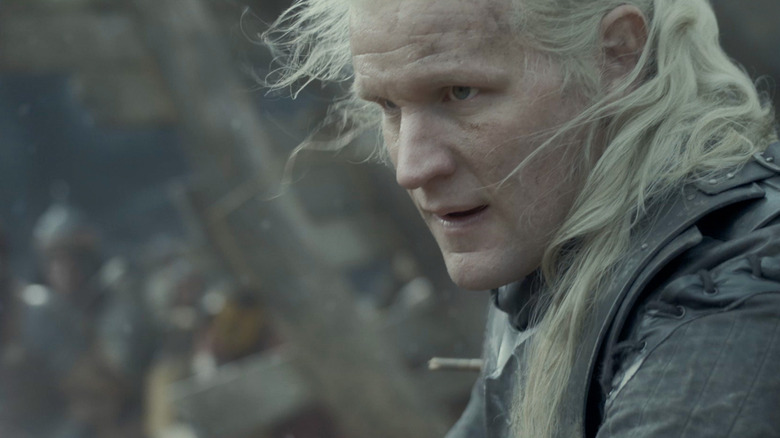 HBO
Three and a half years ago, our watch had ended ... but now it's time for another one to begin.
I hope you savored these last few years of peace (well, relatively speaking, given that the internet is rarely ever at "peace") ever since "Game of Thrones" came to a grand conclusion, closing the book on one of the most popular and all-consuming pop culture phenomenon ever to grace the small screen. Ready or not, the madness and obsession is about to start up all over again with "House of the Dragon."
Or will it? With nobody quite sure whether audiences have had the time to fully process and get over the divisive final season of the original show, the prequel series is now only days away from bringing us back to the bleak, gritty, and dragon-infested world of author George R.R. Martin's imagination. This time, we're trading in the kingdom-wide scramble for control over the Iron Throne in favor of an intense power struggle waged between members of House Targaryen — one that has every indication of leading to an operatic civil war.
That feeling of inevitable confrontation is at the forefront of the final trailer for the new series, which HBO just released for those still looking for something to do this Sunday night. Check it out below!
Watch the final House of the Dragon trailer
Ominous portents of the future, paranoia over unseen enemies, and absolutely no shortage of death and destruction raining down from fire-breathing dragons above — this "House of the Dragon" footage has it all, teasing that "fire will reign" on Westeros during this previously unseen period of history (although it has been spoken of before).
Co-created by Ryan Condal and original author George R.R. Martin with Condal and "Game of Thrones" veteran director Miguel Sapochnik serving as showrunners, "House of the Dragon" looks to up the ante to heights that even its acclaimed parent show never managed to reach. Will a whole ensemble of brand-new characters, complicated family histories, and familiar themes appeal to fantasy nerds who are looking for reasons to tune in, or will the copious amounts of cinematic battle sequences, the larger-than-life political drama over that troublesome throne, and some downright spectacular imagery end up being the key to draw in wary viewers who might need an extra push? This trailer certainly appears to be banking on the latter.
Starring Paddy Considine, Matt Smith, Olivia Cooke, Emma D'Arcy, Steve Toussaint, Eve Best, Sonoya Mizuno, Fabien Frankel, Rhys Ifans, and many, many more, "House of the Dragon" will be unleashed on HBO this Sunday night, August 21, 2022.
The reign of House Targaryen begins. House of the Dragon, the prequel to Game of Thrones, is coming to HBO and HBO Max on August 21. Based on George R.R. Martin's "Fire & Blood," the series, which is set 200 years before the events of Game of Thrones, tells the story of House Targaryen.