A Major Theme Of House Of The Dragon Evolved Naturally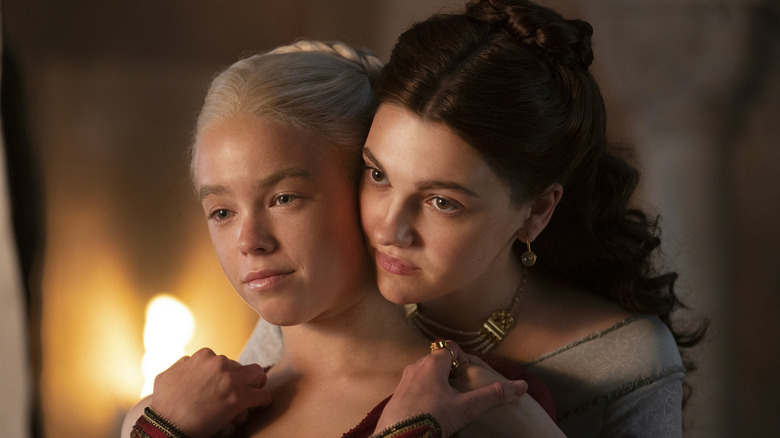 HBO
Whether you believe that life imitates art — or look at things the other way around — it's clear that we're living through an unprecedentedly imitative time. Media these days is chock full of themes and events that mirror our own to a frightening degree, as the status of once-fundamental civil rights seem to crumble before our very eyes (among other equally world-shattering revelations). The word "timely" has been used to describe a fair amount of content lately, whether creators are aiming to invoke our current hellscape or not. And it's always majorly interesting to see the parallels between the heightened reality in science fiction or fantasy and our own.
These connections weren't immediately apparent to the cast and crew behind "House of the Dragon," HBO's first return to the lucrative "Game of Thrones" universe. Seeing as Westeros draws a fair amount of inspiration from medieval Europe, there isn't a whole lot of overlap between their world and ours ... or at least, that's what showrunners Miguel Sapochnik and Ryan Condal initially believed. But with the series' more intimate setting — focusing on just one family and all the egos within it — "House of the Dragon" began to develop an interesting through line, one that really highlights emerging issues in our own, present-day reality.
The women that started it all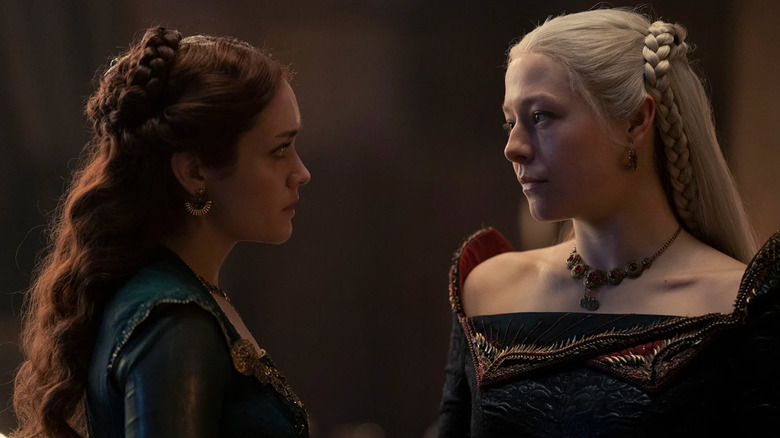 HBO
"House of the Dragon" kicks things off by focusing on just four main players: The Targaryen king Viserys (Patrick Considine) and his brother Daemon (Matt Smith), as well as his daughter Rhaenyra (Emma D'Arcy) and her best friend, Alicent Hightower (Olivia Cooke). Things start to get messy when Alicent marries Viserys and becomes queen, essentially edging Rhaenyra out of her claim to the throne. From there, things obviously spiral outward, to a sprawling civil war and the downfall of the Targaryen empire. But at the end of the day, it's still about one family — and about the two women at the heart of all the drama.
"These two women are at once credited and also blamed with this particular war," Condal explained to EW. "Because the history is written by men, we were really interested in the dynamic forces that a certain medieval level of innate chauvinism puts on the two women."
That aforementioned chauvinism wasn't always a part of Condal and Sapochnik's plan for "House of the Dragon." "It wasn't something where we said, 'We must make the show about this,'" Sapochnik explained to The Hollywood Reporter. But as the pair continued to develop the series, "we realized that's what we had in front of us."
'You can't ignore the violence that was perpetrated on women by men in that time'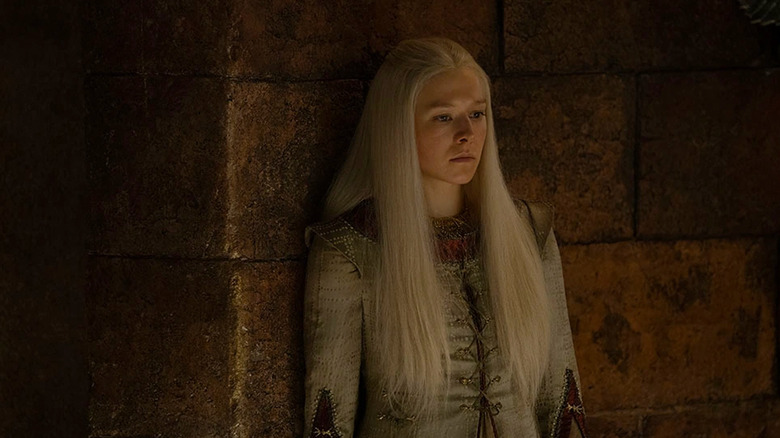 HBO
All that patriarchal hubris was also pretty evident to D'Arcy and Cooke, especially when it came time to shoot the series. Cooke explained: 
"There are times where Emma is on one stage and I'm on the other and we're both surrounded by [male characters] being idiotic. And we know if all these men just f****d off, and it was just us two, the realm would be fine. It's the meddling and the peacocking and egos that completely muddy everything."
It will be interesting to see just how the male-driven hierarchy informs the rest of the series. Fans inarguably flocked to "Game of Thrones" for its shocking twists and, well ... adult themes, but the series also earned a bit of ire for its portrayal of its female characters. While sexual violence is as much a part of "Dragons" as it is "Thrones," Sapochnik and Condal are committed to approaching delicate subjects with a bit more awareness. "You can't ignore the violence that was perpetrated on women by men in that time," Sapochnik said. "Dragon" won't "downplay" it, but it won't "glorify" it either.
The new series will also focus on childbirth in a pretty major way, another theme that feels pretty darn relevant in the wake of the Supreme Court's overturning of "Roe v. Wade." "In medieval times, giving birth was violence," Sapochnik explained. It was also a major part of life at court — and since the story of "Dragon" spans generations, there will be a number of births in the series. Sapochnik — who penned famous "Thrones" episodes like "Battle of the Bastards" and "The Winds of Winter" — wanted to treat each birth like a battle of its own. He "basically decided to give them different themes and explore them from different perspectives, the same way I did for a bunch of battles on 'Thrones."