House Of The Dragon Will, Like Game Of Thrones, Explore The Complex Gender Dynamics Of Westeros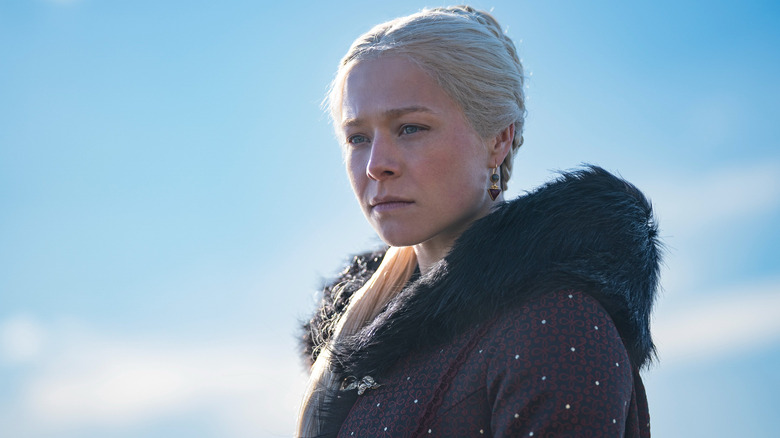 HBO
Ever since "Game of Thrones" ended — for better or worse — life has been lacking when it comes to dragons, drama, and thrones made of swords. But HBO is about a month away from filling the void in our TV schedules with the first "Thrones" spin-off series. Thankfully, "House of the Dragon" is adapting a George R. R. Martin story that already has an ending: "Fire and Blood" chronicles the history of House Targaryen, beginning 200 years before the Mother of Dragons would return their family name to fame.
During the height of Targaryen rule in Westeros, King Viserys chooses his firstborn daughter as heir to the Iron Throne — but years later, the once-unified House is split in two when Viserys conceives a son. So begins the bloodiest civil war the country has ever seen and at the center of it all is Princess Rhaenyra, a role shared by Milly Alcock and Emma D'Arcy (as the younger and older versions of the character). And just in case you're pondering the Princess' importance, just know that Ryan Condal — who co-created the series with Martin — spelled it out pretty clearly to Entertainment Weekly when he called her "the most important role in the show."
The fiery tale of Princess Rhaenyra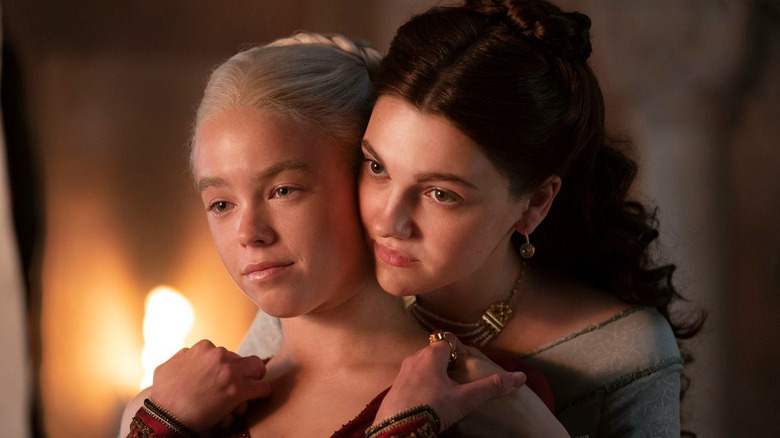 HBO
The Targaryen family rarely subscribes to the norms of Westeros society, but Rhaenyra still feels like a very special case. Before the birth of her brother, she enjoys all the freedoms usually afforded to male heirs: serving as her father's cup-bearer, riding dragons, and having the entire realm swear fealty to her. Sure, she gets a very Princess-esque nickname in childhood — known as the Realm's Delight — but she's more Arya than (season 1) Sansa, ignoring needlework and dance lessons in favor of bolder endeavors. In fact, Alcock auditioned for the role with lines of Arya's dialogue. She told EW:
"They're both women who don't behave the way that they're expected to. There is that rebellious and cheeky spirit that they both possess, which I think is why people are going to adore her."
From the sound of it, Rhaenyra is one way that this series will explore the complex Westerosi gender dynamics that played a major role in shaping some of the most captivating characters on "Game of Thrones." D'Arcy (who uses they/them pronouns) told EW that they see Rhaenyra as someone who is constantly "pushing at the edges of womanhood":
"She is a person who feels at odds with the way that she is read by the world — even this label the Realm's Delight, which implies a passivity, being an object of people's ogling. It's like she has a doppelgänger. The doppelgänger is Rhaenyra-born male, who has access to all the things that she craves and feels to be hers."
Another dangerous woman of Westeros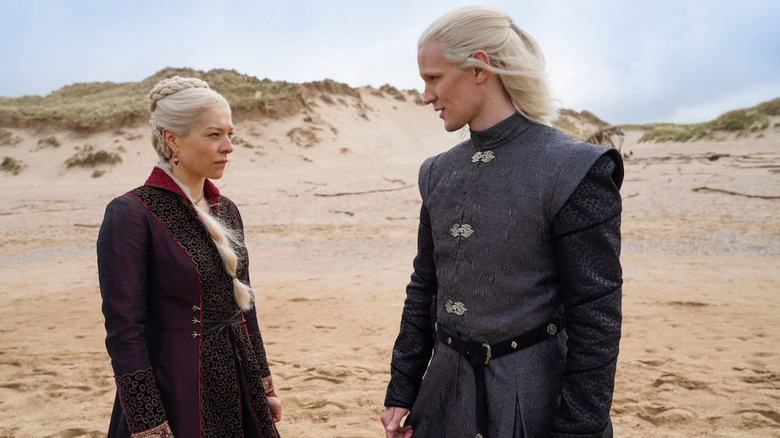 HBO
D'Arcy went on to say that Rhaenyra is "obsessed with masculinity," and equates "maleness" to freedom. Her frustrations aren't too different from the thoughts that plagued a young Cercei Lannister when forced to accept her role and marry a man she came to loathe while her twin brother trained for battle. Nor is it so different from Arya Stark's jealousy of her brothers, or the unending scorn that Brienne of Tarth faced whenever her gender was revealed to the scummy warriors of Westeros. In the end, those three became some of the deadliest characters in Thrones history, each carving a place for themselves in a world that looked down on women.
Fighting that uphill battle made them ruthless — so it's very likely the same will be true for Rhaenyra. Not to mention the Targaryen blood running through her veins. In the same interview, D'Arcy noted that Rhaenyra's relationships with her fellow Targaryens play a major role in her story going forward, pointing to her connection with her uncle, Daemon (Matt Smith): "In some ways, they're [of] the same fabric, and yet the rules are completely different [for them]." D'Arcy also hinted at the tenser relationships in Rhaenyra's life:
"Rhaenyra has a real history of abandonment. It's something that keeps happening, and she's also very much culpable in that abandonment. She really presses relationships, often to the point where they cannot continue."
Knowing how one particular Targaryen descendant handled her abandonment issues, best of luck to anyone who dares to cross Rhaenyra.
"House of the Dragon" is set to premiere on HBO on August 21, 2022.