Meet Cute Release Date, Cast And More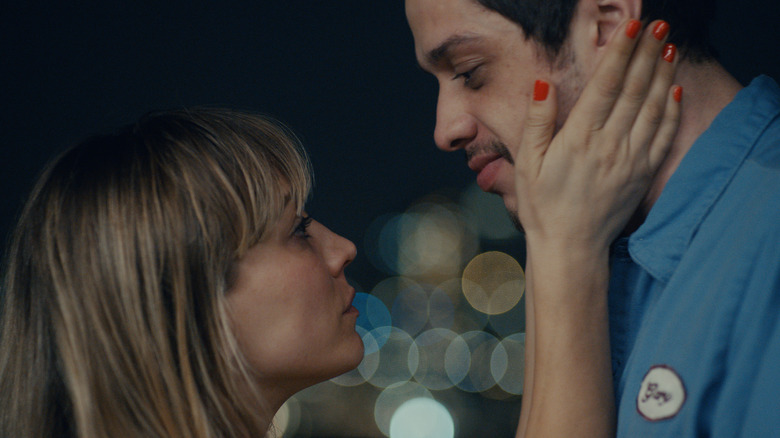 Peacock
(Welcome to ...And More, our no-frills, zero B.S. guide to when and where you can watch upcoming movies and shows, and everything else you could possibly stand to know.)
If you could go back in time and relive the first date you had with the love of your life, would you do it? Would you tell this person that they're not a stranger to you, the way you are to them? What would the consequences be for the rest of your lives if one small thing changes? 
Time travel can be a sticky situation in fiction, and it's about to be explored again in the new feature film "Meet Cute" starring Kaley Cuoco ("The Flight Attendant," "The Big Bang Theory") and Pete Davidson ("Saturday Night Live," "Bodies Bodies Bodies"). In the film, Sheila (Cuoco) and Gary (Davidson) find love at first sight, or so it appears. What is really happening, however, is that Sheila has a time machine, allowing her to go back and relive the moment they fell in love over and over again.
Here's what we know about "Meet Cute" so far.
Meet Cute release date and where to watch it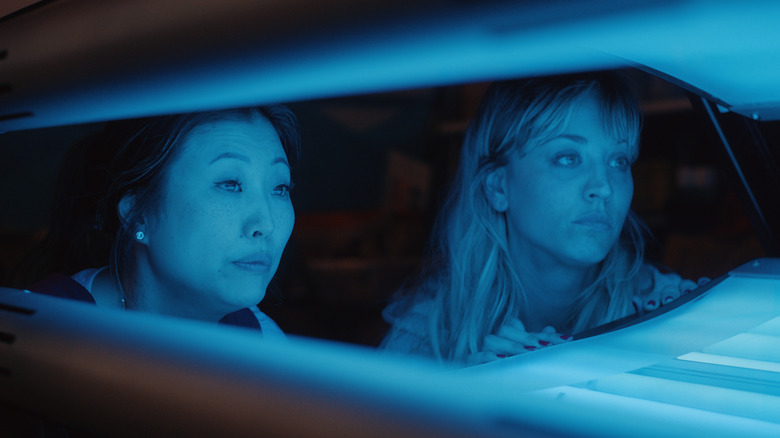 Peacock
"Meet Cute" is a Peacock original film, which will premiere on the streaming service on Wednesday, September 21, 2022. There is no trailer available for "Meet Cute" at the moment, but we'll bring it to you as soon as one is released.
"We are thrilled to add Meet Cute to our slate of Peacock original movies this Fall," said Val Boreland, Executive Vice President, Content Acquisition, NBCUniversal Entertainment, Television and Streaming. "It's the perfect film to join Peacock's catalogue as the service continues to expand with a range of films for every fan and occasion."
The script for "Meet Cute" was one of the 2018 The Black List picks. If you aren't familiar with it, the Black List is a group of the most liked, unproduced scripts in Hollywood that has been published every year since 2005.
Meet Cute cast and crew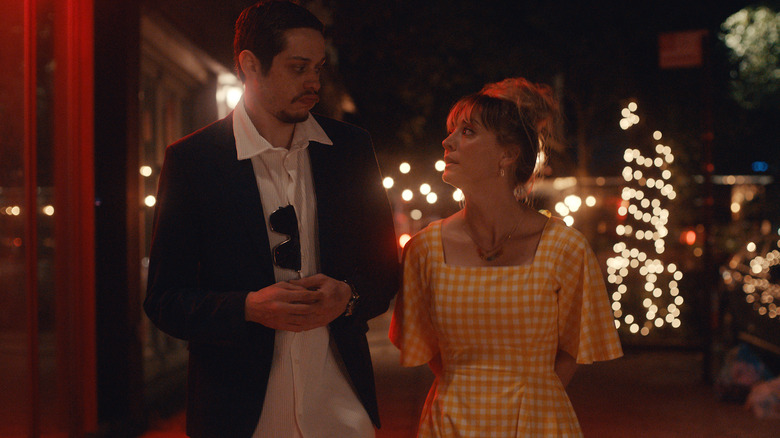 Peacock
Though the only cast names we have for "Meet Cute" are Davidson and Cuoco at the moment, we'll update you with any cast announcements. Cuoco played Penny for 12 seasons on "The Big Bang Theory," and the lead role in the HBO Max series "The Flight Attendant." Davidson appeared on "Saturday Night Live" from 2014 through 2022, when he announced his departure. He co-wrote and starred in the dramedy "The King of Staten Island." He's also appeared in James Gunn's "The Suicide Squad" and the recent horror film "Bodies Bodies Bodies."
"Meet Cute" is directed by Alex Lehmann, who is known for "Acidman" and "Blue Jay," and written by Noga Pnueli (the shorts "Deb," and "The Last Days of TJ Staggs"). 
"Meet Cute" comes to us from Weed Road Pictures. Akiva Goldsman, Rachel Reznick Wizenberg, Gregory Lessans, Santosh Govindaraju, and Dan Reardon will serve as producers. Executive producing the film are Davidson and Cuoco, as well as Blair Ward, Art Robinson, Anders Erdén, Sara Shaak, Jonathan Taylor, Simon Fawcett, Martin Sprock, Brian O'Shea, Nat McCormick, Caddy Vanasirikul, Galen Smith, Marc Danon, Noga Pnueli, Julia Kroll, Monte Lipman, Dana Sano, David Gendron, and Ali Jazayeri.