The Bodies Bodies Bodies Cast Had To Remind Themselves The Horror Wasn't Real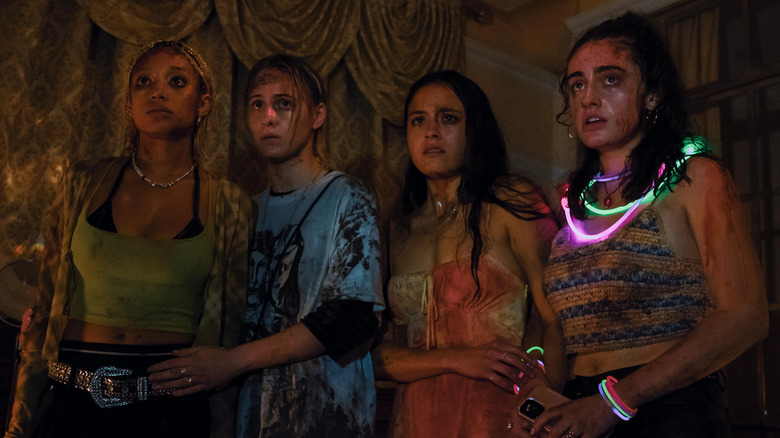 A24
Halina Reijn's "Bodies Bodies Bodies" is a wonderful late summer surprise that boasts an awesome ensemble turning on one another trying to figure out who's leaving a trail of dead bodies in their wake. The Gen Z-infused whodunnit is a very funny encapsulation of a toxic friend group reaching their breaking point, but amid all of Peter Davidson's fragile masculinity and pretty much anything that comes courtesy of Rachel Sennott, Reijn knows when to take this cursed get-together to some dark places.
The foundation of "Bodies Bodies Bodies" is built upon the hyper paranoia of not being able to trust someone you know, let alone a room full of your supposed best friends. I imagine if I was trapped in a mansion way up in the mountains that has no power, no wi-fi, and the cars are all dead, I would be pretty frightened too. Production designer April Lasky manages to make this obscenely rich abode feel not too dissimilar from a haunted castle where all kinds of potential danger lurks around every corner.
While speaking with Complex, Amandla Stenberg ("The Hate U Give") spoke about the balancing act of giving room for the comedy and horror to work in equal measure:
"We want to ensure that the movie was both sardonic and funny, and then also terrifying in equal measure. We, as the people who made the movie, think so much about are the jokes hitting? Or do you feel like you get a deep psychological understanding of these characters? Sometimes I forget the movie's actually pretty brutal."
It appears, however, that the cast of "Bodies Bodies Bodies" has to find their own ways to work around that balance while making the film.
Amandla Stenberg had to engage with the notion of death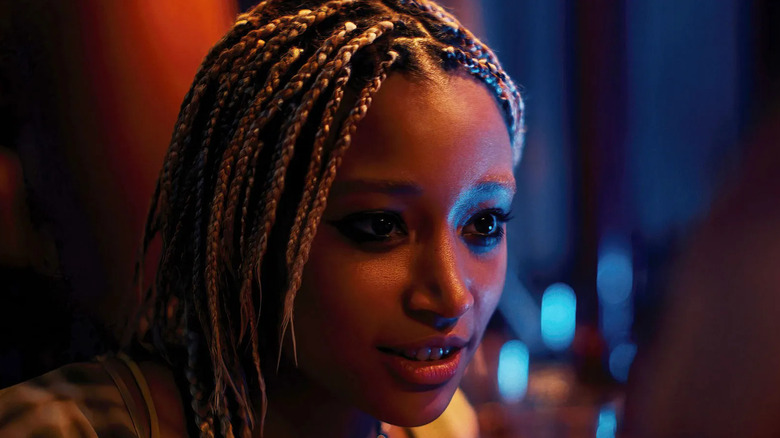 A24
If the title wasn't any indication, "Bodies Bodies Bodies" features, well, bodies, and quite a number of them. The wealthy environment ultimately becomes littered with the stench of death, as the friend group attempts to sus one another out. Considering how close these characters are supposed to be to one another, it makes the reluctant line of abrasive questioning feel even more intense.
When you get wrapped up in the mindset of your character, I imagine it must be difficult to stay in a perpetual state of paranoia as they're constantly thinking about the dead body mere feet from you. Stenberg talks about how her approach to staying level-headed while playing a harrowed Sophie is more about distinguishing the difference between the stress of being an actor versus the character (via Complex):
"I've engaged with death a lot in different films that I've been a part of...There have been moments with certain projects where I felt like maybe I took this a little too far and this became a little too real for me, and it took me some time once I finished with a shoot to decompress and let go of the trauma that my body thought it had experienced. Your body really cannot discern the difference between a fake memory and a real one."
It's already stressful watching these people frantically point the finger at one another, so I can't imagine having to perform any method acting on top of that. Thankfully another "Bodies Bodies Bodies" cast member had the perfect way to decompress.
Chase Sui Wonders had a special trick to help the cast get through this experience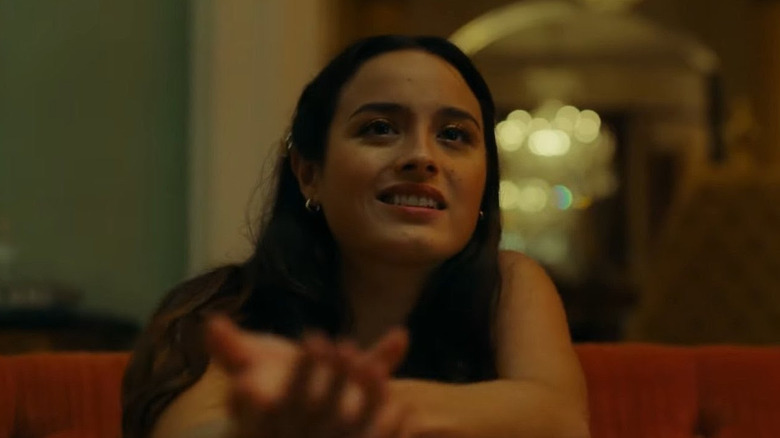 A24
Whether it's fake or real, yelling comes from a place within you. If you've ever been in the company of a bickering friend group, whether through the group chat or in person, you know how quickly things can get out of control, especially once you reach the "talking over one another" phase.
Stenberg mentions in her Complex interview how her "Bodies Bodies Bodies" co-star Chase Sui Wonders ("On the Rocks") actually helped her and the rest of the cast how to separate the rush of tough emotions by assuring themselves that this is all just pretend:
"At the end of the day, you go, 'Hi, body, we're back. It's over. The fun is done, and now we're turning back to ourselves. You can let go of everything that happened today.' But there were definitely a couple of death scene moments that stuck with me for a little bit, and I kind of had to shake off."
"Bodies Bodies Bodies" is now playing in theaters.