Garfield: Everything We Know So Far About Chris Pratt's Take On The Cartoon Cat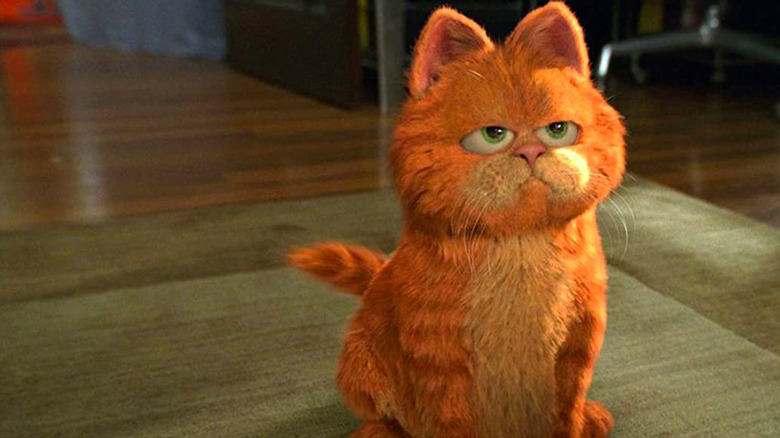 20th Century Studios
Once upon a time, there existed these things called newspapers that showed up at your door in the morning. Inside were news stories about politics, sports, health, and movie listings. They also included comic strips, aka the funny pages. Though the newspaper has gone the way of the dodo, for the most part, some of these comic strip characters still live in our imagination. One of them is a big orange tabby cat named Garfield, who hates mornings and Mondays, loves lasagna, is terrified of spiders, and bullies his doggie housemate Odie. 
Even if you've never read a single Garfield comic in a newspaper, you've likely seen him in books, animated series, or films. This grumpy orange feline, created in 1978 by cartoonist Jim Davis, is hitting the big screen again in a new animated film adaptation from Alcon Entertainment. Garfield will be voiced this time around by Chris Pratt ("Guardians of the Galaxy"). A whole lot of big names are joining the voice cast for the film, including the previously announced Samuel L. Jackson ("Pulp Fiction"). Here's what we know about "Garfield" so far. 
What we think Garfield will be about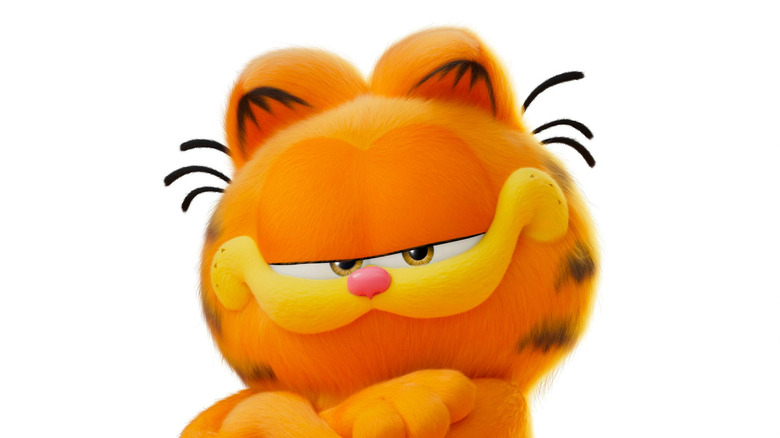 Sony
Though we don't have a synopsis for "Garfield" yet, we certainly know a lot about the character. He lives with his kindly owner Jon Arbuckle, a bumbling cartoonist who loves music, but isn't very good at it. He also lives with a dog named Odie who is a bit goofy and doesn't really speak outside of the usual doggie vocals. For most of the history of the comic strip-turned-franchise, Jon is smitten with Garfield and Odie's vet Dr. Liz Wilson. Their relationship is likely to be a part of the story, as is Garfield's hatred of going to said vet. 
We know that Samuel L. Jackson is voicing the role of Garfield's father. From what I remember from my childhood "Garfield" books and the comic strips, he isn't someone we've seen before, though Garfield's mother and grandfather have appeared. That means we may get some flashbacks, or perhaps a Garfield seeking advice on an issue. 
What we're sure to see is Garfield's eternal pursuit of lasagna, something he loves more than anything other than his teddy bear Pooky. It's been a running joke, as has Garfield's weight, something he's teased about by everyone, including his talking scale. 
The comic strip appeared in 2,580 papers and journals, and is the record holder for the most widely syndicated comic strip in the world. There are a lot of stories to choose from for the film.
What we know about the cast and crew of Garfield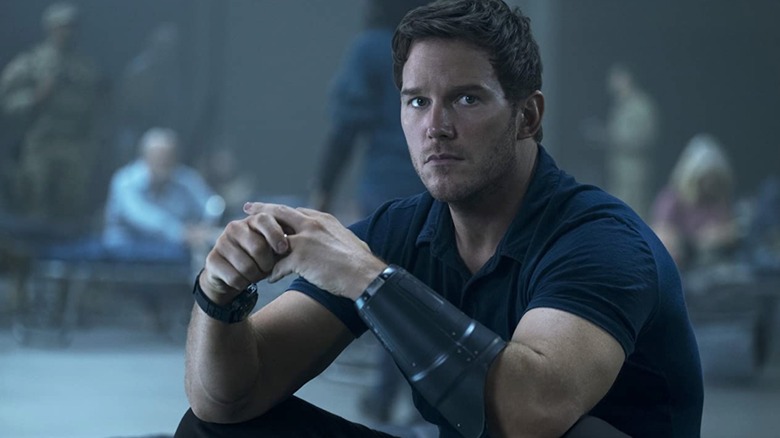 Amazon Studios
As stated, Garfield will be voiced by Chris Pratt, and his father by Samuel L. Jackson. Joining the cast, according to Deadline are Ving Rhames ("Mission: Impossible — Dead Reckoning Part One"), Nicholas Hoult ("The Great"), Hannah Waddingham ("Ted Lasso"), and Cecily Strong ("Saturday Night Live"), though there is no news about who they'll be playing. 
Just my humble opinion here, but on first instinct, I'd assume Cecily Strong will voice Dr. Liz, or maybe even Nermal, a little kitten with the long eyelashes that Garfield can't stand. Hannah Waddingham could be Arlene, a fancy Russian Blue cat that comes from the comics, though she could also voice Dr. Liz. We don't know for certain if any of these characters will be in there, but they're strong possibilities. Nicholas Hoult could voice Jon Arbuckle. There is a small part of my childhood brain that really wants Odie to speak, and with Ving Rhames' voice. It would be so discordant and delightful, but these are just guesses. 
The director for the film is Mark Dindal ("Emperor's New Groove," "Chicken Little"). David Reynolds ("Finding Nemo") adapted the screenplay. DNEG Animation will produce and animate "Garfield." Producers include John Cohen and Steven P. Wegner, with Alcon Entertainment co-founders and co- CEOs. Broderick Johnson and Andrew Kosove, and DNEG CEO Namit Malhotra and President Tom Jacomb. Executive producing are Jim Davis, Andrew McMeel Entertainment's Bridget McMeel, and Craig Sost.  
Sony Pictures will release "Garfield" on February 16, 2024.