How 9/11 Made Jim's Proposal To Pam On The Office Much More Difficult To Shoot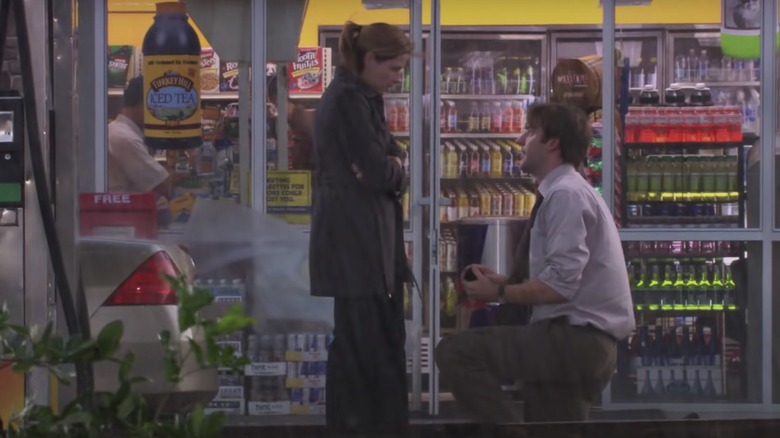 NBC
Jim Halpert's proposal to Pam Beesly on "The Office" was one of the most anticipated moments of the entire series. So fans were completely caught off guard when the romantic moment seemed to come out of nowhere in an almost anti-climactic way. But it was always designed to be like that. 
The proposal came in the fifth season premiere, "Weight Loss," after Andy stole Jim's intended grand gesture, by proposing to Angela during Toby's going away party in the fourth season finale, "Goodbye, Toby." At the time, Pam was living in New York, attending art school. According to author Andy Greene in the book "The Office: The Untold Story of the Greatest Sitcom of the 2000s," series creator Greg Daniels was the one that pushed for the proposal to unfold at the midway point between Scranton and New York City. But shooting "halfway between Scranton and NYC" proved to be quite the challenge, especially when factoring in post-9/11 limitations to the production.
The place wasn't important to Jim, but it was to Greg Daniels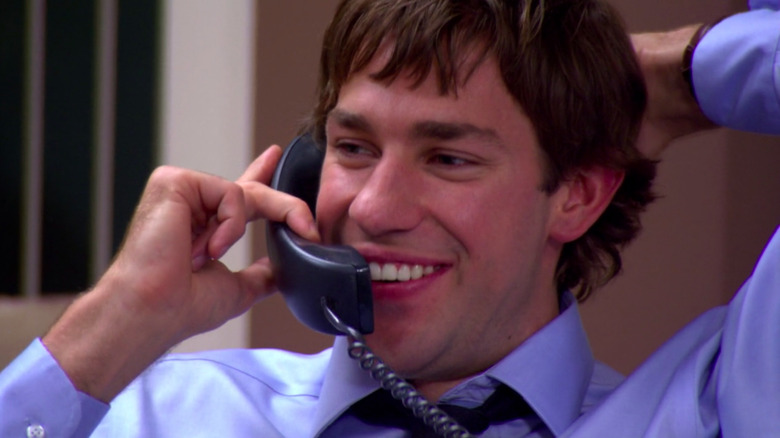 NBC
So why was one of the most memorable will-they-won't-they storylines in modern television given an anti-climatic proposal in a season premiere? This wasn't even remotely teased in the lead-up to the episode. Even in the episode itself, we think Jim is just setting up a cute date with Pam when he messages her, "Meet me at that rest stop. Do you remember the one where the soda exploded all over you? We'll meet for lunch there." It was such a "Jim and Pam" inside thing that no further context was needed, only the reference of a memory. It was all so innocuous, with no hint of such a momentous occasion.
As for why the proposal needed to happen right then and there, "The Office" producer Randy Cordray added:
"Greg insisted that this be shot at a rest stop during the day, in the rain. I kept trying to pick his brain as to why he wanted it like that. He said to me, 'Momentous events can happen to us in a place that we least expect it.' That's why Jim proposed to Pam at a rest station gas stop in the rain. He couldn't wait another minute, and the place wasn't important."
According to Cordray, Daniels had a very specific vision for the shot, right down to a real rest stop location:
"What he had in mind was an actual rest stop that he and his family visit when they visit his in-laws in Connecticut. They would fly into LaGuardia and hop in their rental van and they would always stop at this one Exxon Mobil station along the Merritt Parkway to use the bathroom and get a bite to eat and get a drink, and then go on to Connecticut. So this was his archetype of what he wanted for a rest stop."
They had to build the rest stop from scratch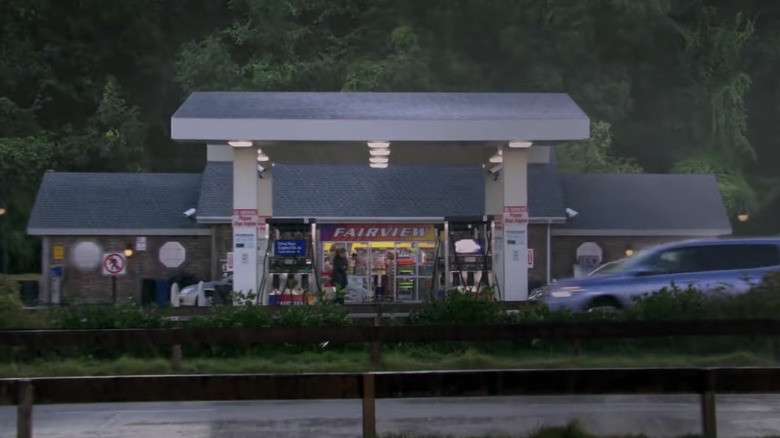 NBC
Beyond the creator's demands for the scene, there was another big problem before they could begin shooting. The real rest stop Daniels wanted to use wasn't available as a shooting location. After 9/11, the company that owned the property made filming the scene there impossible.
After the terrorist attacks of 9/11, ExxonMobil prohibited any kind of film productions on their properties in order to prevent any security risks. Cordray explained:
"After 9/11, we learned that ExxonMobil had put a moratorium on filming any of their locations. They did not want the hassle and the security issues of a film crew on that location. So it was an absolute no, there was no negotiating around this. We could not shoot at that location."
Because they couldn't find another suitable replacement for Daniels' vision, they decided to build one themselves. As production designer Michael Gallenberg noted, "We had nine days to scout, design, build, and shoot a rest stop with a four-lane parkway." They settled on a five-acre parking lot behind a Best Buy in Glendale, California, where they built the façade of a gas station and the fake highway in a figure-eight shape, so vehicles could continuously pass through in front of the camera. 
Even though that looks like a full fledged gas station, Cordray revealed:
"It was only eight feet deep. When you see the shot in that episode, and you see activity behind Jim in the minimart of the gas station, that's only eight feet deep. There's just enough room for a person in there to walk up to a cashier. It was all done with photographs. The colorful cases of sodas, those were photographs that Michael took and printed and laminated them onto toam-core backing. They were merely planted on the back wall of that set. 
'The single-most expensive scene shot in the entire run of the show'
Boom operator Brian Wittle said flatly in Andy Greene's oral history, "We built a gas station. It was totally unnecessary, way overboard." But on the Office Ladies podcast, Jenna Fischer revealed just how important the scene was to Daniels and his team. "In the end, this was the single-most expensive scene shot in the entire run of the show," Fischer said. "It lasted 52 seconds and it cost $250,000." That's pretty pricey, but at least it was a pivotal moment in the series, not like that one Michael Scott joke that cost $60,000.
The proposal also led to a lengthy behind-the-scenes debate about whether the audience should actually hear any of that proposal. Ultimately it all culminated in one of the most mundane but memorable proposals in television history, and we're quite grateful for that.