How One Of Michael Scott's Jokes On The Office Ended Up Costing $60,000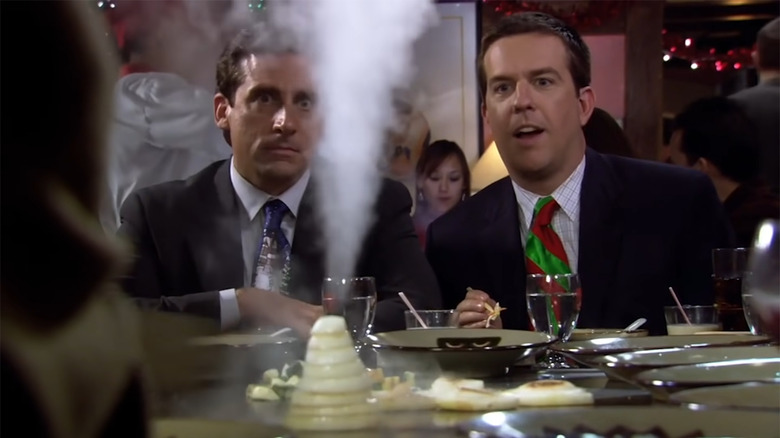 NBC
Few things are as unstoppable as "The Office." It's been years since the last time I went through the series, but the perpetual stream of gifs and memes makes it feel like the show truly never left.
Should your rewatch need an extra boost of Dunder Mifflin excitement, Jenna Fischer and Angela Kinsey have you covered with the podcast "Office Ladies," in which the pair extensively cover one episode every single week, dishing out all of the behind the scenes goodies any "Office" fan could ask for. The series is currently up to season 6 with "The Chump," but the episode detailing "Benihana Christmas" features a very pricey revelation about one of Michael Scott's jokes.
At the start of the "Benihana Christmas" two-parter, Michael (Steve Carell) talks about how excited he is to surprise his girlfriend Carol (Nancy Carell) with a trip to Jamaica. While doing so, he briefly sings Eddie Money's "Two Tickets to Paradise." And that moment of Michael holding up the tickets for the Sandals resort apparently left the "Office" team with a notable bill.
Two tickets to paradise comes with a hefty price tag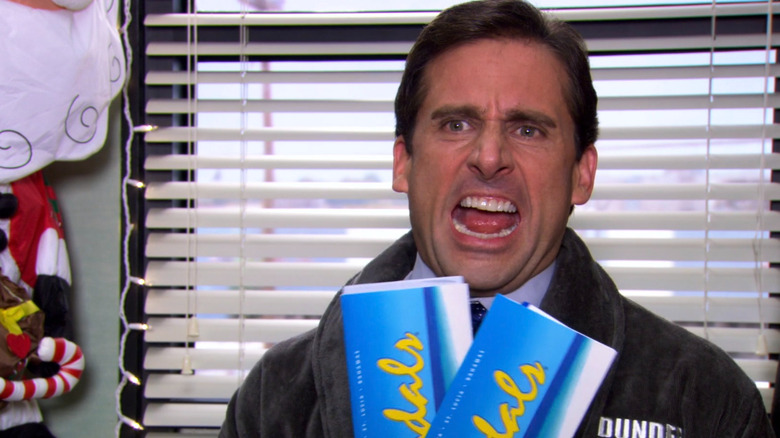 NBC
When the Office Ladies reached the "Benihana Christmas" episode, writer Jen Celotta talked about how shocked she was when she learned from producer Kent Zbornak that the joke she had written for Carell ended up with a hefty price tag of $60,000:
"I was like, it's a fine joke, but none of my jokes I've ever written have been a 60,000 dollar joke. But I remember not so long after that we had some of our music budget pulled away from us. And I can't help but think I mean, I was sitting at the mix and had no idea that because he sang that song, that song had to be cleared and that joke was 60,000 dollars."
Whoops! It's such a brief moment, but apparently that's all it takes for Money's estate to collect on the gag, which feels very much in line with a mistake that Michael would probably make. I imagine it was worth it, given that it joins Carell's gallery of memes. Even if you've never seen a single episode, there is a 99.9% chance that you've encountered a meme that features Michael doing his cringe face. When there is nothing left, there will be only a gif of him yelling "NO!" at Toby. But at the very least, it won't cost $60,000.
Every episode of "The Office" is currently streaming on Peacock.