Jenna Fischer (Kinda) Revealed What Was In Jim's Teapot Note To Pam In The Office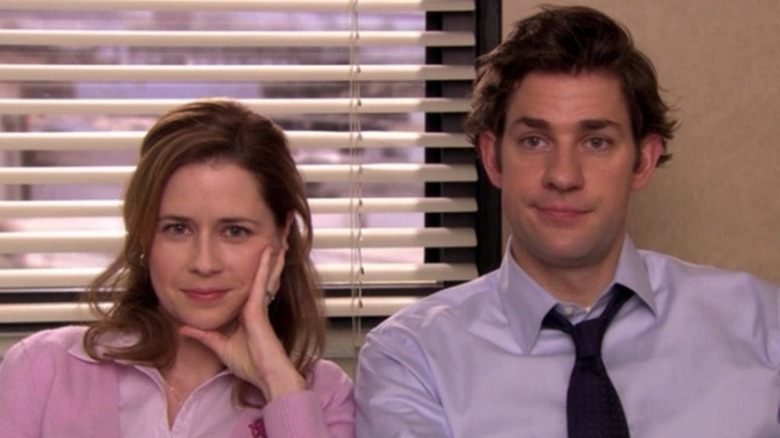 NBCUniversal
The cult of "The Office" has only grown stronger since it debuted in 2005. It's hard to picture these days, but "The Office" was one of those shows that took a minute to find its audience, but when it did it found a very vocal, very dedicated fanbase. There are a dozen questions people still have about the show. You know, things like "What is Kevin's chili recipe?" and "Is that really what she said?" But at the top of the burning questions list is something very romantic and very secretive.
Jim and Pam spent an agonizingly long time figuring out they were soul mates and an early bold move by Jim happened in the season 2 episode "Christmas Party" when Jim wrote a note to Pam and hid it in a teapot that he was gifting her. Jim chickened out and removed the note before Pam could read it and the creative team kept that love letter in their back pocket and held it there until way into the season 9 episode "A.A.R.M." 
The audience never gets to know what's in that note. When Pam finally reads it she vows to keep it secret, but "just know it was perfect."
Now, thanks to Jenna Fischer and Angela Kinsey's podcast "Office Ladies," we have a little insight into just what was in the note.
And it is ridiculously adorable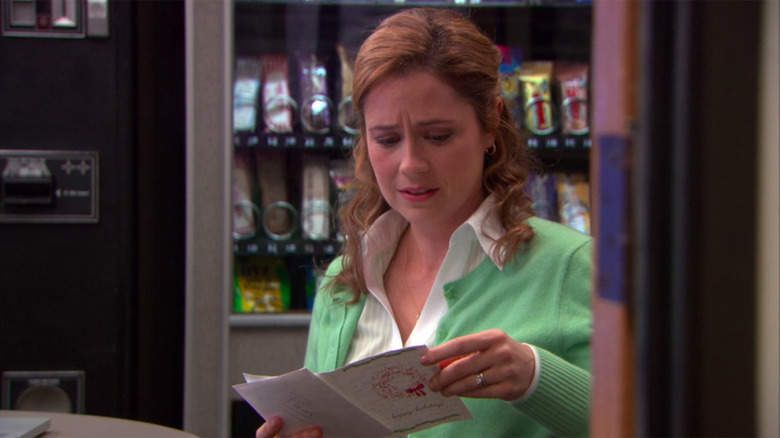 NBCUniversal
Fischer described the wait as the note was introduced and then held on to for the right moment. She thought maybe the showrunners would bring Chekov's Note back for the wedding episode when Jim and Pam finally got married, but they showed great restraint and held it back until the very end of the show.
Yes, John Krasinski did write something for Jenna Fischer to read, and that tearful reaction is authentic, but it's not a note from Jim to Pam. Rather, it was a note from John to Jenna as their nearly decade-long adventure together was coming to a close.
"I believe Greg (Daniels) suggested to John that he write a personal message. From himself to me. Just saying what our time together on "The Office" meant to him. Because we were wrapping up filming, we were wrapping up the series and we were all so emotional at that time, you know. So I'm on camera and I open up this note that John's written me and I just start crying. I just start bawling. Probably the first take was probably not usable. It was the sweetest note and you know, on camera, Pam says, "I'll never say what it said, but just know it was perfect." Well, I'll never say exactly what John wrote, but I will say just know, it was perfect."
While we don't know the exact words he used, it is absolutely adorable and totally fitting that this is the story behind one of TV's most intriguing unsolved mysteries.