Jim's Proposal To Pam On The Office Sparked A Divisive Debate Behind The Scenes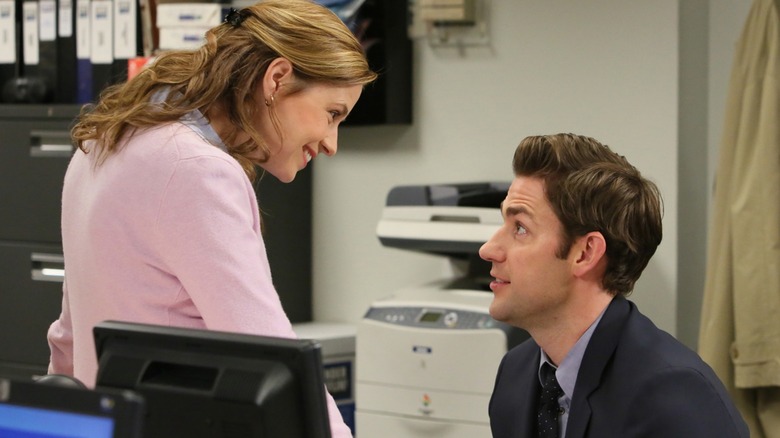 NBC
"The Office" ended nearly a decade ago, but Jim Halpert and Pam Beesly still remain one of the most-loved couples in modern sitcom history. John Krasinski's Jim and Jenna Fischer's Pam are so synonymous with TV comedy love that when other people reference them, it's almost always on a first-name basis, no show title needed. We all know Jim and Pam.
Before they were a beloved endgame ship, though, the pair were just a couple of lovebirds trying to figure it out. When they finally did in the season 5 premiere, it was in a simple, beautiful moment. When Pam spends months away from Scranton at a graphic design class, Jim decides to make a spontaneous trip to see her. They meet at a rest stop along the freeway in the middle of a rainstorm, where with little preamble, Jim gets on one knee to ask her to marry him. Across the street, the series' faux-documentary cameras catch it all.
Except, they almost didn't. According to Andy Greene's oral history book, "The Office: The Untold Story of the Greatest Sitcom of the 2000s," this scene became a lightning rod for discussion and debate behind the scenes, culminating in the emotional decision to let it all play out as planned — with audio.
Cut the mic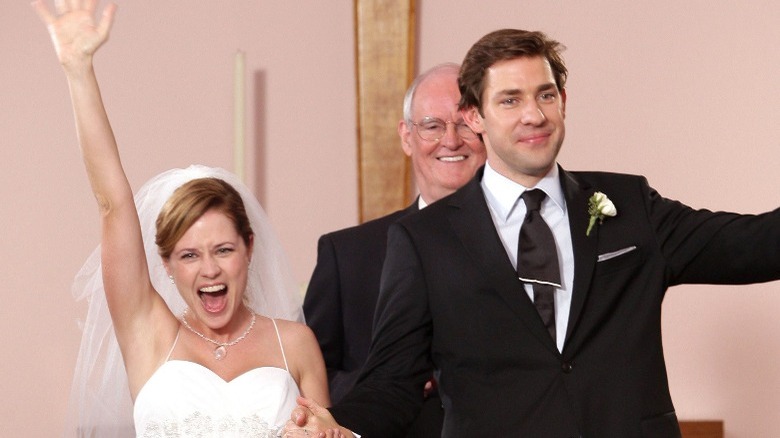 NBC
Producer, writer, and season 5 co-showrunner Jennifer Celotta described the two schools of thought in Greene's book. "There was this massive debate about whether the proposal should have sound or not have sound. Massive," she said. "We were in two camps and I think we were just divided down the middle." According to editor Dean Holland, the scene was originally shot for sound, but he also created a version that allowed the two characters a moment of private intimacy that, within the narrative context, the audio team behind the in-series documentary crew didn't catch.
"I showed [series creator Greg Daniels] a version where you're hearing the traffic and everything and he pulls up," Holland said, "And what I did is, I just took all their dialogue out. It was as if they didn't have their mic packs on." This cut of the scene would imply that Jim took his mic off before meeting Pam to make the moment theirs and theirs alone, although, as boom operator Brian Whittle pointed out, camerapeople realistically would've still caught the ambient sound of rain. The show would go on to employ this intentional silence for a major moment at the end of the same season when viewers find out Pam is pregnant in a doctor's office scene we can't actually hear.
"What you imagine might be even more romantic than what you actually hear," Randall Einhorn, who directed several episodes of the series, said in Greene's book, explaining why he's team "no sound." This has held true in other great on-screen moments, most famously in the 2003 film "Lost in Translation," when viewers aren't able to catch what Bill Murray's character says to Scarlett Johansson. The trope has been popular ever since, most recently appearing in "Thor: Love and Thunder" just this year.
In the end, audiences heard it all
Daniels was clearly intrigued by the idea. Not only did he consider the version of the scene with no dialogue, but he seemingly became consumed by the task of making the right decision. He started asking people on set their opinions on the two cuts, beginning with crew members and ultimately escalating to security guards, accountants, and even the cleaning crew. "I found a legal pad in his office with people who wanted sound and people who didn't want sound," Celotta shared in Greene's book. "His wife and one of his kids was one side, his other two kids were on the other side." The fact that, according to Jenna Fischer on the "Office Ladies" podcast, this was the most expensive scene the show ever filmed likely made the pressure to get it right even worse.
Ultimately, Daniels chose to use the version that included dialogue, although the decision came down to the wire and turned out to be surprisingly emotional. Holland said the Daniels spoke to him by phone and described having tears in his eyes as he described his proposal to his own wife, saying, "I didn't say anything fancy. I didn't say anything special. If I could go back now, it was probably the lamest proposal ever. But that's what my wife and I will always remember."
So "The Office" chose sound, and on that drizzly day on the side of the road somewhere between Scranton and New York, Jim asked Pam to marry him. "What are you doing?" she says as he gets on one knee while she's in the middle of chatting about their commute. "I just, I can't wait," he answers. "Pam, will you marry me?" She says yes. It's simple and lovely, and fourteen years later, it's an unforgettable part of sitcom history.