The Best Sci-Fi Films By Indigenous Filmmakers To Watch After Prey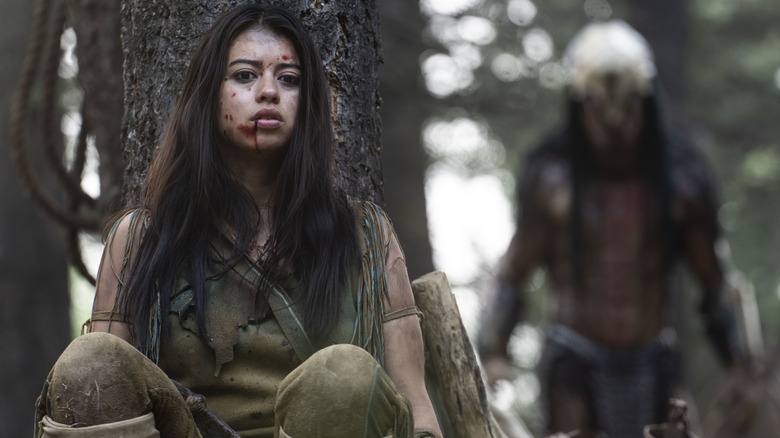 Hulu
Dan Trachtenberg's "Prey" is not only the best-reviewed "Predator" film on Rotten Tomatoes, but in three days of its release gained more viewer hours than any Hulu television or movie to date. That's an incredible feat for a sci-fi thriller and proof that horror fans are craving more Indigenous-made films. Comanche-Blackfeet producer Jhane Myers, anchors the film's setting, characters, and perspective to craft the first-ever fully Nʉmʉnʉʉ (Comanche language) dubbed film. 
In "Prey," the young hunter Naru (Amber Midthunder) embarks on Kuhtaamia, a hero's rite of passage, when a Predator lands on Earth for the first time to hunt. Of course, a bloody battle of brawn and wits ensues. When asked about how she approached bringing a film set 300 years ago on Comanche land to life, Myers told Bloody Disgusting, "I was excited because it dealt with my culture. I was born in Comanche land, with 19,000 other Comanches ... It wasn't hard for me because I could bring that authenticity. I could reach back out to my community. Because this is set 300 years back, we needed some older words. I would call my grandpas. They're not my blood grandpas but my traditional grandpas ... One guy was like, 'I'm outside fixing my mailbox.' I said, 'Well, how do you say this? What did your grandpa call this?'" 
In celebration of this critically-acclaimed film, here's a list of Indigenous-crafted and Indigenous-starring movies that use sci-fi elements to tell a moving story.
Night Raiders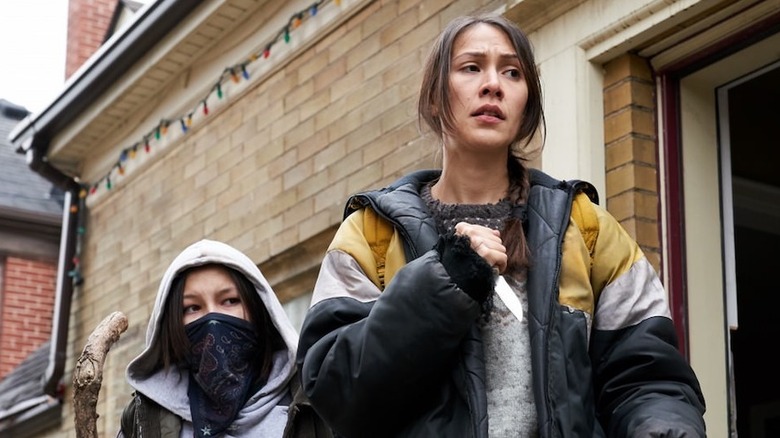 XYZ Films
Executive produced by Taika Waititi, "Night Raiders" tells a moving and brutal mother-daughter story that tackles the intergenerational trauma of Indigenous displacement through a sci-fi lens. In the war-torn world of 2043, children are not safe. Once the government locates a child — thanks to its unending drone surveillance — they are brought into a state-run institution called the Academy. Militant teachers brainwash children to become soldiers, forcing them to leave behind their families' customs, religion, language, and names. Despite Niska's (Elle-Máijá Tailfeathers) relentless protection of her daughter, Waseese (Brooklyn Letexier-Hart), the government still manages to kidnap her. The film follows Niska's quest to save her daughter. She joins a group called the Night Raiders, who vow to bring every Cree child back to their community and in turn, discover the hopeful power of kinship.
Saskatchewan-born, Cree-Métis filmmaker Danis Goulet uses her film in part to depict the horror of Canada's residential school system that ran from the 1880s through the 1990s, splintering families, abusing children, and destroying Indigenous cultures in its wake. However, like "Prey," this dystopic film lands on an optimistic note. Naru and Niska are saved by their culture. Their passed-down knowledge of medicinal practices, tracking, and access to their community not only makes survival possible but showcases them outwitting predatory forces that underestimated their collective power. 
If you or someone you know may be the victim of child abuse, please contact the Childhelp National Child Abuse Hotline at 1-800-4-A-Child (1-800-422-4453) or contact their live chat services.
The Rocket Boy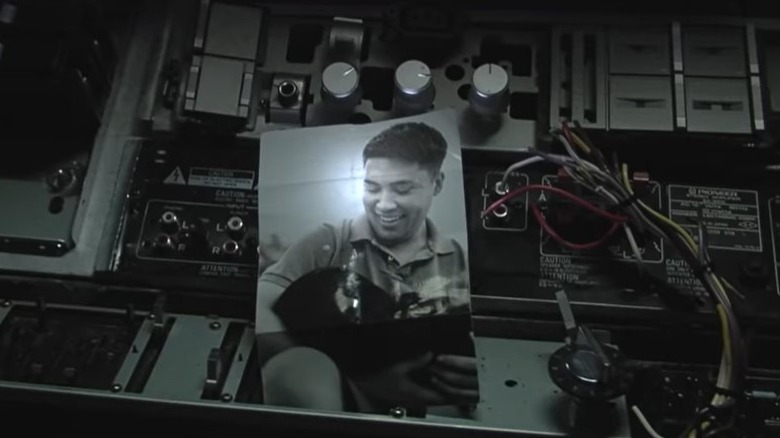 Paper Rocket Productions
Diné filmmaker Donavan Seschillie's short film "The Rocket Boy" premiered at the Sundance Film Festival in 2011. Shot on a $600 budget, this story focuses on a young First Nations boy named Kalvin who dreams of building a spaceship in hopes it'll help him find his father. At the start of this quietly moving short, Kalvin's father leaves him. While the audience doesn't know why his father left, it seems related to fiscal pressure. In Kalvin's father's words, "I can't give you the life you deserve." While Seschillie's work is full of melancholy, there's a hopeful determination in Kalvin's belief in reconnection that pulls at the heartstrings. Although Kalvin's mother begs him to stop looking for his father, he continues his work. Set to a somber score, it's hard not to root for Kalvin's dream to become reality.
Like "Prey," this short film focuses on the perspective of a younger Indigenous character. Kalvin, like Naru, believes in his convictions, even if his elder discourages him as Akura tries to dissuade Naru from her hunting adventures. The two are aware of the risk (even if fighting an alien isn't quite the same as building a spaceship), but they let their imaginations take the wheel and create the change they want to see in their lives.
File Under Miscellaneous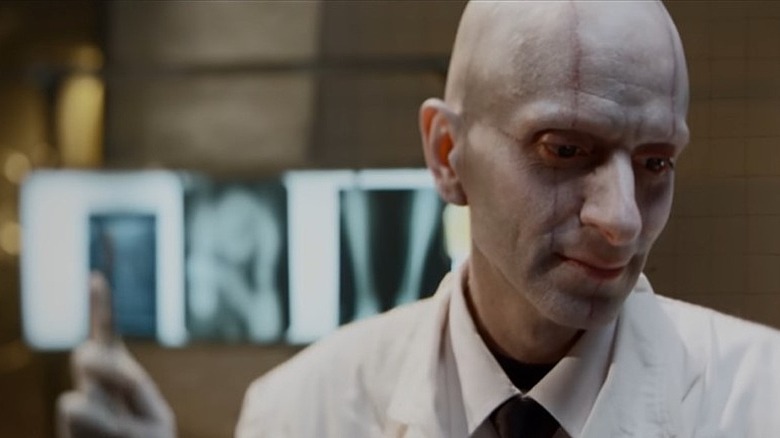 Prospector Films
Written, directed, and edited by Mi'kmaq filmmaker Jeff Barnaby (who also composed the score), "File Under Miscellaneous" is a harrowing short sci-fi film about the horrors of Indigenous assimilation into settler-colonizer culture. Told from the perspective of a Mi'kmaq man, the story follows his decision to rid himself of his skin and tongue to fit into an all-white society. 
However, the shedding of skin isn't just a metaphor for how it feels to have one's culture stripped away to gain access to things like systemic support. The audience also sees flayed skin hanging at the doctor's office. In this hellscape of a metropolis, undergoing this procedure is one of the only ways left for Indigenous people to survive (Choice is a relative term when global systems are built to exclude Indigenous cultures). This film chillingly echoes the real-world violence, displacement, and economic hardships forced on Indigenous cultures in North America. For more information, read Truth and Reconciliation Commission of Canada: Call to Action.
While "Prey" mostly focuses on Naru's battle against the Predator, it also explores similar themes of Indigenous survival among colonizers. Naru almost dies at the hands of French fur traders due to their belief that she and her people are worth less than theirs. She's locked in a cage and treated like an animal because of her culture. "File Under Miscellaneous" shows this idea through the lens of dystopic body horror and is an equally cautionary tale. In a future in which everyone assimilates, all is pale and lifeless.
Delivery From Earth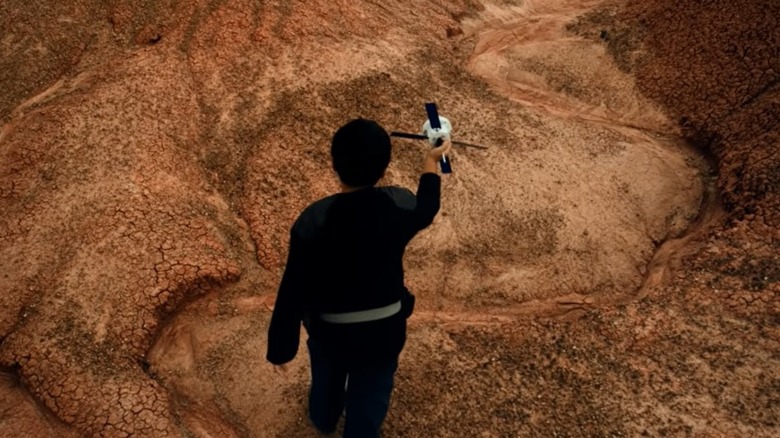 Filmtribe Moving Pictures
Similar to "Prey," "Delivery From Earth" isn't a film directed or written by an Indigenous creator. Nevertheless, both productions rely heavily on Indigenous producers to deepen their connections to the cultures they depict. Produced by filmmaker George Burdeau of the Blackfeet Nation, "Delivery From Earth" is set in the Navajo-Diné Nation and has a primarily Diné cast. The short film is a sweet tale about a young Diné boy who wants to see footage of his mother giving birth to Mars' first baby with his former-physicist grandpa. Notably, "Delivery From Earth" has a cameo from "Dark Winds" star Ryan Begay, as the film was shot in his hometown.
What works best about this short film is how it embraces a sense of wonder about what the future can hold for Indigenous cultures. Like all great sci-fi, "Delivery From Earth" asks the viewer to embrace radical imagination. What have humans learned about colonizing thus far? How would that translate to the skies? How would humanity change if travel to Mars was a reality? The film doesn't delve too deeply into these questions, but it provides an intriguing launch pad for what the next Indigenous short film tackles.
The 6th World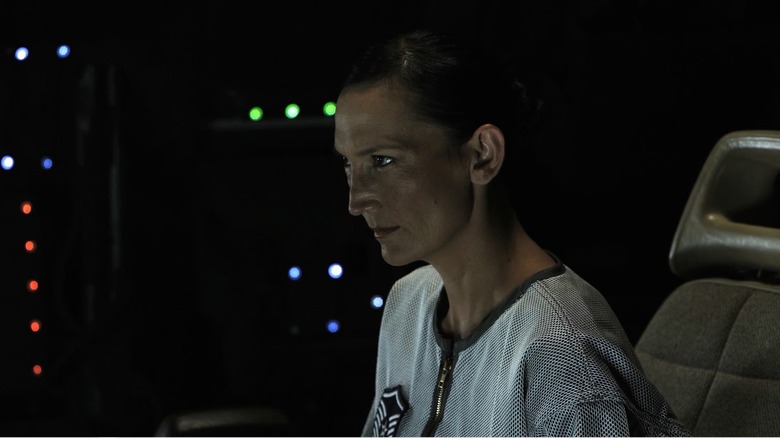 ITVS International
Written and directed by Diné filmmaker Nanobah Becker, "The 6th World" takes place in a distant future where the colonization of Mars is possible. Diné musician Jeneda Benally portrays Tazbah Redhouse, identified in the film as Navajo, an astronaut helping to grow corn aboard a spaceship. To arrive on Mars without running out of air, the ship must convert corn into oxygen. Tazbah's shipmate, Dr. Smith (Luis Antonio Aldana), chooses to use genetically modified corn instead of her nation's corn since he believes his GMO corn is superior. Corn in Diné culture is sacred, as it symbolically represents life. Diné ancestors often used corn grinding and cooking with corn as community gatherings to connect, sing, and support one another. In that light, rejecting the Diné corn offering in the film holds a lot of metaphorical weight, showcasing how the Diné culture and their ancestral knowledge of tending crops are dismissed even in a distant sci-fi future.
Becker's work brings to mind the moments in "Prey" in which we see Naru making medicinal balms on the fly. The "Predator" film does a great job of subtly showing how Naru uses a variety of herbs, flowers, and plants to craft treatments that can stem heavy bleeding, sedate, and ease those in pain. Calling direct to that skill set is important in keeping the history of these practices alive.
Biidaaban (The Dawn Comes)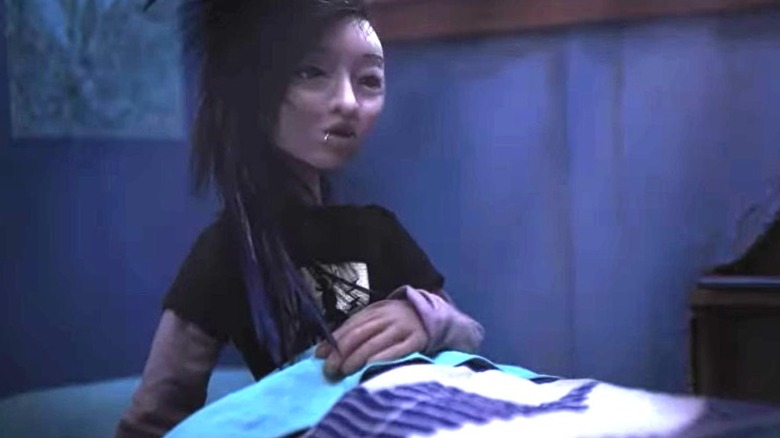 Spotted Fawn Productions
Directed by Métis animator and filmmaker Amanda Strong, "Biidaaban" is a beautiful stop-motion animated short film that spans time to reimagine Leanne Betasamosake Simpson's writing. Seemingly, this short blends more dreamy fantasy into its story than sci-fi. "Biidaaban" follows a non-binary Anishinaabe artist of the same name, living in Ontario. During the dark of night, they travel to reclaim the ceremonial ritual of harvesting sap from maple trees. They're helped by a 10,000-year-old shapeshifter named Sabe, a creature in Indigenous oral history linked to living truthfully. Sadly, the trees that belonged to their ancestors are now all on private property, so they have to proceed secretly. Lush, masterfully detailed, and visually stirring, "Biidaaban" is gorgeous.
As in "Prey," "Biidaaban" finds help in animal companionship. This short also deepens the exploration of displacement, something "Prey" doesn't address too much. The reason why Naru is scouting the land in "Prey" is to report back where it's safe to hunt, forage, and travel. The Comanche nation in the film is relatively stable, but the viewer knows what happens next in history. Since "Biidaaban" is set in the present day, the film is able to explore current pressures about Indigenous people's lack of land access and how that affects their connection to identity, ancestors, spirits, and cultural rituals.
Hoverboard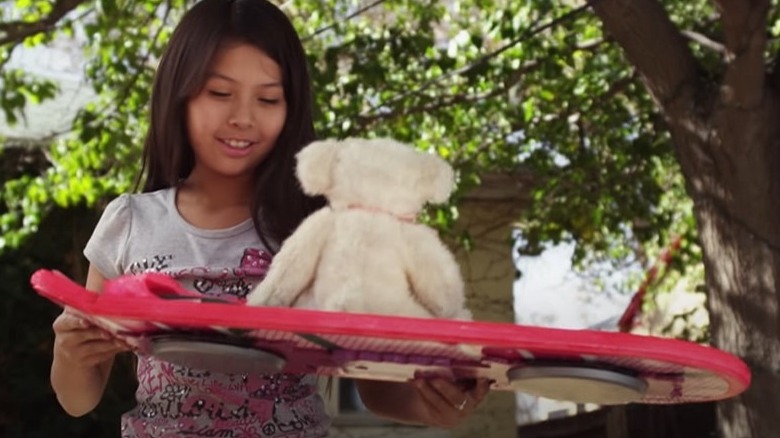 PBS
Before she directed episodes of "Reservation Dogs" and "Rutherford Falls," Diné filmmaker Sydney Freeland crafted "Hoverboard," a sweet, all-ages short film about a young girl named Max and her love of "Back to the Future Part II." After being told by her father (Ryan Begay) that she can't watch the comedy sci-fi film again because she's watched it too many times, Max decides she'll craft her own hoverboard. However, it proves to be more difficult than it looks, so instead, she sets her sights on making a DeLorean time machine for her stuffed animal. The short is as delightful as its premise sounds and is a ton of fun to watch.
A lot of the films on this list depict heavy issues, but it feels equally important to draw attention to Indigenous-made family-friendly comedies, too. Although brief, this short is a great example of Freeland's eye for comedic storytelling. While there aren't any plans for a "Hoverboard" full-length film, fans of her work can next watch her upcoming film "Rez Ball," which will follow a Native American high school basketball team's underdog story.
Parallel Minds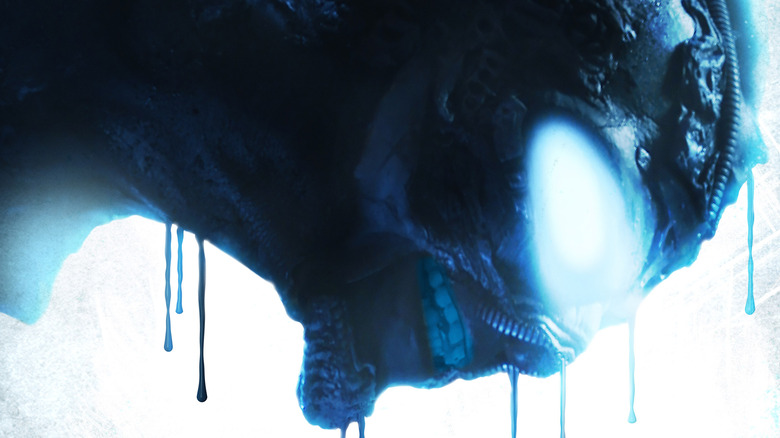 levelFILM
Directed by Métis filmmaker Benjamin Ross Hayden, "Parallel Minds" is more of a hard and grimy sci-fi tale than others on this list. "Prey" star Michelle Thrush portrays Elise, a scientist working on a technology called Red Eye that will help people store and recall memories. However, she dies right before a big breakthrough in her work. Her mentee, Margo Elson (Tommie-Amber Pirie), thinks something nefarious happened, so she investigates the mysterious death with the help of detective Thomas Elliot (Greg Bryk). Traumatic memories weave their way throughout the story as the mystery-thriller aspects give way eventually to a dangerous cyber-monster attack. Although the film juggles a lot of storylines, its ambition doesn't take away from its compelling concepts.
"Prey" fans craving more monster attacks will likely enjoy the film's A.I. plotline that ends up bringing psychic powers into the mix as well. This is one of those films that would translate better to a miniseries or television series format, but it's still an enjoyable watch overall.
Wakening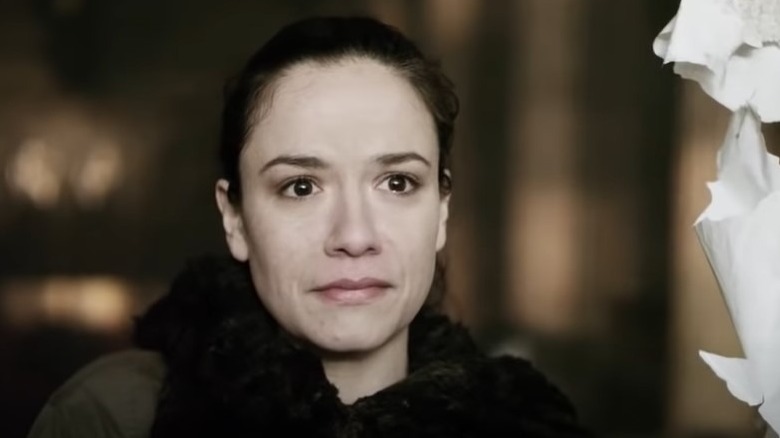 Viddywell Films
Before Saskatchewan-born and Cree-Métis filmmaker Danis Goulet delved into the sci-fi world of "Night Raiders," she directed a fantastical short film about Canada's near-future dystopia that reimagines one of Cree's cultural heroes, Weesageechak. "Wakening" envisions a war-torn era in which militant occupiers have taken over and destroyed the land. "Resident Alien" and "Reservoir Dogs" star Sarah Podemski portrays a Cree warrior named Wesakechak, a shape-shifter destined to confront the Weetigo. Wesakechak quests through the war zone to find the Weetigo (Gail Maurice), asking the monster to help her fight the occupiers. 
While "Prey" shows Naru fighting off an alien that's stalking her people's land, there's something more moving about seeing an Indigenous woman fighting alongside a Cree creature and against an enemy that embodies the Cree's historically painful past with Canada. Although Goulet's short reaches a satisfying end, it's hard not to wonder what Goulet's film could have looked like on a feature scale with the financial support of a major studio like "Prey" had.
Not only does this film put Cree cultural characters at the forefront, but it also taps into a theme that plays across all the films on this list. Wesakechak tells the Weetigo that it's no longer feared, as it's forgotten. Her unleashing it onto the world symbolically brings hope that Indigenous cultures will persist through the power of stories like these. 
The Path Without End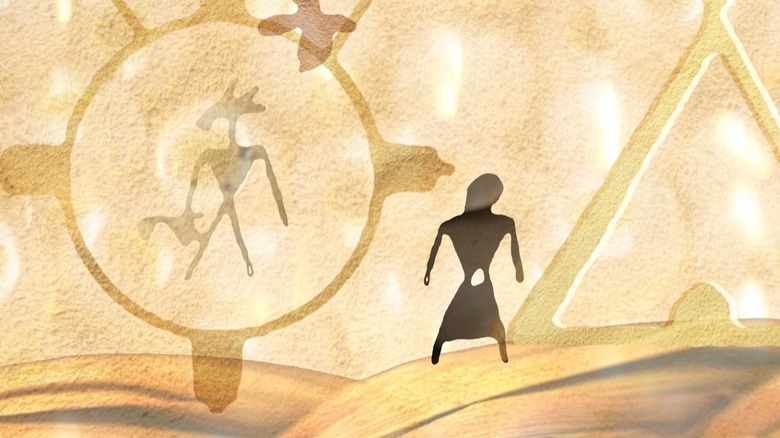 Museum of Contemporary Native Art
Something surprising about "Prey" is that there weren't any scenes between Naru and her mother Aruka (Michelle Thrush) telling stories to one another. As "Biidaaban" director Amanda Strong says best, "Our oral histories are our truths." Stories are a way to keep the traditions, lessons, and cultures of the Indigenous alive — despite centuries of displacement, genocide, and white oppression.
"The Path Without End" uses animation, textiles, and music to share the Anishinaabe's oral stories of the Moon People. Directed by Irish-Anishinaabe-Métis filmmaker Elizabeth Aileen LaPensée with music by Cree cellist Cris Derksen, the short film follows the Moon People's trip to Earth from the stars. 
Inspired by Indigenousfuturism, LaPensée uses this work to reexamine the stories told about Indigenous ancestors. "As much as 'The Path' is about the traditional stories, it is also about acknowledging Truth and history by tracing stories that peoples traveled back and forth between what we now call the Americas and Europe," says LaPensée. "We often limit ourselves and discredit our ancestors by thinking they didn't possibly have the technology to travel when in fact they did have canoes and other forms of ships. To me, this is how we represent ourselves in steampunk, which is otherwise a very colonialist genre that stems from the Victorian mindset. We do and did have technology, but since we use(d) biodegradable materials, and thus 'evidence has faded with nature."
Rhymes for Young Ghouls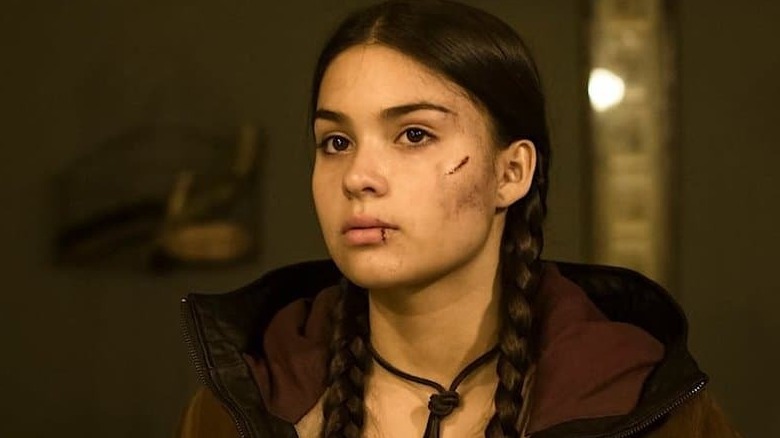 Les Films Séville
Miꞌkmaq filmmaker Jeff Barnaby's "Rhymes for Young Ghouls" opens in 1969, focusing on a financially struggling Miꞌkmaq family living on the Red Crow Reservation. The film's setting, introduction, and plot point to the real-life economic hardships that the Miꞌkmaq people dealt with at this time. In 1969, Canada passed the White Paper policy (an act Indigenous cultures never agreed to), which argued it's the "right of Indian people to [have] full and equal participation in the cultural, social, economic and political life of Canada." However, this "equal" act also meant taking away Canada's responsibility to fulfill previously promised financial support to Indigenous nations, privatizing reservation land, and stripping away Indigenous sovereignty. This happened while Canada's residential school system — another key part of this film —was in place, which forced Indigenous children into an abusive penal-school-prison system. Failure to send a child would result in imprisonment.
"Rhymes for Young Ghouls" explores these events through three generations of Native women. Like "Prey," it focuses on the change Indigenous women can create for their community but amps up its frightful elements. Hands down, it has the most chilling and tragic opening sequence on this list. There's also a dystopic steampunk-fueled animation sequence in the film that utilizes Miꞌkmaq storytelling to examine capitalism's cannibalistic nature. The tactics white "Indian agents" use for self-gain in this film is its horror, but Miika Whiskeyjack's Aila never ceases to fight for her nation's survival — something Naru would applaud.
If you or someone you know may be the victim of child abuse, please contact the Childhelp National Child Abuse Hotline at 1-800-4-A-Child (1-800-422-4453) or contact their live chat services.
If you or anyone you know has been a victim of sexual assault, help is available. Visit the Rape, Abuse & Incest National Network website or contact RAINN's National Helpline at 1-800-656-HOPE (4673).
Blood Quantum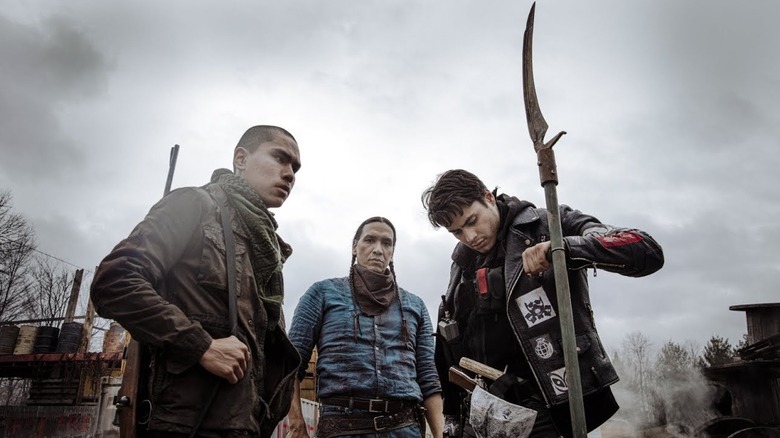 Elevation Pictures
"Blood Quantum" is a zombie-horror film, but there's an argument to be made for its sci-fi elements too. Sci-fi stories revolve around current and possible realities based on available and potential tools, technology, and systems. Yes, sometimes this means space travel, but other times, like in dystopia-focused tales, stories focus more on how the inequitable distribution of wealth, land, and food force individuals to create new systems to live. In this light, "Blood Quantum" is totally sci-fi, as it examines the threat of zombie settlers.
Miꞌkmaq filmmaker Jeff Barnaby uses "Blood Quantum" to explore how the world would change if a zombie outbreak happened but only Indigenous people were immune. Traylor (Michael Greyeyes), the reservation's sheriff, and his ex, Joss (Elle-Maija Tailfeathers), a nurse, anchor the film with stunning performances as they defend their community against ravenous zombies. As with Naru in "Prey," this film gives Joss the courage and knowledge to protect and heal her community. Personal interests take a backseat to the community.
Barnaby excels at using his films to explore Native issues. On June 11, 1981, 500 police officers stormed Listuguj's docks, violently confiscating the nets of Native fishermen. Barnaby grew up on Listuguj, so the film is not only set there but salmon are the first to be infected in "Blood Quantum," a callback to that traumatic time. Additionally, the movie's premise subverts the anxiety of using blood quantum as a metric to determine Native citizenship. Any Indigenous blood in someone qualifies them for survival.