The Film Script That Left Jack Nicholson In Tears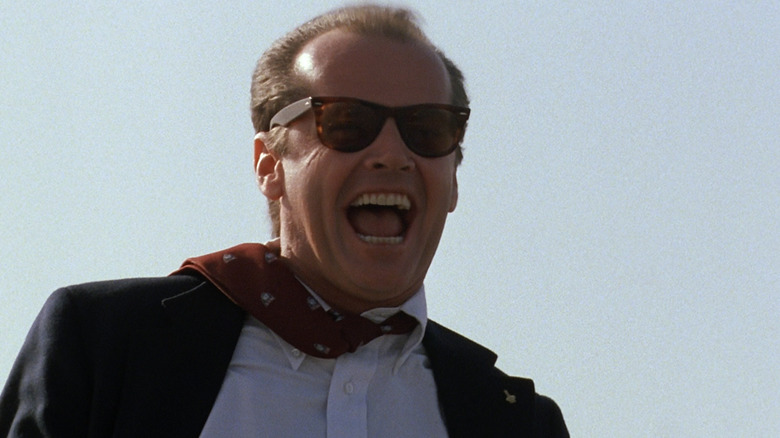 Paramount
This may sound a little strange, but I think we may underrate Jack Nicholson as an actor. Yes, he is obviously one of the most beloved actors in the history of cinema and has won three Academy Awards, but I feel like when we think about Jack Nicholson these days, we boil him down to one thing: He's the devilish scamp you do not want to be on the bad side of. He'll take on a role in "Batman" or "The Departed," and a lot of people would describe the performance as "Jack being Jack." While there's certainly an utterly unique energy present in all of his performances, his range of characters and tones sometimes gets overlooked or even forgotten by modern audiences.
For example, take the film for which he won his second Oscar: "Terms of Endearment." If you were to ask anyone to list Nicholson's signature performances, very few, if anyone, would choose this one. After all, it isn't like the titanic, fireworks-laden performances he is best known for. I would go so far as to say that a lot of burgeoning cinephiles don't even know Nicholson is in "Terms of Endearment." At the time of its release, the film was a big deal, winning five of the 11 Oscars it was nominated for (including Best Picture), and was the second highest grossing film of the year (behind a little picture called "Return of the Jedi").
Today, the film isn't widely discussed, possibly because it's a film about women, and many so-called movie fans seem eager to dismiss those. However, Jack Nicholson had no qualms about taking a supporting role in James L. Brooks' directorial debut because he recognizes a great screenplay when he sees one. And this one, in particular, did something that rarely occurs. It made him cry.
'I know just how that guy feels'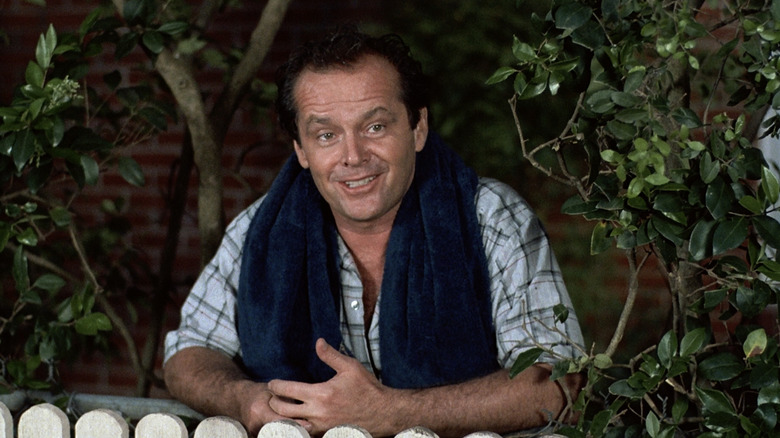 Paramount
In "Terms of Endearment," Jack Nicholson plays an over-the-hill astronaut that has been clinging onto his glory days by bedding any younger woman impressed by his marginal fame. He lives next door to Shirley MacLaine's Aurora Greenway, and though she is initially turned off by his playboy demeanor, the two eventually start up a romance. Speaking with the late, great Roger Ebert, Nicholson talked about how that story and character really tapped into something truthful within him and how he was quick to attach himself to the project:
"I read the screenplay, and became the first enthusiast. How many scripts make you cry? I read dozens if not hundreds of screenplays every year, and I don't read that many parts where I can say, like I did with 'Easy Rider,' that, yeah, sure, I could play that guy. I know just how that guy feels."
If you know anything about Nicholson's complicated approach to relationships and sex, you can see why this character was something he could really relate to. I mean, this is a man who has fathered six children with five different women. James L. Brooks was able to tap into that side of Nicholson's personality and explore it not just for jokes, but also a tremendous amount of humanity.
And it didn't matter that this was a supporting role. "Terms of Endearment" is primarily about a mother and daughter, and Nicholson's astronaut is an addendum to that. The part was great, and that's ultimately what matters:
"My whole career strategy has been to build a base so that I could take the roles I want to play. I'd hate to think that a shorter part might not be available because I was worried about my billing."
He shows up for Jim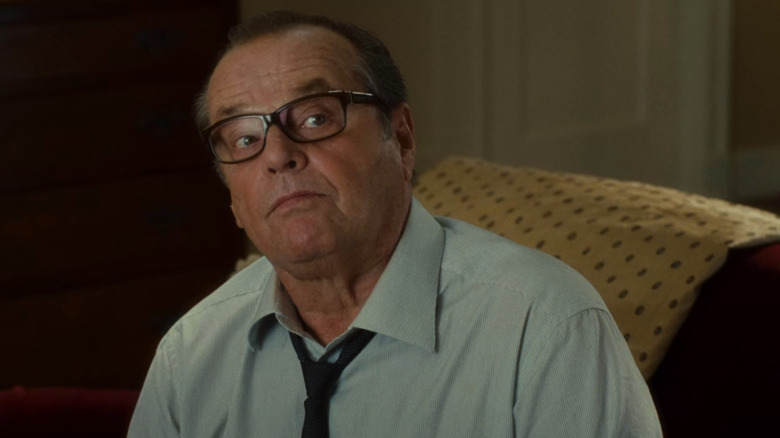 Columbia Pictures
Clearly, Jack Nicholson found a kinship with his writer/director. James L. Brooks — who rose to prominence on television with hits such as "Taxi," "The Mary Tyler Moore Show," and eventually "The Simpsons" — has only directed six feature films in his career. Nicholson appears in four of them. Sometimes, it's a leading role, like "As Good As It Gets," and sometimes it's a cameo, like in "Broadcast News." But the man clearly believes in the fully realized truth that Brooks is able to capture in his best moments. In fact, two out the three Oscars Nicholson has won have been for Brooks' pictures.
When Bill Murray dropped out of "How Do You Know" at the very last second, Brooks was able to call up Nicholson, who looked to be in a soft retirement after "The Bucket List," and get him to star in the movie. I'm sure the $12 million payday didn't hurt either. As of now, this remains the final films for both Nicholson as an actor and Brooks as a director.
Jack Nicholson did not have many ongoing relationships with directors over the course of his career. There were basically three: Bob Rafelson, Mike Nichols, and James L. Brooks. All three of these filmmakers gave Nicholson the space to play multifaceted, fully fledged human beings. They are not his flashiest work, but they are certainly some of the most rewarding. Our image of Jack Nicholson is often one of someone preternatural, but James L. Brooks, in pictures like "Terms of Endearment," could harness that and make him a living, breathing person. No wonder he answers the phone for Jim Brooks.