How Betty White's Run On The Mary Tyler Moore Show Cleverly Challenged Gender Roles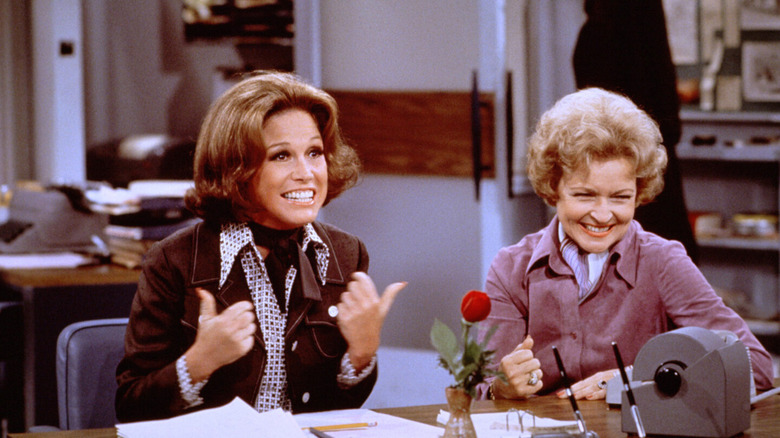 CBS
If America had a system of knighting, Betty White would surely be one of our greatest Dames. The beloved 99-year-old actress passed away on December 31, 2021, leaving behind a legacy of unparalleled brilliance and an immeasurable number of reasons for laughter. As a millennial, my first exposure to Betty White was through catching reruns of "The Golden Girls" while staying home sick from school, falling in love with Estelle Getty's Sophia, Bea Arthur's Dorothy, Rue McClanahan's Blanche, and Betty White's Rose. Her naivety and bleeding heart made Rose ripe for comedy as she'd frequently misunderstand social cues and double entendres, but her constant philanthropic efforts made her impossible not to love. This warm, affable character slowly became synonymous with the woman who played her, but Betty White was so much more than just Rose Nylund.
White enjoyed a successful television career in her younger years, and even became the very first woman to ever produce a TV sitcom with the subversive "Life with Elizabeth," before becoming a decorated game-show panelist on "Password," "Match Game," and "To Tell The Truth" among others. In the decade prior to "The Golden Girls," Betty White had a featured role on the last 4 seasons of "The Mary Tyler Moore Show," as Sue Ann Nivens, a superficially cheerful television host who off-screen was sexually forward, mouthy, judgemental, and the complete opposite of how women were expected to behave.
Sue Ann Nivens Answers to Nobody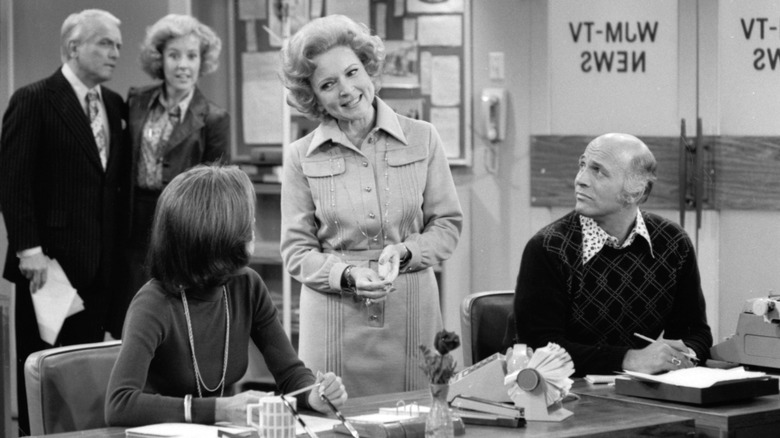 CBS
"The Mary Tyler Moore Show" was progressive on its own and made Mary Tyler Moore a feminist icon. The show centered on Mary as the associate producer of the fictional WJM news program in Minneapolis, an unmarried protagonist making it all on her own. But Mary wasn't alone, and when Betty White's Sue Ann Nivens was introduced in the fourth season, she completely changed what was possible for female characters on television. In front of the camera as the host of "The Happy Homemaker," Nivens was your typical Donna Reed meets June Cleaver style housewife, but this was merely the character she played on TV.
Nivens used her good girl persona as a tool to get what she wanted, spitting barbs behind her dimpled smile, but in reality was a hard-nosed, aggressive, and sometimes just straight-up cruel. White was supposed to be a guest spot in season 4, but her character was so immediately loved that the producers decided to keep her around. This was 1973, a time when women were fighting for the chance to even enter the workforce, and Nivens was absolutely dominating it. She didn't "play nice" to placate men, and she didn't let anyone push her around. Nivens said all of the thoughts women in the workplace had out loud, even if it meant sacrificing "appropriate behavior." Sometimes she was just being a mean-spirited jerk and while not an endorsing character trait, this was still revolutionary at the time.
A Continued Career of Defying Expectations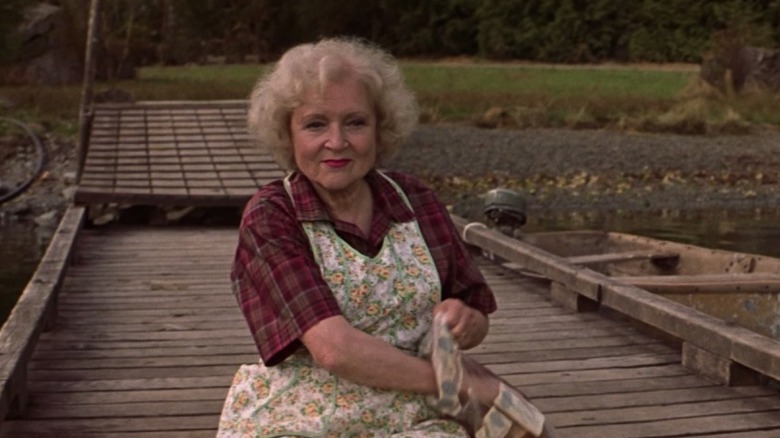 20th Century Fox
After her success on "The Mary Tyler Moore Show," White went on to more TV roles, and when auditions became available for "The Golden Girls," White saw an opportunity to step back into Nivens' shoes and auditioned for the sexually aggressive southern belle, Blanche Devereaux. White was sure she'd nab the role, as the character felt like another shade of Sue Ann. But "The Golden Girls" pilot director Jay Sandrich, who had previously worked with White on "The Mary Tyler Moore Show," had other ideas. Sandrich knew that she could play the vixen role as he'd seen her do it, and was far more interested in seeing her play against type by reading for Rose. The rest, as we say, is history.
White's performance on "The Mary Tyler Moore Show" planted a little seed in the minds of the industry and American audiences that you never knew what to expect with Betty White. Maybe you'd be getting the adorable daffiness of Rose Nylund, or maybe you were getting the seemingly sweet old lady in "Lake Placid" who tells people to suck her d***. No matter what, White was constantly challenging expectations, and breaking new ground for women everywhere.