Nope Has Finally Landed At The International Box Office, But It's Off To A Slow Start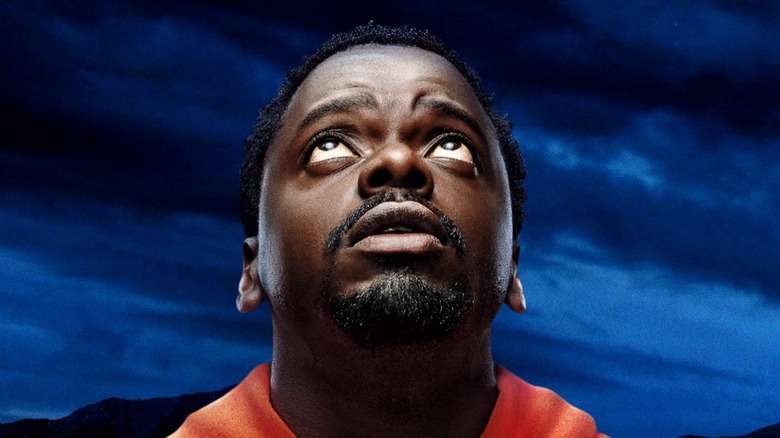 Universal Pictures
The bad news was felt by horror fans around the world as it emerged that "Nope," the latest offering from "Get Out" and "Us" director Jordan Peele, would be getting a significantly delayed release in most major international markets. In the U.K. (where this writer is located), the film was originally slated for release on July 22, before being moved back three weeks to August 12 for reasons unknown.
This isn't the first time that overseas fans have had to wait for one of Peele's movies. "Get Out" released in the U.S. in late February 2017, followed by an international rollout in mid-March. But by the time "Us" came along, the lingering hype from "Get Out" made it one of the must-see movies of the year, and it benefited from a day-and-date release in many countries that helped propel it to its impressive $255 million worldwide total.
"Nope" also enjoyed the pedigree of Peele's name being on the posters, perhaps even more so, and the sense of mystery built up by the trailers indicated that this was a movie to see before its plot details were spoiled online. But if there was some intended strategy behind staggering its worldwide release, during weeks when there was little competition at the box office, it doesn't seem to have paid off. Variety reports that the movie's opening across 19 territories has generated just $6.4 million at the box office, noting some steep drops from the performances of both "Us" and "Get Out." 
Anarchy in the U.K.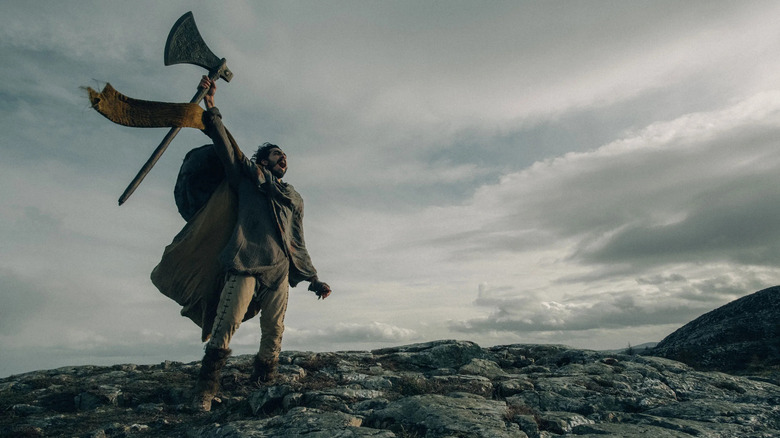 A24
Unsurprisingly, "Nope" managed to make its biggest landing here in the U.K., the home turf of star Daniel Kaluuya, with a $2.1 million opening weekend (compared to $2.6 million for "Get Out" and $3.6 million for "Us"). Before his breakout Hollywood role in Peele's first feature horror film, Kaluuya was already well-established on British television screens through shows like "Skins," "Psychoville," "Ruddy Hell! It's Paul and Harry," and the memorable "Black Mirror" episode "Fifteen Million Merits."
It's not the first time in recent history that a highly-anticipated genre film featuring a former "Skins" cast member has suffered a frustrating release delay here. "The Green Knight," starring Dev Patel as Arthurian figure Sir Gawain, had its U.K. release pulled with just two weeks notice last summer. U.K. distributor Entertainment Studios Motion Pictures eventually gave it a simultaneous release in theaters and on Prime Video on September 24th, which significantly neutered its box office run. 
And the hits keep coming for horror fans outside of the United States. "Bodies Bodies Bodies," which released domestically last weekend, will only make its way across the Atlantic to a handful of European countries on September 9. In the U.K. and Ireland it will be going head-to-head with David Cronenberg's "Crimes of the Future," which released in the U.S. all the way back at the start of June.
In addition to opening against "Bullet Train" in its second weekend, the arrival of "Nope" has also coincided with a major heatwave across Europe. Sunny weather and box office receipts tend to be inversely proportional as leisure-seekers in typically overcast countries take advantage of the sun's rays, so that was one unforeseeable element in play here. Overall, it seems very likely that "Nope" would have enjoyed a more robust global debut with a day-and-date release back in July.
Global box office a-Peele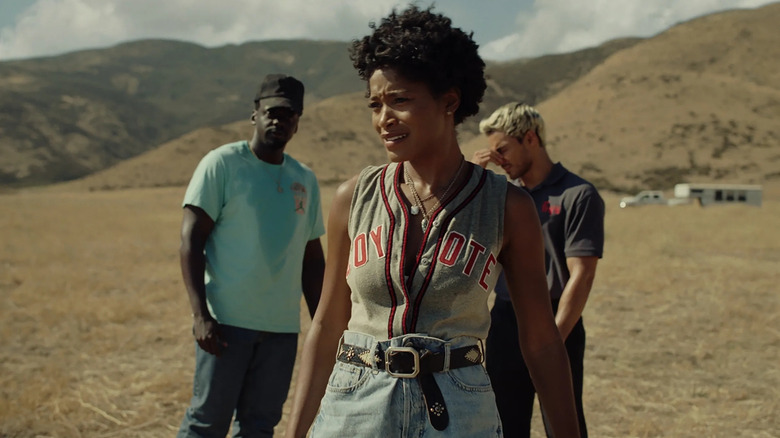 Universal Pictures
It's certainly true that the commercial success of Jordan Peele's movies has so far been significantly weighted towards the domestic box office. "Get Out" made 68.9% of its total gross in North American theaters; for "Us" it was 68.6%. However, the international performance of both those movies ($79 million and $80 million, respectively) is not to be sniffed at, and with the largest budget of any Peele movie so far ($68 million), "Nope" has a higher bar to clear before breaking even. Now in its fourth weekend at the domestic box office, its worldwide total stands at $113 million.
While blockbuster movies like Marvel Studios offerings and "Fast & Furious" sequels often enjoy day-and-date releases around the world, thanks to a single major studio handling global distribution, mid-to-low budget films often face a far more staggered rollout as international distribution rights are sold off to various different distributors around the world. A24 movies are particularly notorious for making overseas cinephiles wait, as A24 typically only handles domestic distribution. 
But since "Nope" was entirely in the hands of Universal Pictures, the reasons behind its overseas delay are unclear. Just ahead of "Nope" arriving in global markets the studio released a spoiler-filled "See It Again" trailer that was aimed at U.S. audiences, but which undoubtedly sabotaged a few unsuspecting Peele fans who hadn't had a chance to see the movie for the first time yet.
Elsewhere in the world, moviegoers looking forward to "Nope" still have a wait ahead of them. The movie's rollout will continue over the coming August weekends, with major markets like South Korea (where "Get Out" grossed $15 million and "Us" grossed $11 million) having to wait another week.