The Dream Of The '90s Is Alive In The Uncanny X-Men Trading Cards Collection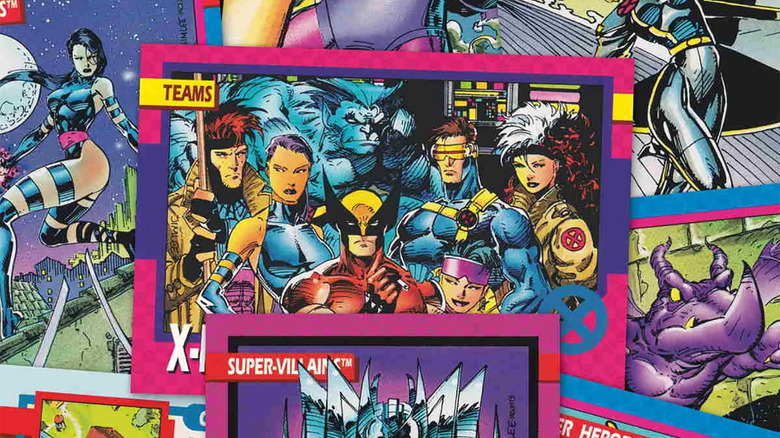 © 2022 MARVEL
During the '90s, trading cards made a comeback in a big way, largely because adults seeking out the baseball cards they discarded as kids suddenly discovered they became surprisingly valuable. This newfound value had parents instill a belief in their kids that if they held on to their own collectible card collection, it might help put them through college one day. Unfortunately, that never truly happened, because the trading card boom of the '90s allowed for a plethora of trading cards from sports of all kinds to a variety of facets of pop culture, and only a handful of them would ever come close to paying for the increasingly expensive cost of attending college. 
However, one trading card collection stands out among them all: "The Uncanny X-Men" trading cards. The beloved trading card collection came from Marvel and Impel Marketing, a subsidiary that split off from a tobacco company called Ligget Group, and it wasn't just a lazy cash grab, as most trading card collections based on movies and TV shows were back in those days. Instead, "The Uncanny X-Men" trading cards helped solidify the legendary status of comic book artist Jim Lee, and they changed the trading card game by offering something that no trading card collection had ever seen before: creativity and artistry.
The X-Men you love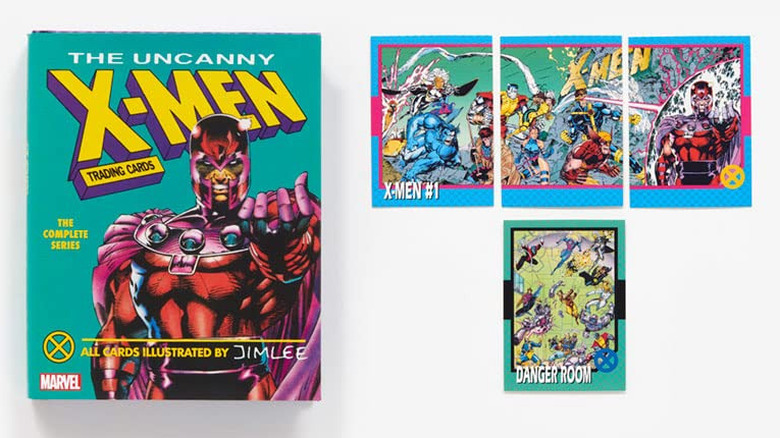 © 2022 MARVEL
The creation of these beloved X-Men trading cards is chronicled in the new book, "The Uncanny X-Men Trading Cards: The Complete Series." Although the bulk of this book is celebrating the card collection by reprinting the front and back of every single card, it also provides a brief history of the once-troubled "X-Men" comics. For those not well-versed in comic book history, you'll learn how the mutants rose to insane heights of popularity after Chris Claremont started writing the comics in the 1970s and 1980s, and they only got more popular in the '90s when Jim Lee took over the art, giving us the definitive versions of the X-Men that fans know and love today. 
But even the most rabid comic book fans will learn something from this book, as it digs into the logistics of producing the trading card line and all the thought that went into creating this innovative collection. Believe it or not, "The Uncanny X-Men" trading cards were the first comic book trading cards to commission entirely original artwork. Previously, comic book cards only republished art that was already seen in comics, much like movie and TV trading cards simply used set photographs and stills from movies rather than creating original images for fans. The fact that the art was created by Jim Lee only sweetened the deal, so much that there are many fans out there who found their way to X-Men because they encountered the cards before they ever saw the comic book or even "X-Men: The Animated Series." These cards were a gateway drug in the best way possible.
Uncanny artistry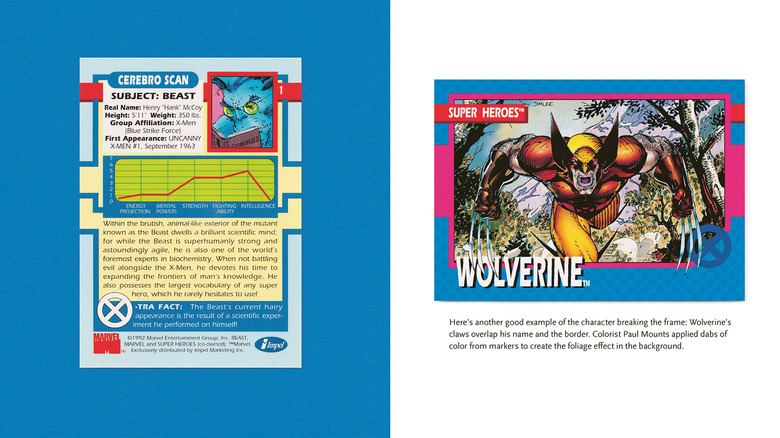 © 2022 MARVEL
Within the pages of  "The Uncanny X-Men Trading Cards: The Complete Series," you'll hear from those who were on the ground floor of this influential collectible. Though Jim Lee himself isn't quoted nearly as often as I would have liked, colorist Paul Mounts is featured rather prominently. Not only does he mention his own blood and coffee occasionally being used in his coloring technique, but he provides plenty of additional details and observations on the pages of each featured trading card. Mounts points out how marker tips were used to create foliage backgrounds, why certain elements pop out of a card's frame, and many other details that only an acclaimed comic artist could provide insight about.
Also chiming in on the cards is Marvel's current vice president of publishing and executive editor, Tom Breevort, who was managing editor of special projects at Marvel during this time. Breevort's another one of those Marvel giants who have encyclopedic knowledge and experience, so his recollections provide an ample amount of detail from behind the scenes. Honestly, I'm not sure if the process of creating trading cards like this has ever been so extensively covered before. Did you know that "The Uncanny X-Men" trading cards were the first to create card sets that combined to form one large image when arranged in those nine-card plastic sleeves? The book even digs into the rare cards that were released early on, ranging from promotional cards included with Toy Biz action figures to cards signed by Jim Lee at San Diego Comic-Con in 1992 and handed out to attendees. It's all truly fascinating.
Cue the X-Men animated series theme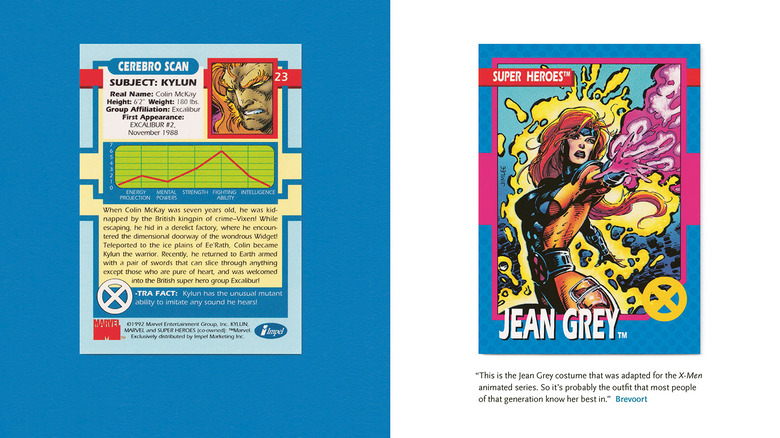 © 2022 MARVEL
With the forthcoming revival of "X-Men: The Animated Series" coming to Disney+ in the form of the sequel series "X-Men '97," not to mention the future arrival of the mutants in the MCU, there's no better time to dig into the trading cards that helped turn the '90s version of the X-Men into pop culture icons. The book provides that nostalgic feeling of flipping through your trading card collection, taking note of all the attributes and power ratings that fueled so many debates at school. Maybe you'll even try to find your old card collection. But more than that, the book will have you appreciating the incredible artistry of Jim Lee more than you ever have before, even the characters that you don't remember (we're looking at you, team "Excalibur").
"The Uncanny X-Men Trading Cards: The Complete Series" is available to order now.