Why The Most Important Moment In She-Hulk's First Episode Was Almost Cut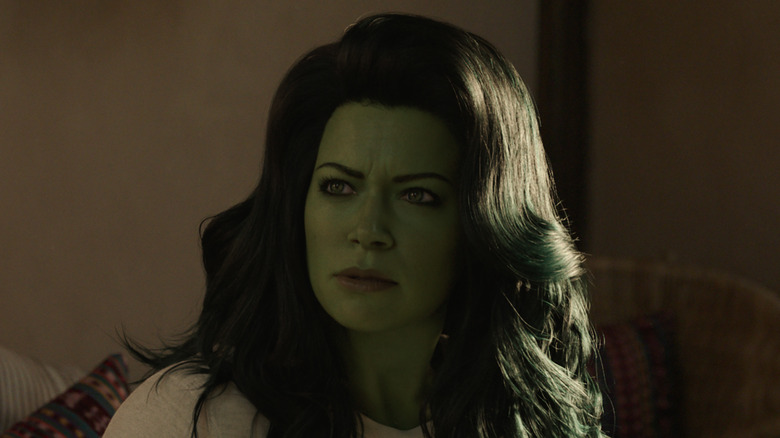 Marvel
One thing the Marvel shows on Disney+ have going for them is a dedication to authenticity.  For example, Alaqua Cox became the first Deaf and Indigenous actor in the Marvel Cinematic Universe when she joined "Hawkeye" as the seemingly villainous Echo, and "Moon Knight" was praised for bringing Egyptian culture to life with Egyptian creatives working both on and offscreen. While they don't have any super scientists creating Hulk serum to give advice on set (as far as we know,) the folks at Marvel have at least done right by "She-Hulk: Attorney at Law" by hiring talented women to tell her story. 
The women behind the camera, including director and executive producer Kat Coiro and head writer and executive producer Jessica Gao, help bring an authenticity to the "She" portion of "She-Hulk," and it's obvious that they understand the female struggle as early as the first episode, when the sacred space of the women's bathroom is revealed. In the ladies' room, women look out for one another; it's a near-universal truth, but apparently some executives didn't understand. 
The filmmakers discussed this moment during a press conference attended by /Film. Here's what you need to know.
Camaraderie in the commode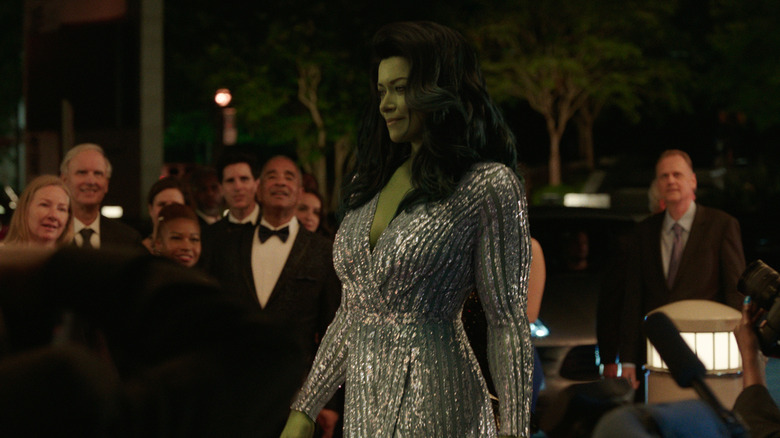 Marvel
In the scene, Jennifer Walters (Tatiana Maslany) is out at a bar having drinks with her friend Nikki (Ginger Gonzaga) when she ends up in a bit of trouble and needs some help. She heads to the sanctuary of the ladies' room and thankfully finds camaraderie. Gao explained that while some of the folks behind the scenes didn't totally understand the scene, she fought for it and it thankfully stayed in the show, making the MCU feel a little more relatable:
"That scene was so important to me, and there were so many times it was on the chopping block because a lot of people didn't understand it. And I was like, this is the single most important scene to me in this entire episode, because truly, the women's bathroom in any club, bar, strip club, I don't care, any public women's bathroom is the most safe, protective, and supportive environment. And it's the truth! And women are so often depicted as being catty and bitchy and that can be true outside in the bar, but once you're in the inner sanctum of the bathroom, these women want to help each other."
I've experienced the magic of the women's room for myself, helping a girl from the mosh pit who got broken glass in her foot, holding the hair of the overly drunk, and offering a shoulder to the freshly dumped. Seeing that brought to life in the MCU feels refreshingly real. A person might have killer biceps and green skin, but if they're in the ladies' room looking for help, no one's going to say a thing. 
"She-Hulk: Attorney At Law" debuts on Disney+ on August 17, 2022.