Sideshow's Ahsoka Tano Premium Format Statue Is A Jedi Masterpiece [Exclusive]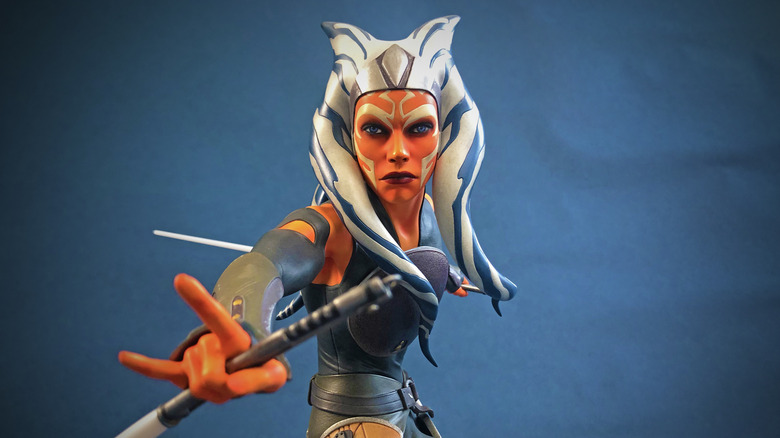 Max Evry
Back in June we took a detailed look at The Mandalorian and Grogu Premium Format Statue from Sideshow Collectibles, and this month we're looking at one of that pair's biggest allies: Ahsoka Tano. The ex-Jedi Padawan of Anakin Skywalker (nicknamed "Snips") is back in action with an incredible Premium Format Statue from Sideshow that captures the essence of the character and then some. 
Retailing for $585, we've been given the opportunity to unbox the Exclusive version of the piece which comes with a must-have accessory: Ahsoka's bird companion Morai. It's hard to imagine this statue without Morai, and we think you'll feel the same way once you see her alongside the Jedi warrior. The Collector Edition sans Morai retails for $565, so it behooves all fans to act fast to grab the exclusive before it's gobbled up. Check out our detailed unboxing below, with special thanks to the folks at Cifarra in Brooklyn, New York for hosting the studio shoot.
The art box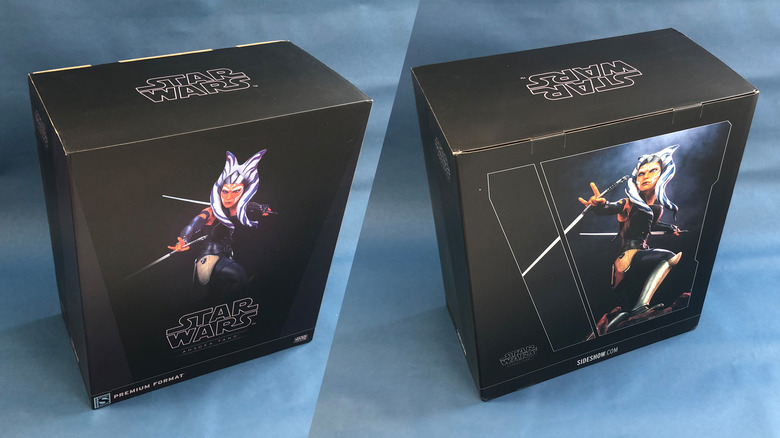 Max Evry
As with most of the licensed Star Wars statue releases from this or other companies, the box art is black with simple presentational photography of the inside contents along with some slashes on either side of the front. If you're looking for bold, expressionistic box art on a Star Wars piece, you're barking up the wrong franchise. 
Packaging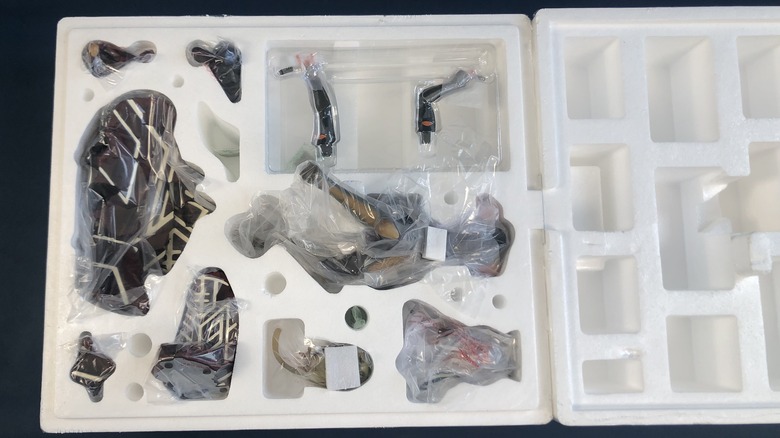 Max Evry
The packaging here is precisely what we've come to expect from Sideshow, with form-fitted styrofoam and individual bags to prevent wear-and-tear. What's different is the introduction of plastic casing for the two arm pieces, the kind you might be used to seeing in standard action figures. Use of the plastic seems like a no-brainer, as the two white lightsabers Ahsoka wields seem exceedingly breakable, and it will be interesting to see if the company employs this type of protection on future pieces. 
Base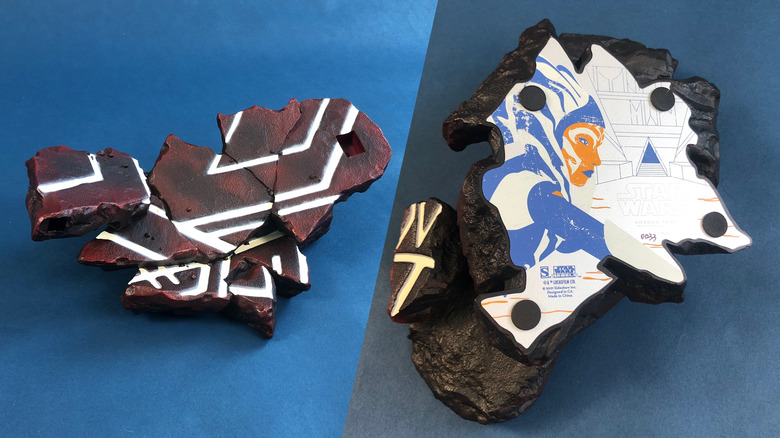 Max Evry
This base is pretty sweet, what with its slanted and cracked levels along with those bright white runes. Those who might have been missing some kind of cool illustrated graphics on the box need look no further than the bottom of the base, where a stylized image of our hero in front of what appears to be the Sith temple on Malachor resides. That puts this base depiction firmly from the dual season 2 episodes of "Rebels" titled "Twilight of the Apprentice," where Ahsoka faced off against Darth Vader. 
Color Coding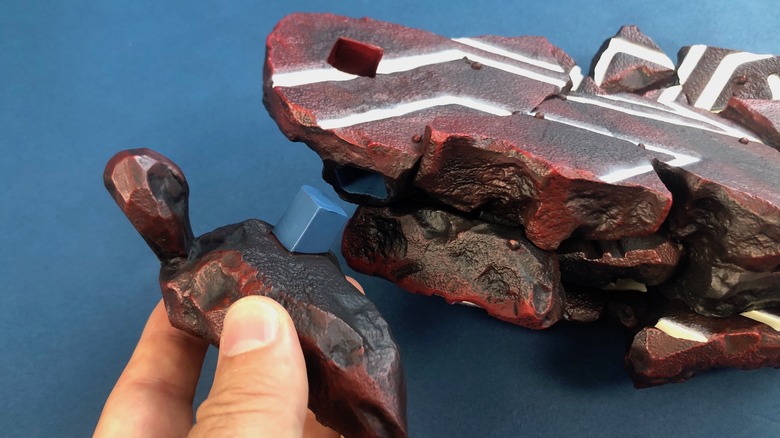 Max Evry
Here is a small but important detail that shows why Sideshow is a cut above the rest. There are three extra sections of rock formation that attach to the base which all look somewhat similar, so the designers color coded each magnetic key/keyhole (blue, orange, and black, respectively) so there is absolutely no mystery where each one goes. It's an easy, intuitive system that turns what could have been a nightmare of mismatched keyholes into child's play. 
Figure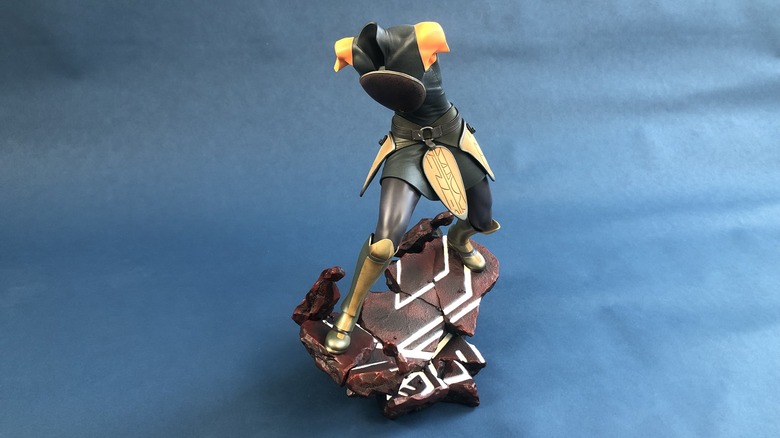 Max Evry
Here is the figure sans arms and head, just to give you an idea of how much of the piece is more-or-less ready to go. It's great not to spend countless minutes carefully attaching items to Ahsoka's belt. Even without those three remaining head/arm attachments you can already see the stance and the dynamism it brings. 
Head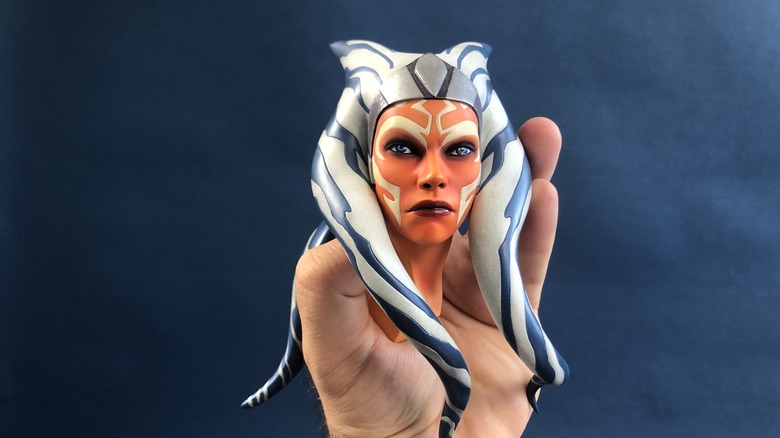 Max Evry
Her head is arguably the most complex and delicate item in the box, and is about the size of a person's hand. The polystone portrait's head tails (known as lekku) are stronger than they look, and you gotta love the minute delineation between the white facial pigments — a hallmark of the Togruta race — and her orange skin. We must give a shout-out to Chie Izuma for her exquisite paint work on this piece, especially the highly-expressive eyes and subtle facial tones. 
Full reveal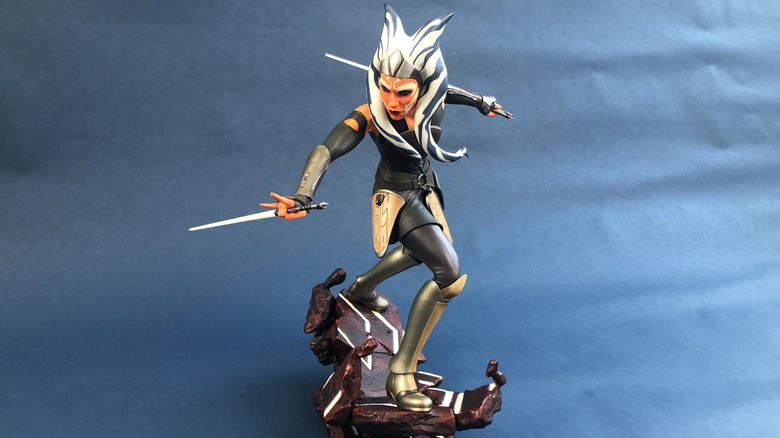 Max Evry
Here she is in all her glory, standing 19.5" inches tall and 14" inches wide when all is said and done. You can finally feel all the aspects of this pose, where Ahsoka appears to be in mid-turn as she faces off against an unseen enemy. The flow of her lekku and the subtle twists in her wardrobe all aid in depicting this action, along with her cool Steve Ditko-esque right hand gesture. 
Reverse view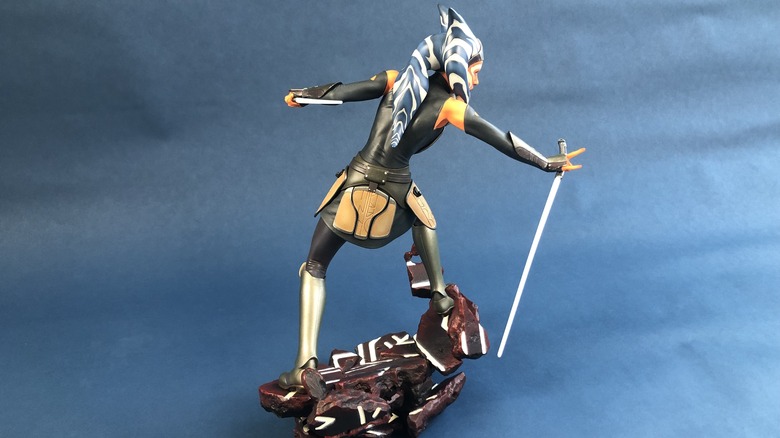 Max Evry
It's no secret that Sideshow goes to great lengths to make sure the view from the back of a sculpture is just as detailed as the front. In this case, if you wanted to display Ahsoka adjacent to another statue for dramatic effect — like, say, this 25" tall Darth Vader Premium Format piece — you could absolutely pull it off. 
Profile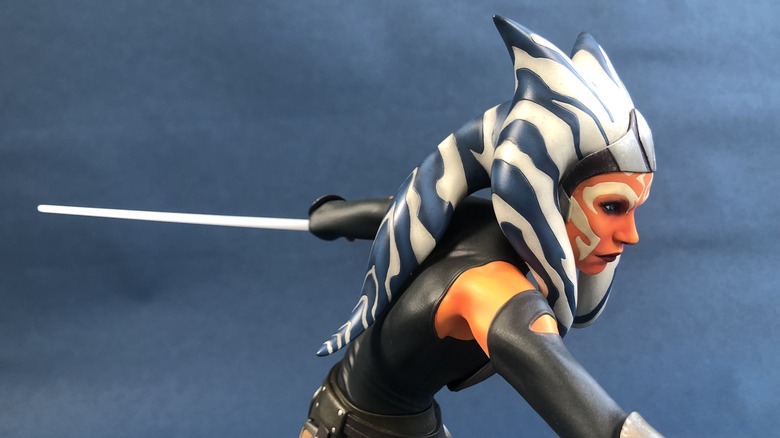 Max Evry
It should be noted how strong the profile of the character is on this piece. One of the hallmarks of an iconic design is if it's recognizable in silhouette, and this piece passes that test with flying colors. 
Arms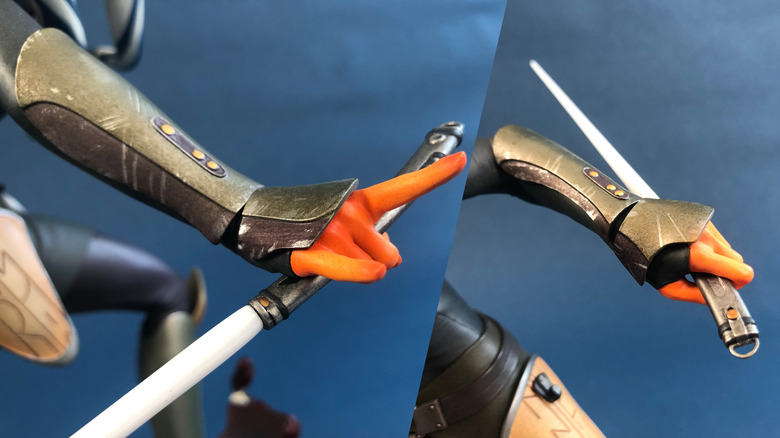 Max Evry
Part of the joy of Sideshow's Ahsoka statue is the variety of the pose. It could have easily been the character simply holding her two post-Clone Wars white lightsabers at her side in an attack pose, but here we get her in a more defensive posture utilizing her trademark reverse-hold on the blades. The scratches in her armor are nice touches as well. 
Belt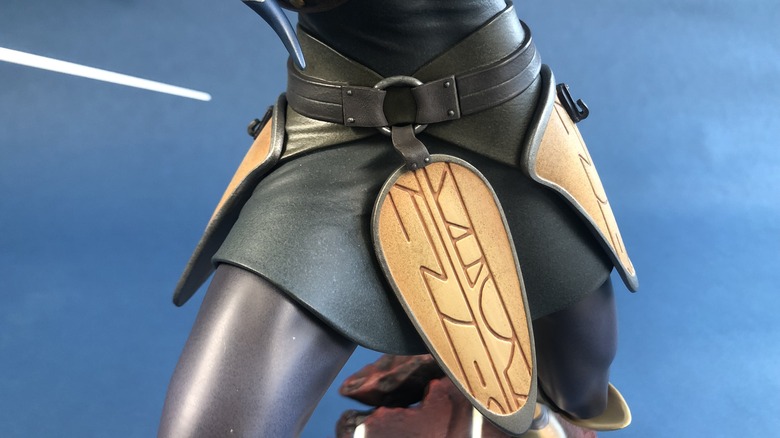 Max Evry
The ur-Kittât runes on the plates that adorn Ahsoka's belt are engraved with great care, then painted on the inside of the grooves for maximum contrast. The extra speckles of dirt add to the realism. 
Boots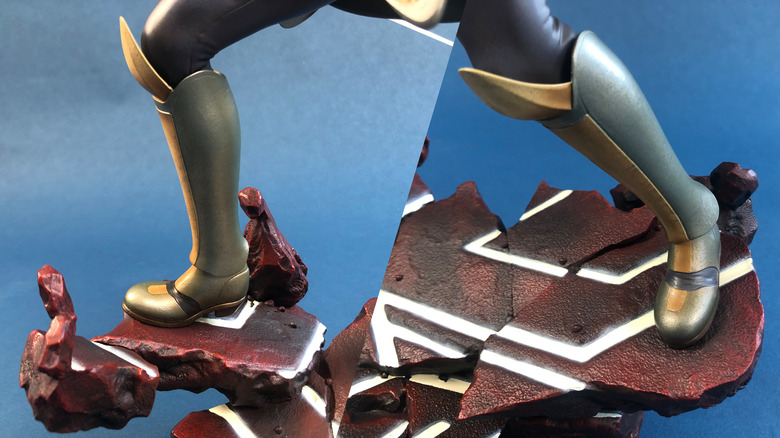 Max Evry
Ahsoka's boots are just as well-executed as the rest of the figure, with small wrinkles in the bend of the footwear. The same wear-and-tear on these boots gives the overall outfit a uniform look, and the key in her foot fits easily into the base. 
Dynamic pose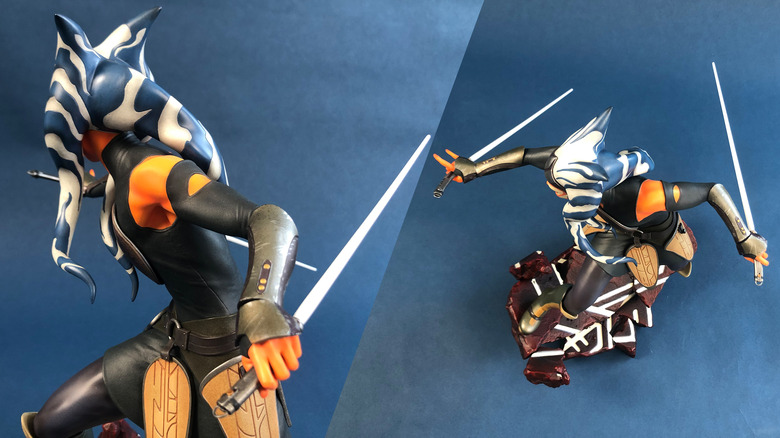 Max Evry
It's not very often that we examine a statue from overhead, but this statue practically demanded it. Even from this high angle you get the same sense of action as you do looking at it from the ground-level. 
Morai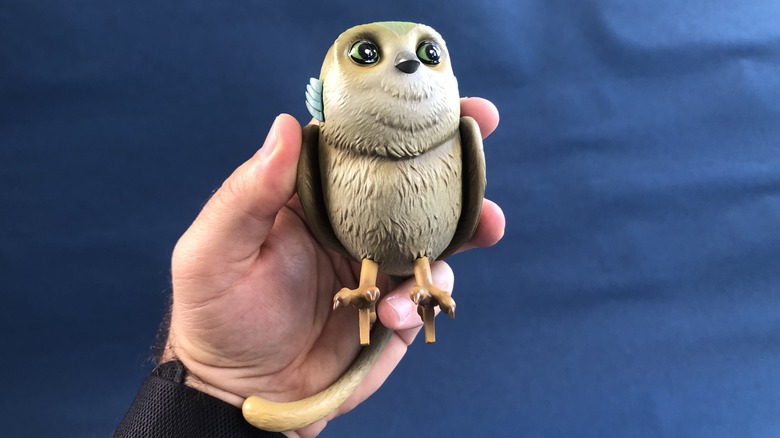 Max Evry
A female of the bird-like species known as convor, Morai was the companion of Mortis god The Daughter before she died, then later watched over Ahsoka (as seen in "The Clone Wars"). Morai later appeared in several episodes of "Star Wars Rebels" including "Twilight of the Apprentice," and even snuck her way into "The Mandalorian." The bird has a strong, mysterious connection to both Ahsoka and the Force itself, and serves as a key accessory piece to this Exclusive version of the statue. 
Morai base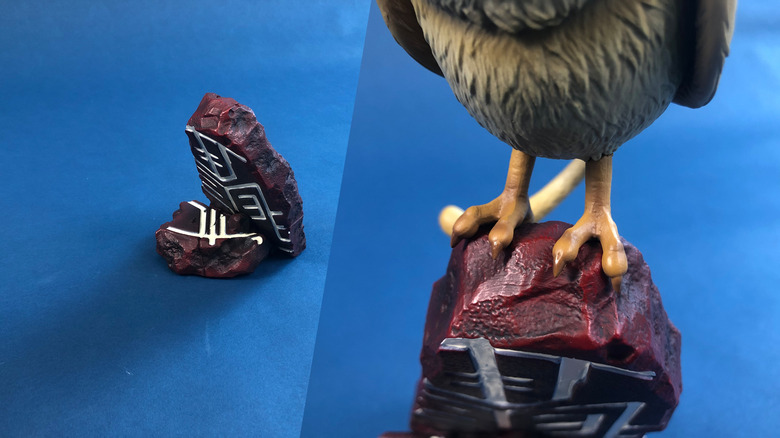 Max Evry
The base that Morai perches on is part of the same aesthetic as Ahsoka's, with Sith runes and everything. The pegs seen in the previous slide fit snugly into the top of the base at a perfect angle to make it look like the bird is hanging on by its talons and not by pegs. 
Morai full reveal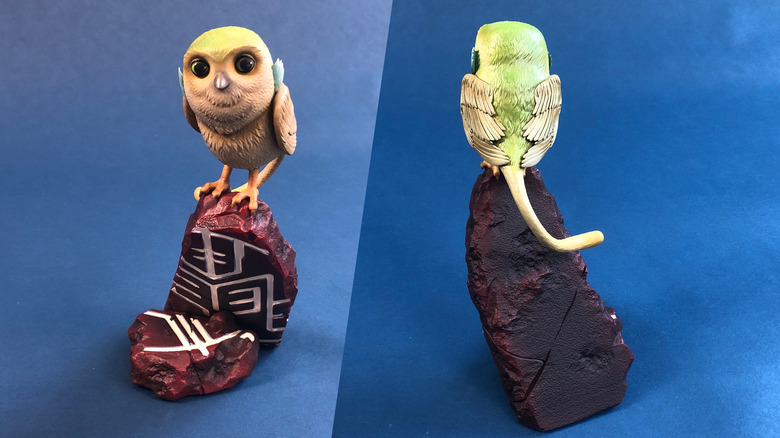 Max Evry
Since Morai's animated appearances on "Clone Wars" and "Rebels" have been very stylized (as is the aesthetic of those shows), this statue provides an opportunity to add a new dimension of realism to the character while still maintaining a heightened edge. The eyes are just a wee-bit larger, and the fur more pronounced. All the chubby, owl-like qualities of the creature that make it so visually appealing remain intact. Sideshow could have simply added a smaller accessory or an extra Ahsoka portrait for the exclusive version of this statue, but they went above-and-beyond by adding an additional character that could stand alone as its own separate statue.
A new hope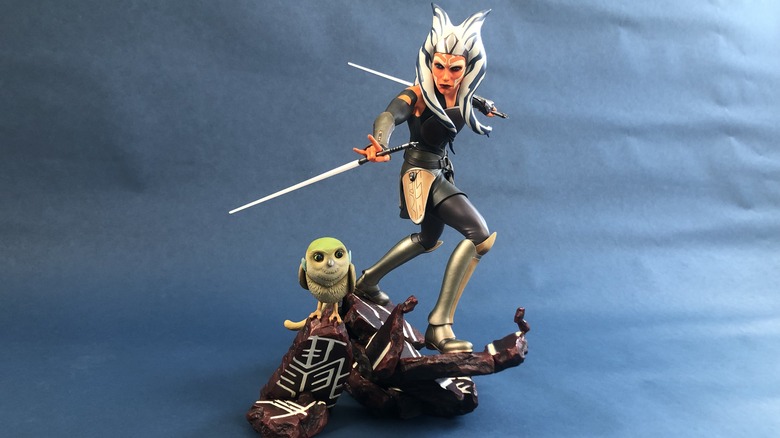 Max Evry
Overall the Ahsoka Tano Premium Format Statue is a fantastic entry into Sideshow's Star Wars line, one that celebrates a character who — with Rosario Dawson's recent live-action appearances and forthcoming solo series on Disney+ — is becoming a critical character in a galaxy far far away.
The fact that Ahsoka is helping to bridge the gap between the live-action and animated worlds of Star Wars is amazing, and in a way Sideshow's statue does the same thing by referencing a specifically animated version of the character, then imbuing that depiction with a level of realism almost akin to live-action. It's a stunning piece that any fan would be proud to add to their collection.