The Daily Stream: Belle Makes The Internet A Place Of Good (And Rocks Out While Doing So)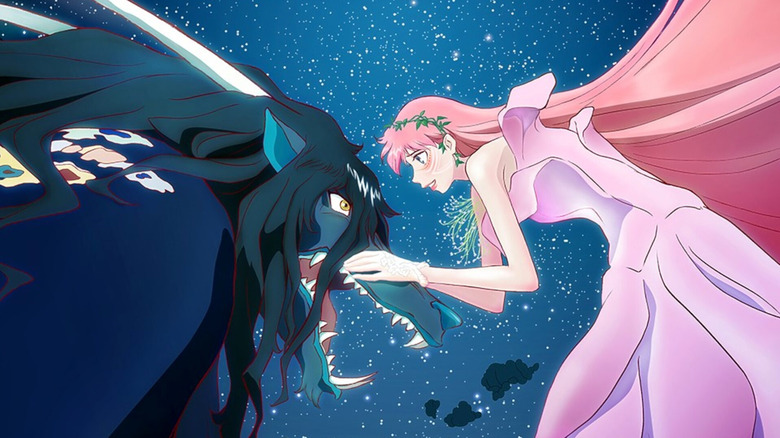 GKIDS
(Welcome to The Daily Stream, an ongoing series in which the /Film team shares what they've been watching, why it's worth checking out, and where you can stream it.)
The Movie: "Belle"
Where You Can Stream It: HBO Max
The Pitch: Mamoru Hosoda, the Academy Award-nominated director of films like "Mirai," "The Girl Who Leapt Through Time," "Wolf Children," and the single best episode of "Digimon Adventure," wowed audiences at Cannes with his latest film, "Belle" — which received a 14-minute standing ovation. The sci-fi musical takes place in a world where the internet has grown to become a massive virtual reality called U, where users get scanned and an avatar is automatically created based on their biometric information. 
The film centers on a teenager called Suzu, whose avatar Belle quickly takes over U as a pop superstar. Problem arises when one of her virtual concerts is crashed by the enigmatic fighter simple called The Dragon (or Beast), and Belle becomes fascinated by him. The film is a loose reinvention of Jeanne-Marie Leprince de Beaumont's "Beauty and the Beast" for the internet era, with some fascinating things to say about being Extremely Online.
Why it's essential viewing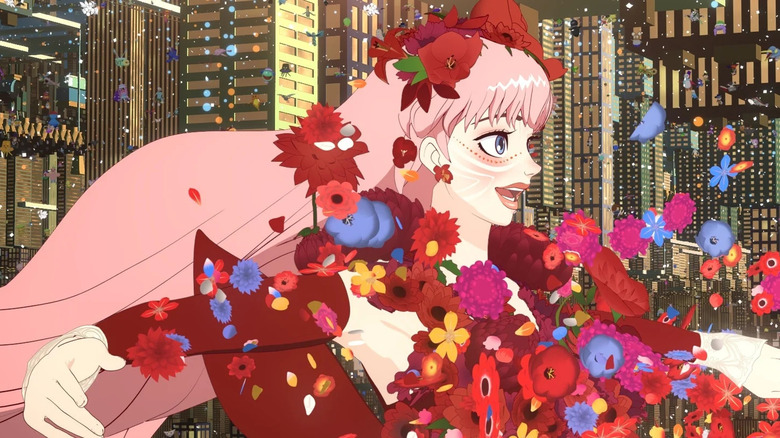 GKIDS
From early in his career, Mamoru Hosoda has been interested in the internet, and portraying it in different ways than most films and shows out there. When "Digimon Adventure: Our War Game!" premiered in 2000, it followed in the footsteps of such classics as Satoshi Kon's "Perfect Blue" and the show "Serial Experiments Lain," two anime that focus on the dark side of having an online persona and the identity crises that arise from virtual reality. 
But that's not Hosoda. Between "Digimon," "Summer Wars," and now "Belle," the animator has pushed forward his belief of the internet as a place of communication, of togetherness, and a place that can do good. Even in their visual design, each film has made the internet feel more like a real place, from "Digimon" having an analog, warehouse-like look with dial-in tunnels connecting spaces, to "Belle" portraying a massive, never-ending metropolis.
Indeed, in the era of the metaverse, and movies like "Ready Player One" focusing on the commercialization of virtual spaces, "Belle" makes its virtual world into a place to discover yourself and find hope. Hosoda mostly shies away from the toxicity of the internet and instead focuses on how the internet gives the protagonist Suzu the confidence to try singing in public. Though a shy girl with few social connections in real life, Suzu becomes a better person both in the real world and online by having an avatar. She connects to classmates she had never spoken to, learns to accept a traumatic event in her past, and even saves a life thanks to the internet.
A new tale as old as time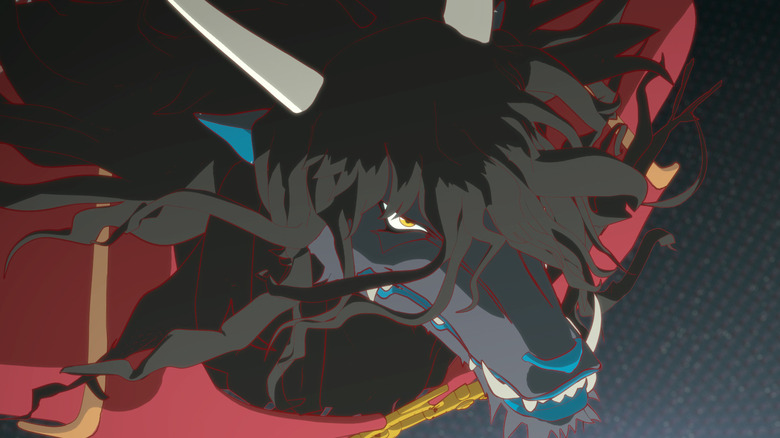 GKIDS
The bare bones of the story are obviously inspired by the French fairy tale "Beauty and the Beast," particularly the 1991 Disney animated film, right down to a fantastic soundtrack, a battered castle, and a Gaston (here reimagined as a bully superhero with tons of sponsors). That being said, "Belle" has something else in mind.
Rather than a straight romance, "Belle" is all about the internet offering a refuge to people from the troubles of daily life (without diving into a dark story about mixing reality with fiction) and allowing us to connect and help one another. Belle's fascination with the Beast is not romantic in nature, but about how scarred souls shine like stars. The internet has helped us realize that we are not alone in our problems, and being able to find and relate to someone even if you've never met them is something that few filmmakers explore at a scale like Hosoda does here.
And "Belle" does all this while also having a fantastic soundtrack and gorgeous visuals. Hosoda employs 3D in a fascinating way, completely separating the 2D visuals of the real world, with the 3D extravaganza of the virtual reality world. Then there's the globalized aspect of the film, which reflects its idealistic portrayal of the internet. From British architect Eric Wong designing the virtual world of U, to Michael Camacho and Disney animator and designer Jin Kim ("Frozen") making Belle the closest to a Japanese Disney princess we've got, to Oscar-nominated Irish studio Cartoon Saloon providing background artwork, this is truly a film that only exists because of the internet, one that gathered all these names due to online interconnectivity.
"Belle" may be a bit too idealistic for some audiences, but its relentless optimism is all too infectious.