Why Richard Madden Was 'Thankful To Leave' Game Of Thrones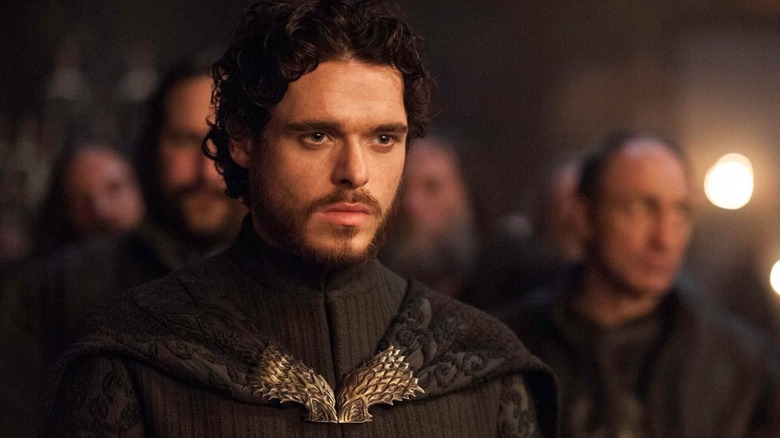 HBO
Despite how it ended, we all have to agree that it was rare for a television show to accomplish what "Game of Thrones" did. The extent of character-driven storytelling depicted through its vast, immersive world was the basis of its appeal. Its breathtaking cinematography was a feat on its own, making the world of Westeros a place where any problem can be tackled with a sword or a saddle. The overwhelming success of "Game of Thrones" made it the biggest television show in the world — with several actors clamoring to join the show in any capacity. It was a dream for Richard Madden (who played Robb Stark for three seasons) to have stayed on the series for as long as he did, but when the time came for him to leave, the Golden Globe-winning actor was only "thankful" for his experience.
Since leaving "Game of Thrones," Richard Madden has dabbled in many genres — he's played a prince, a police officer, a soldier, and even a superhero. And he probably wouldn't have been able to do any of this if it wasn't for his timely "Game of Thrones" exit.
Playing Rob Stark for five years wasn't easy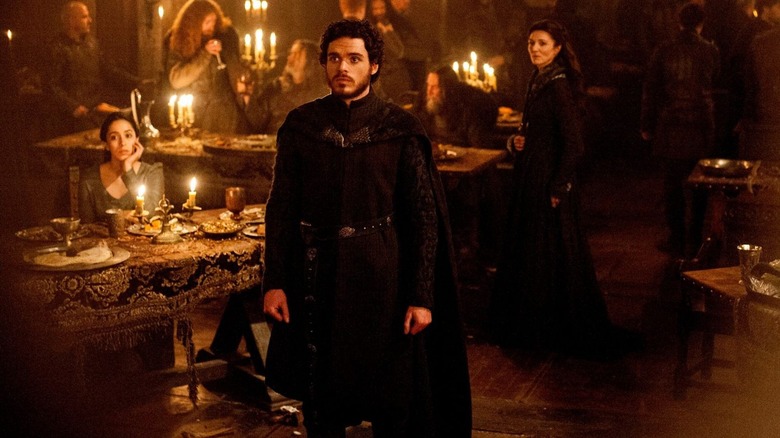 HBO
In Variety's "Actors on Actors" interview with Amy Adams, Richard Madden revisited his years working on "Game of Thrones." Although Madden's character Robb Stark was one of many who met with a tragic, brutal death toward the end of season 3, his other co-stars went on to star in all eight seasons of the show. The actor spent five formative years of his career filming "Game of Thrones," and he is grateful for everything he learned.
"I died at the end of season 3. It was such a hard thing to finish because from first pilot to my death was five years. But five years was a great time to be on the show. It helped me so much with my career and experience. I learned a lot from shooting 30 hours of television. You really start to learn the trade doing that. And then I was thankful to leave it. The actors on it now must be 11 years into playing these characters. Give these guys some medals, because that is a marathon."
'There's a restraint that comes from doing these television shows'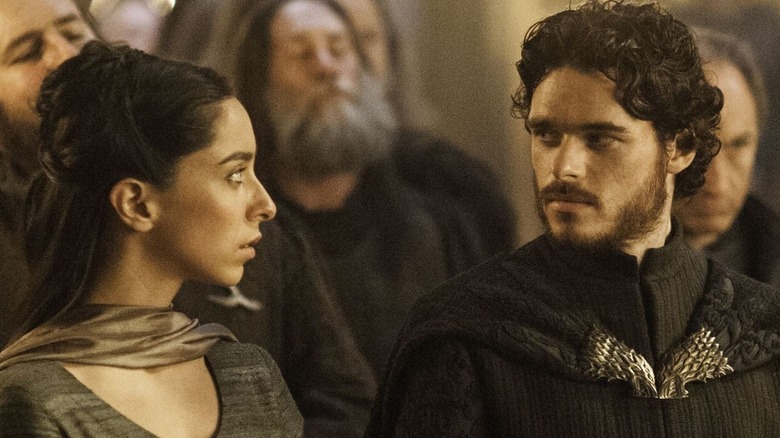 HBO
While Madden was thrilled by the prospect of working in different genres and taking on other roles, he was "sad" to leave behind his "Game of Thrones" family, with whom he spent a lot of time. The actor shared, "I was happy to move on from that and work through the rest of my twenties doing other jobs, other characters. There's a restraint that comes from doing these television shows because sometimes you can't — you're not allowed to do other things."
The actor explained that navigating multiple projects while starring in television shows was challenging because of scheduling conflicts and press commitments. As sad as he was that his time on "Game of Thrones" was up, Madden was very "comfortable" and ready for his departure.
Robb Stark was dishonorably slain by the Freys in "The Rains of Castamere," the penultimate episode of season 3. He was shot by multiple crossbows, stabbed by a dagger to the heart, and his corpse was later decapitated, with his direwolf's head sewn onto his. The King of the North was massacred during the Red Wedding alongside his mother, Lady Catelyn Stark, and his pregnant wife, Queen Talisa. "Game of Thrones" might have one too many shocking moments — but the brutal Red Wedding has been impossible to forget, for its shock value and jaw-dropping conclusion, ever since the episode aired in 2013.