Eternals Star Richard Madden Is Used To Playing Characters Torn Between Love And Duty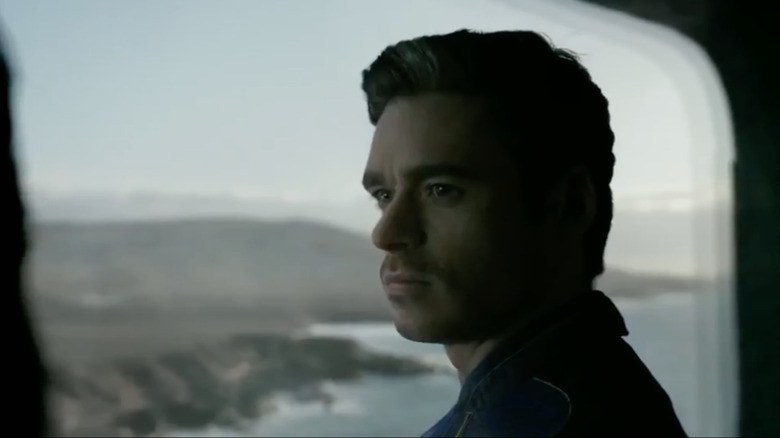 Walt Disney Pictures / Marvel Studios
Marvel is weeks away from bringing its sweeping sci-fi epic to the big screen. "The Eternals" promises to shake up the MCU, delving deeper into the cosmos and introducing an entirely new set of heroes, in the ancient and powerful Eternals. Among them is Richard Madden's Ikaris, already making a name for himself as the "Superman" of the MCU. But as the Marvel marketing machine works its magic, the film's stars have begun to offer some new insights into their characters. So besides his very threatening eye lasers, what else do we know about Ikaris?
According to Madden, Ikaris shares a lot in common with his previous roles. Though he wasn't defending the world from aliens in "Bodyguard," the politically-charged British series saw him caught in a complicated romance and struggling to determine his loyalties. The same could very well be true of Ikaris, who takes pride in keeping his fellow "Eternals" safe but will have a grander threat to thwart as the emergence begins and the Deviants arrive. Ikaris also has romantic history with Sersi (Gemma Chan), and it's not difficult to imagine emotions making matters worse. At a press conference attended by /Film's Hoai-Tran Bui, Madden said:
I'm used to characters who are very focused on their love and that comes out, and with Ikaris, it's the opposite of that... He's kind of trying to bury that love because it gets in the way of his duty and is constantly wrestling the two. And that's kind of what made it really interesting for me to pull out that relationship with all the characters from Sprite to Sersi.
A Lover AND A Fighter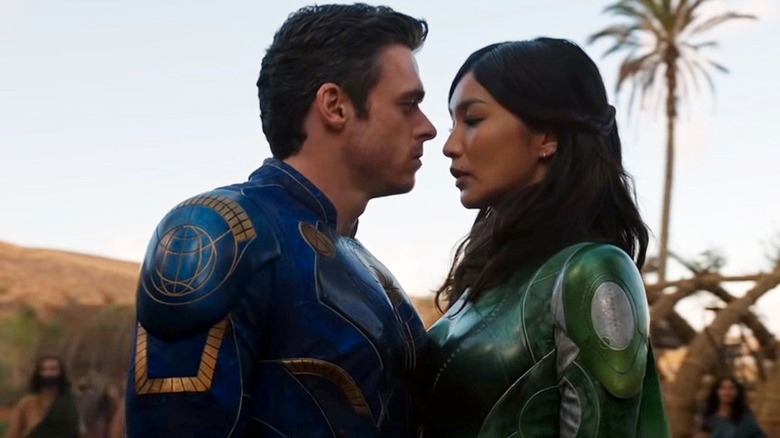 Walt Disney Pictures / Marvel Studios
As we all know, Madden is no stranger to wrestling with love and duty. He's best known as the poster child of letting love lead decision-making, Robb Stark himself. On "Game of Thrones," Madden's character struggled to prioritize love in the midst of an ongoing war and the end results were ... messy. Here's hoping Ikaris' conflict doesn't get quite that dark but, whose to say? Madden has stressed that love is a key part of his character's journey. 
He added:
I'm kind of used to playing lovers, often. And to play someone who's such a soldier, but is completely driven by love... All his decisions are driven by love and it's actually him wrestling with that.
Early footage and trailers of "Eternals" has teased a love triangle that pits Madden's Ikaris against Dane Whitman (aka Black Knight), played by "Game of Thrones" alum Kit Harington. Once upon a time, the pair played medieval brothers — but now they'll fight for Sersi's (no, not that Cersei) heart. This might be especially difficult for Ikaris, given everything else going on, but he'll just have to balance the best of both worlds —  following his heart and defending the world. Will it be challenging to steal Sersi's heart back in the middle of a world-threatening cosmic calamity? Probably. But if this magnificent space alien can't find love, then the rest of us are doomed. 
"Eternals" arrives in theaters on November 5, 2021.