Here's Why Netflix's The Sandman Looks So Stretched Out
Netflix
"The Sandman" recently premiered on Netflix — and it has totally taken the streamer by storm. That said, all the commentary hasn't necessarily been glowing. In fact, some fans have questions, particularly about the distorted aspect ratio used in the series.
Will Baldy, Sam Heasman, and George Steel serve as the show's cinematographers, and they have brought a surrealist and heavily dream-like feel to much of the new series. In it, they morph what the audience sees on screen into stretched faces and elongated images, almost giving the show the overall feeling of Salvador Dali's famous melting clocks painting "The Persistence of Memory."
However, Netflix has since opened up about the decision to use such a strange aspect ratio. "As you'll note many of the environments are surreal in the series and we often say it's quite what a dream would feel like," a company spokesperson told Variety in a statement following the backlash.
According to some fans, the aspect ratio made the new show "confusing" and "annoying," among a whole host of other negative adjectives. But hey, good art can't make everyone happy, can it?
The Sandman, the lore, and the DCEU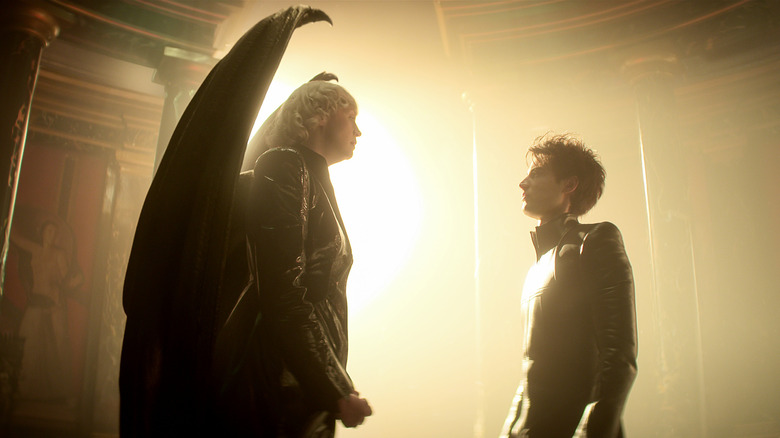 Netflix
"The Sandman" is based on Neil Gaiman's celebrated comic book series of the same name, which ran from 1989 to 1996 for a total of 75 issues. In the TV adaptation, Tom Sturridge stars as Dream, also known as Morpheus. He exists in a realm separate from our own called the Dreaming — and after being captured, his disappearance becomes the catalyst in pivotal ways that shift both the sleeping and waking worlds as he strives to revive the Dreaming.
On the heels of heavy discussion about the fate of the DCEU within the troubled Warner Bros. Discovery umbrella, it is interesting to see a character from that franchise debuting positively via another streaming platform. Netflix has always had a great handle on comic book properties — "Daredevil," "Jessica Jones," and "Luke Cage" are just a few that come to mind — but the timing is pretty noteworthy. It certainly has me wondering how the newly merged streamer plans on reshaping the DCEU going forward, especially considering how harsh of a decision was made about "Batgirl." Netflix has always been very willing to let filmmakers play in the big budget sandbox, so it's possible we will continue to see the more genre-defying and boundary-pushing properties ("The Sandman" was originally published on DC's Vertigo label, for example) live there while more classic franchises (your Supermans and Justice Leagues and such) will be retooled through Warner Bros Discovery. Only time will tell.
Season 1 of "The Sandman" is now available to stream on Netflix.