Stranger Things Star Charlie Heaton Struggled To Say One Important Word With An American Accent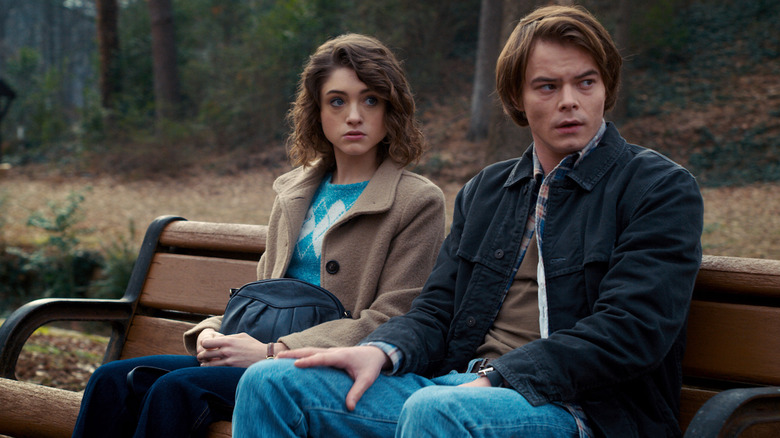 Netflix
The career of Charlie Heaton has been dominated by his breakthrough role on "Stranger Things" as Jonathan Byers, so unless you're a "Stranger Things" obsessive fan who watches interviews of the cast, you may be surprised to hear Heaton speak outside of character. Heaton hails not from Indiana, but Leeds, West Yorkshire, England. Although Heaton had performed a bit on British TV before "Stranger Things" came calling, the role of Jonathan Byers inarguably put him on the map.
"This [was] my first major role with an American accent, and it went pretty smoothly," Heaton said in the behind the scenes book, "Stranger Things: Worlds Turned Upside Down." However, there was one very important word that gave him trouble in an American accent.
The word is "Nancy," the name of his character's girlfriend, played by his real-life partner, Natalia Dyer. "It ended up being a joke with the crew," he said. "The forest scene where Jonathan is running around the woods screaming, 'Nancy' — I couldn't say it." Heaton said the night shoot ran into the early hours of the morning, with the crew lovingly chanting "Nancy" to him in American accents. "I couldn't get it, which was hilarious."
To be fair, not only is the American accent a hodgepodge of other dialects from around the world, but the Midwest accent is an absolute nightmare to learn. The short "A" vowel sound in "Nancy" is so specific that overdoing it sounds like parody, but letting it hang long sounds too British. I say this as someone who spent years trying to rid my Chicago accent, but learned to accept that I'm always going to sound like I'm talking out of the side of my mouth. (Because I am.)
Heaton wasn't the only Brit struggling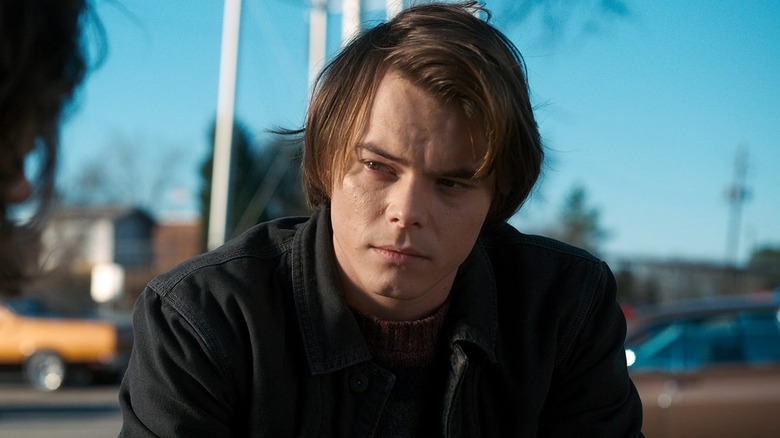 Netflix
With the exception of star Millie Bobby Brown, Heaton has been surrounded by American actors for most of "Stranger Things." Fortunately, season 4 brought a few kindred spirits with Eddie Munson actor Joseph Quinn and Henry Creel/Vecna/One actor Jamie Campbell Bower both booked out of England. While Heaton had four seasons and an entire crew parroting lines at him to get it right, Joseph Quinn said that co-star Joe Keery was his saving grace. I can't help but think this new information is only going to inspire fans to go back and rewatch "Stranger Things" just to see if they can hear a difference in how Heaton says "Nancy" over the years. Who are we kidding, diehard fans don't need an excuse to rewatch anything.
Fortunately, all of the actors are so talented that most people are shocked to discover they're all from across the pond. Heaton is also in good company, as many British actors have struggled to nab the American accent. During an episode of "The Late Show with Stephen Colbert," actor Hugh Dancy confessed that his kryptonite is "Carnegie Hall," "hovering," and "squirrel."