Million Dollar Baby Is A Case Study In How Clint Eastwood Builds A Character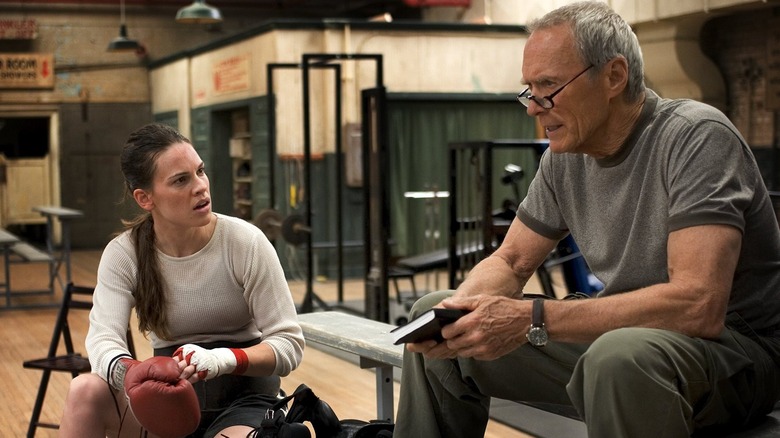 Warner Bros.
Clint Eastwood's 2004 movie "Million Dollar Baby" arrived in theaters with the strength of a knockout blow. The boxing drama was adapted by Paul Haggis from a short story from the book "Rope Burns: Stories From the Corner" by former boxing cutman Jerry Boyd. The film won four Academy Awards, including Best Picture and Best Director. Co-stars Hilary Swank and Morgan Freeman both won Oscars for their performances in the film.
Despite technically being a sports movie, it moves at an incredibly slow pace and is as much a psychological examination of character as it is a look at the world of professional boxing. Much of the credit goes to Eastwood, who also starred in the film and was nominated for an Academy Award for Best Actor.
"Million Dollar Baby" is also a tool that allows us to peer into the mind of Clint Eastwood and how the veteran actor and director develops character, both his own and others in his films. It's an important exercise when you consider the constant battle between studios and directors and the thought of actors as a studio commodity versus the craft of acting seen as an art form.
For Eastwood, "Million Dollar Baby" is a master class at subtly building characters that stick with you long after the credits have rolled. And his approach is surprisingly simple.
'It's an organic art form'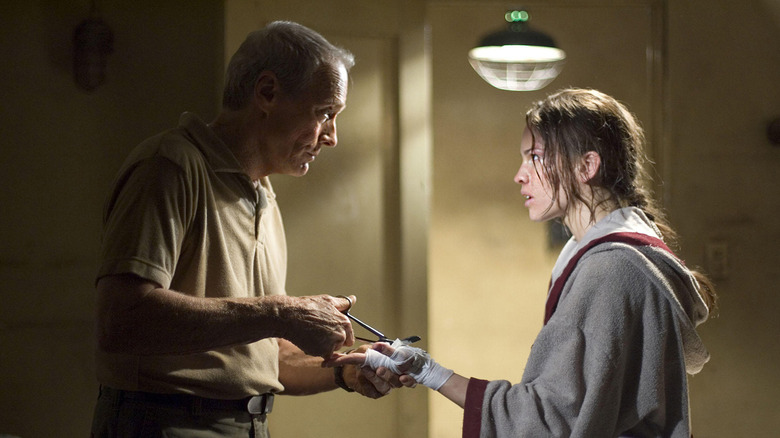 Warner Bros.
In the movie, 31-year-old amateur fighter Maggie Fitzgerald (Swank) convinces hardened gym owner and trainer Frankie Dunn (Eastwood) to teach her to box. When Fitzgerald is critically injured in a fight, Dunn retreats into a deep cavern of nihilism and depression.
The film explores opposing themes of hope and despair. For Swank's character Maggie Fitzgerald, Eastwood helped the actor tap into her personal history. Swank left a life of poverty for Hollywood as a teenager. Her character was chasing a dream the same way she had done years prior. When Swank accepted her Oscar for Best Actress she said, "I don't know what I did in this life to deserve all this. I'm just a girl from a trailer park who had a dream."
But when it came to creating his character, who closes himself off from the world, Eastwood uses the same approach he uses when directing, keeping it simple to make it appear natural. In an interview with the Lincoln Center's Film Comment website, the veteran actor discussed creating a character:
"At some point, you realize that you have to play on an organic level. And once you get past the nervousness about technique, and past the fact that you have to say lines that were written for the character, you realize you have to bring it from within. It's an organic art form."
Going beyond dialogue and action in "Million Dollar Baby," Eastwood uses nuanced, taut facial expressions and a curt, gravelly voice to portray the callous mentor. Once he begins training his new female protégé, Eastwood turns all of that down a notch, softening as he develops a paternal relationship with his fighter. It's a craft he's been perfecting for years.
He uses his age to his advantage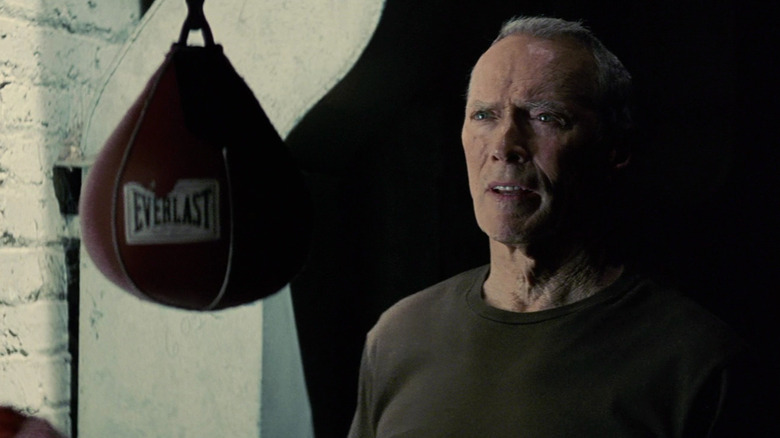 Warner Bros.
Eastwood is an accomplished director with a pair of Best Picture and Best Director Oscars ("Million Dollar Baby" and 1992's "Unforgiven"). But before his work behind the camera, Eastwood became a household name as an actor. His work in Westerns and action films such as "Dirty Harry" made him a cultural icon. Now 92 years old, the actor chooses to use his age to his advantage. Eastwood said:
"I've always felt people must progress. If there's any advantage to age, it's knowledge and experience, and until the day that some sort of presenility sets in, I figure I'll just go ahead and explore that. But if you're not willing to accept your age, you can't do that. You just sit there and say, Well, 40 years ago, I was this guy who came running in and I wielded this gun. Not that I couldn't now to some degree do that but it just isn't right. It seems right to play what's in my zone now...take advantage of the great opportunity that is there to play a person like Frankie with street-style wisdom."
Eastwood also says he's found the right balance needed for directing and acting in the same film. "Sometimes it's all right to come in and be preoccupied," the director said. "And in other scenes, you have to push yourself down to the very bottom and be there in the situation with the other actors, and you can't think about what the camera's doing."
The Hollywood veteran says the skill has come with years of experience, which explains why it seems like Eastwood just keeps getting better with age. For an actor that played some of the most belligerent characters in film history, it's ironic that he only seems to adapt and change with time.