Unforgiven Marked The End Of An Era For Clint Eastwood's Film Career
Warner Bros.
Clint Eastwood is one of the most celebrated filmmakers in the world, but it wasn't always thus — especially in America. Having gotten his start on the long-running TV Western "Rawhide," Eastwood subverted his cowboy image via his appearances in Sergio Leone's "Man with No Name Trilogy" (i.e. "A Fistful of Dollars," "For a Few Dollars More," and "The Good, the Bad and The Ugly"). In the 1970s and into the '80s he was best known as "Dirty Harry" Callahan, a renegade, due-process-loathing cop hellbent on cleaning up the scumbag-infested streets of San Francisco. Clint Eastwood was larger than life, and the films that made and sustained his stardom (which included the redneck orangutan duology of "Every Which Way But Loose" and "Any Which Way You Can"), weren't always high-minded entertainment.
Those who'd been paying attention to Eastwood's career outside of his hits, however, knew he had a predilection for undercutting his tough guy persona in movies like "The Beguiled," "Play Misty for Me," and "Honkytonk Man." As he neared sixty, the filmmaker began to take risks as a director. A huge jazz devotee, he tried, and failed, to make sense of the tortured life of pioneering saxophonist Charlie Parker with "Bird." He then attempted "White Hunter, Black Heart," an adaptation of Peter Viertel's barely fictionalized account of the time he spent with John Huston during the shoot of "The African Queen." It was a fascinating topic, but Eastwood couldn't find his way into the material.
Then he found "Unforgiven."
The Western marked Eastwood's birth and salvation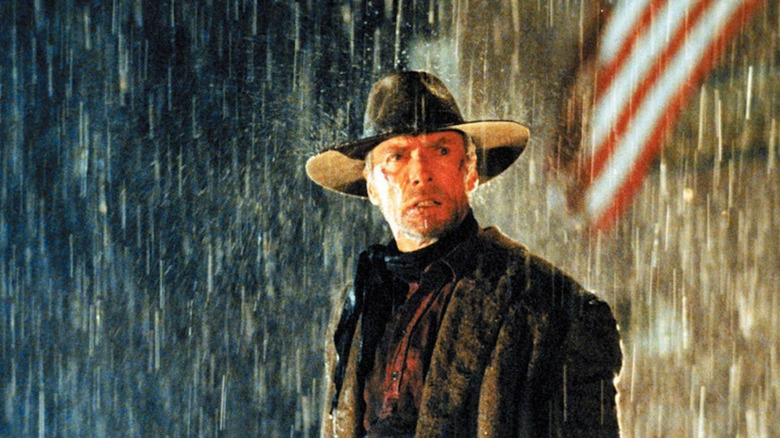 Warner Bros.
The Western as a genre had been subject to revisionism since the 1950s, with outré works like Nicholas Ray's "Johnny Guitar" and the original "3:10 to Yuma," but the genre was fairly close to dead by the early 1990s. This was not the time to make a Western, but Eastwood couldn't help himself. He'd discovered a brilliant screenplay by David Webb Peoples about a reformed assassin named Will Munny who gets dragged out of retirement to hunt down a gang of cowboys who participated in the disfigurement of a prostitute in Big Whiskey, Montana. "Unforgiven" was greeted rapturously by critics, which, as Eastwood told Cahiers du Cinéma, was a welcome surprise:
"Actually, the Europeans encouraged me much more from my first film as director, 'Play Misty for Me,' than the Americans, who had a hard time convincing themselves I could be a director because they already had a hard time recognizing me as an actor. They were asking, 'Why is he doing that? Who does this guy think he is?,' that sort of thing. The Europeans, on the other hand, supported me a lot in the beginning and tried to find some value in what I was doing."
An ambiguous man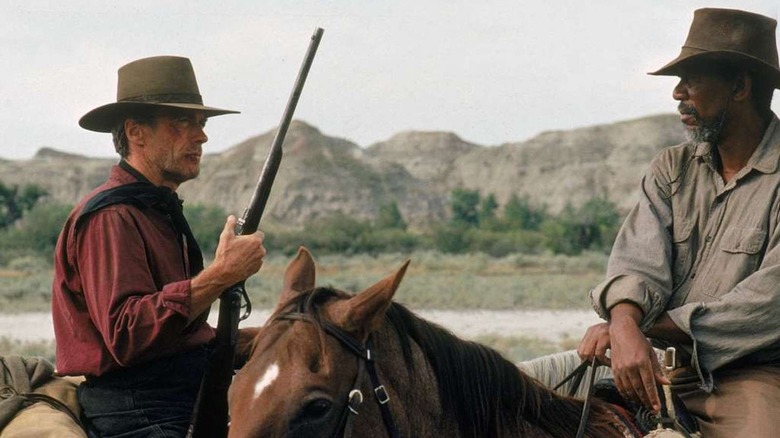 Warner Bros.
Eastwood had earned critical acclaim for his 1976 Western "The Outlaw Josey Wales," but that film could only eke out a Best Original Score nomination from the Academy of Motion Picture Arts and Sciences. "Unforgiven" drastically altered his peers' perception of him, or perhaps more accurately, honed it. Eastwood had been making films about vengeful cops and cowboys for most of his career. But now, decades after cutting his teeth on "Rawhide," he could step back and express ambiguity about his image and the violence associated with it — violence that, to this day, threatens to tear America apart. Finally, people understood him.
Eastwood isn't one to philosophize over such notions, but as he told Scott Foundas of DGA Quarterly, he is grateful for the role "Unforgiven" played in a career dominated by Westerns:
"I just kept grinding them out, like a machinist, and I guess some people might go back and, in hindsight, say, 'Well, this wasn't so bad.' 'The Outlaw Josey Wales,' for example — I would say that, judging from the man on the street, that's the most popular Western I've ever done. But 'Unforgiven' did break through in a way."