Canada Let Clint Eastwood Skirt The Law To Film Unforgiven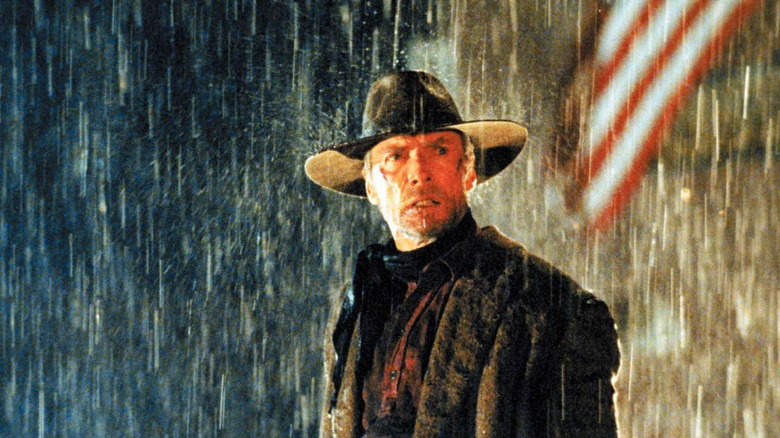 Warner Bros. Pictures
John Huston and Humphrey Bogart. George Cukor and Katharine Hepburn. Martin Scorsese and Robert De Niro. (Martin Scorsese and Leonardo DiCaprio, for that matter.) Hollywood history is full of fabled actor-director pairings. But what of the equally vital duos behind the camera? Think Steven Spielberg and his longtime director of photography Janusz Kamiński. Scorsese and his lifelong editor Thelma Schoonmaker. You could even add Clint Eastwood and cinematographer Jack N. Green to that list for the string of films they made across 23 years, including "Unforgiven" and "The Bridges of Madison County."
Per the Internet Encyclopedia of Cinematographers, Green started out as a camera operator on Eastwood's 1977 crime-thriller "The Gauntlet." He continued to work in that capacity on Eastwood's directorial efforts until 1986's "Heartbreak Ridge," at which point he was bumped up to director of photography. By then, Green had come to embrace the tenets of Eastwood's filmmaking style, which includes minimalist lighting and a focus on efficiency and craft that serves the story without calling attention to itself. His fidelity to the actor-director's methods also earned him a spot among Eastwood's trusted crew who teamed up with him time and time again on all his movies.
In 2012, two decades after earning his first and, to date, only Oscar nod for Best Cinematography on "Unforgiven," Green spoke to Esquire about working with Eastwood and being a member of his movie "family." Turns out, it was actually Eastwood's commitment to his "family" that led to him filming much of "Unforgiven" in Alberta, Canada.
[In Vin Diesel voice] I don't have friends, I got family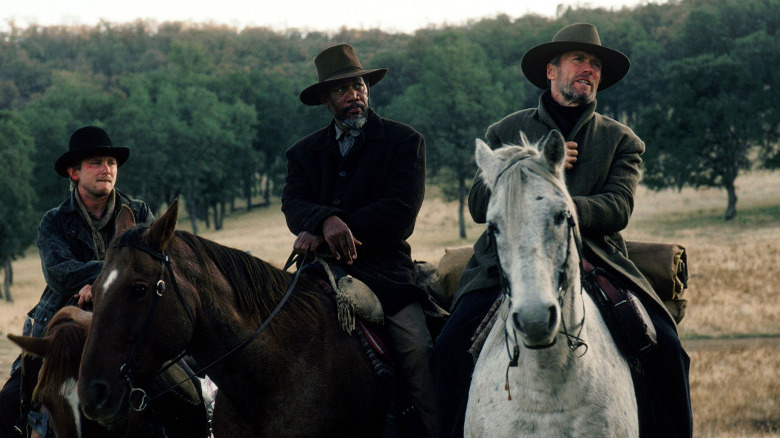 Warner Bros. Pictures
"Unforgiven" is a somber, contemplative revisionist Western that takes place in small-town Wyoming and the open plains of Kansas circa 1881. Why then did Clint Eastwood and Jack N. Green shoot the picture in Alberta? Well, it's because Canada was willing to let the duo skirt the rules put in place by the country's filmmaking unions, making for a far more efficient production. Like I said earlier: If there's one thing Eastwood values as a director, it's being able to make his movies with as little muss or fuss as possible.
It was all Green's doing, really. Speaking to Esquire, Green explained that he had traveled to Canada to serve as the cinematographer on a non-Eastwood project (which he did not name) when an official from one of the country's filmmaking unions asked him when Eastwood was going to make a movie in Canada. "Never," Green told them, "because he can't bring his family." When the confused official asked how big Eastwood's family was, Green clarified it was "50 or 60 people who go everywhere he goes."
Getting the drift, the official made a deal with Green: Whichever crew members could prove they had worked with Eastwood on more than five of his films could come to Canada to make a movie with him, getting around the union's rules. "Well, that was everybody," Green said, "and that's how 'Unforgiven' came to be shot in Canada."
Green would continue to serve as Eastwood's cinematographer after "Unforgiven" until "Space Cowboys" in 2000. Eastwood would thusly promote Tom Stern, a gaffer on his films since 1982's "Honkytonk Man," to fill Green's old spot for the next 20 years. Let it never be said Eastwood doesn't reward his "family" for their loyalty.