Hilary Swank Kept A Dangerous Secret From Clint Eastwood During Million Dollar Baby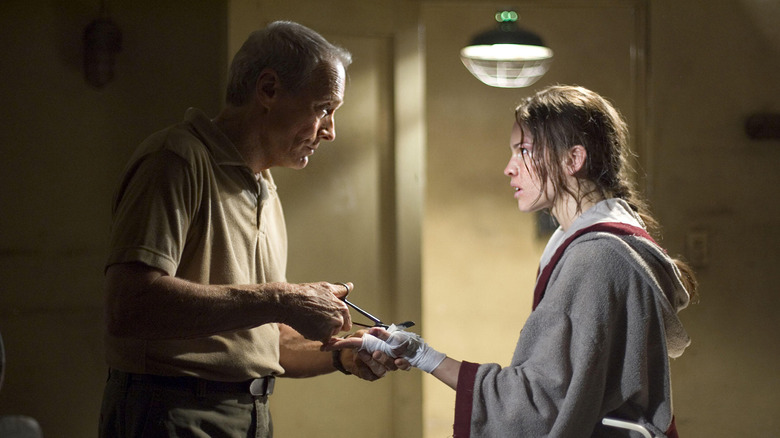 Warner Bros.
In film theory, the term "verisimilitude" means the appearance of truth. It's easy to feel like the 2004 Clint Eastwood film "Million Dollar Baby" is based on a true story. It is far from what you'd expect out of Hollywood. It is dark, gritty, raw, and depressing. Downright exhausting, really. But it's also beautiful in the way it captures hope, determination, and the sweet science behind the sport of boxing in a different light.
The movie is based on a short story from the book "Rope Burns: Stories from the Corner" by F.X. Toole (the pen name of former boxing cornerman Jerry Boyd) and stars Eastwood and Hilary Swank. In the film, curmudgeon boxing trainer and gym owner Frankie Dunn (Eastwood) reluctantly takes on an aging first-time female fighter, Maggie Fitzgerald (Swank). The film was nominated for seven Academy Awards, winning four, including Best Picture.
"Million Dollar Baby" marked Swank's second Oscar for Best Actress (she also won for 1999's "Boys Don't Cry"). But she paid a high price for the award, going far beyond what actors typically do to prepare for a role. The verisimilitude of becoming a fighter meant Swank had to physically transform her body, leading to a life-threatening injury she hid from her director.
Swank added 20 pounds of muscle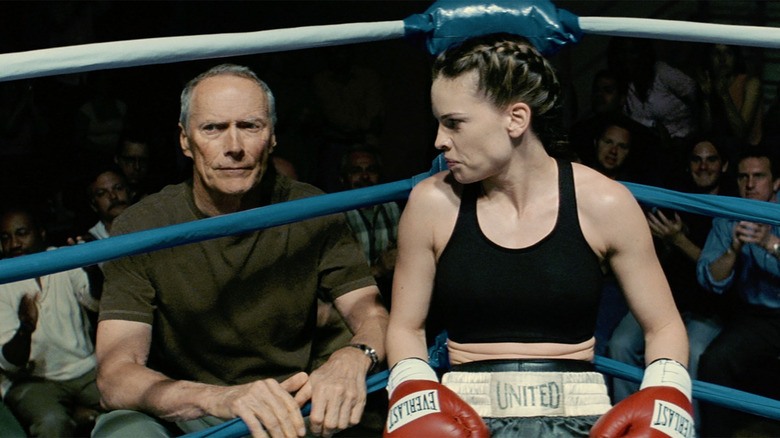 Warner Bros.
Hilary Swank relied on the process of actors relying on their own experiences to tap into the psyche of a character. It wasn't hard for Swank, as her journey to Hollywood mirrored that of her character Maggie Fitzgerald. According to CBS, Swank, like Fitzgerald, grew up in a trailer park and was a high school dropout when she left Washington state for Los Angeles at a young age.
Swank's training for the film is legendary. She trained at New York's Gleason's Gym six days a week for three months. Per the Chicago Tribune, workouts designed to transform Swank's body to that of a fighter sometimes lasted four hours per session. Her caloric intake reached up to 4,000 calories a day, including waking up in the middle of the night for a protein shake to keep on the 20 pounds of muscle. When discussing her progression, Swank said:
"I could do half a pull-up when I first started training. I literally, I tried to pull myself up, and I was shaking. And I couldn't do it. And I couldn't believe it. And then when I was done, I could do 11."
But it was during this time that Swank was keeping something from her trainers and the studio. It was a secret that threatened not only the film, but potentially her life.
She hid a life-threatening staph infection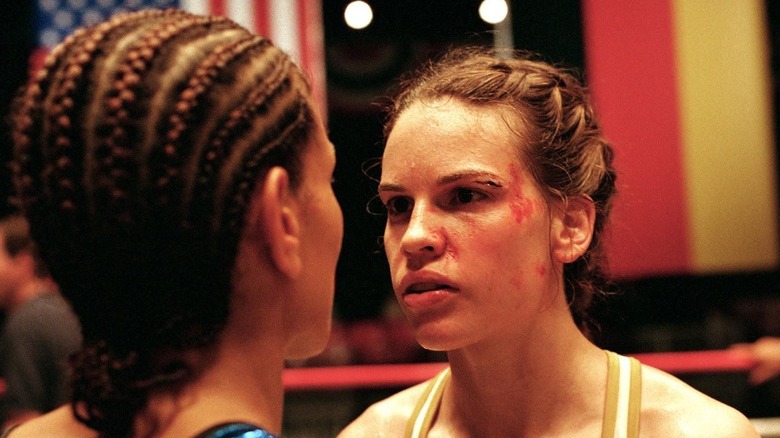 Warner Bros.
During the intense training sessions, Hilary Swank developed a huge blister on her foot, something common for boxers. Within two days, the blister was infected with staphylococcus. Swank barely made it to the doctor before damage was done. Swank told "60 Minutes":
"There were streaks going up my foot. So, I went to the doctor that second, and he looked at me, and he said, 'This is really serious. And if you had waited two more hours, you would have been in the hospital for three weeks. And if it gets to your heart, that's it.'"
Swank hid the scare from Clint Eastwood, treating it as an occupational hazard her character would face. Eastwood credited much of the film's success to Swank's determination to play the role of the fighter. She didn't waste time putting her training to good use. Although Swank had a stunt double, she performed much of the boxing scenes herself.
In the same "60 Minutes" segment, Eastwood called Swank "the best there is, as good an actress as I've worked with." It is certainly high praise from an actor and director of the stature of Eastwood. In a film where Eastwood claimed a Best Director Oscar with masterful long takes, complex boxing sequences, brilliant use of shadow to create mood, and inspiring, naturalistic performances, it was Swank's dedication that ultimately made the film. "Million Dollar Baby" ended up being a $216 million dollar baby worldwide at the box office. Like her character is known for in the film, Swank easily scores a first round knockout for the dedication to her craft in "Million Dollar Baby."