Teenage Mutant Ninja Turtles: Mutant Mayhem: Everything We Know About Seth Rogen's Animated Reboot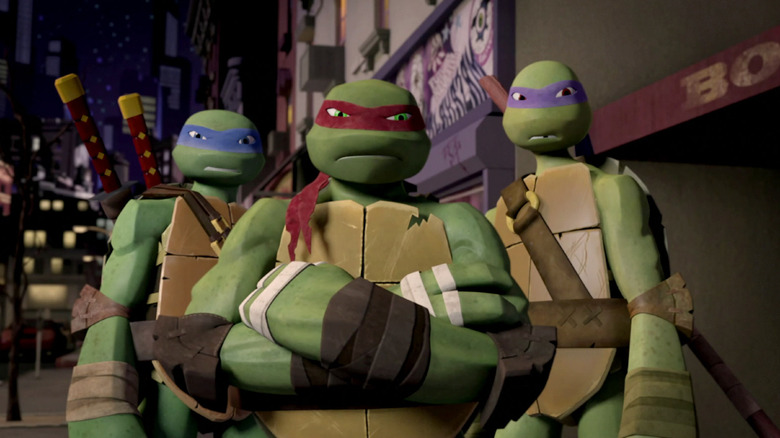 Nickelodeon
There's just no stopping the green. More than 30 years after its release, director Steve Barron's live-action 1990 film "Teenage Mutant Ninja Turtles" remains the benchmark for movies featuring anthropomorphic, pizza-loving turtles battling villains named after office equipment. Even its sequels had a hard time replicating the curiously-perfect alchemy of Barron's superhero action-comedy, despite having larger budgets and the power of, uh, Vanilla Ice at their disposal.
One animated feature and two Michael Bay-produced live-action/CGI movies later, the "Teenage Mutant Ninjas Turtles" franchise is headed back to the big screen, this time as an animated romp titled "Teenage Mutant Ninja Turtles: Mutant Mayhem." The film hales from producers Evan Goldberg and Seth Rogen, neither of whom are strangers to comic book adaptations ("Preacher," "The Boys"), animated projects ("Sausage Party," "Invincible"), or movies that center on teenagers and their shenanigans ("Superbad," "Blockers"). 
However, if you're expecting Goldberg and Rogen to deliver a raunchier take on the Heroes in a Half-Shell based on their previous work, think again. Instead, as the duo have described it, "Mutant Mayhem" will very much emphasize the "Teenage" part of "TMNT."
What is Mutant Mayhem about?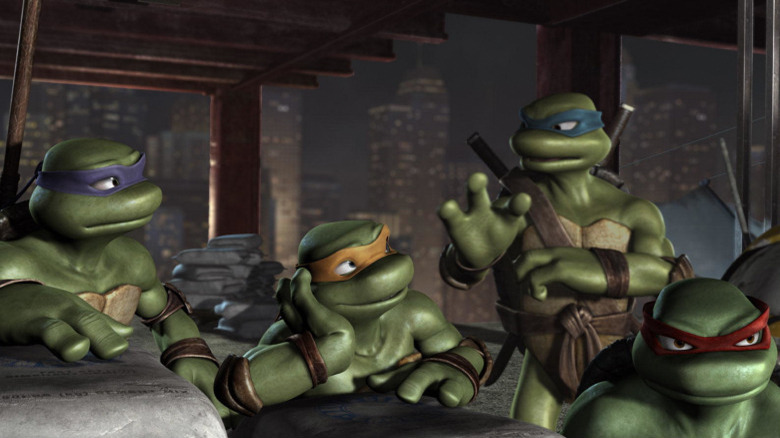 Warner Bros. Pictures
For a property that literally has "Teenage" in the title, it's strange how often the "Teenage Mutant Ninja Turtles" films have neglected to really dig into the idea of the Turtles being adolescents. Out of all the "TMNT" big screen adaptations so far, the original 1990 live-action movie probably spends the most time focusing on the titular heroes' coming-of-age journey, be it by exploring Raphael's struggle to avoid giving into his toxic impulses or the pressure Leonardo feels serving as the Turtles' leader and the de facto older sibling of the group.
Seth Rogen talked about just that in 2020, stating that "Teenage Mutant Ninja Turtles: Mutant Mayhem" will really try to embrace the idea of being a film about teenagers (ones that just happen to be mutated reptiles):
"As a lifelong fan of Ninja Turtles, weirdly the 'Teenage' part of Teenage Mutant Ninja Turtles was always the part that stuck out to me the most. And as someone who loves teenage movies, and who's made a lot of teenage movies, and who literally got their start in their entire profession by writing a teenage movie, the idea of kind of honing in on that element was really exciting to us. I mean, not disregarding the rest, but really using that as kind of a jumping off point for the film."
Who is working on Mutant Mayhem?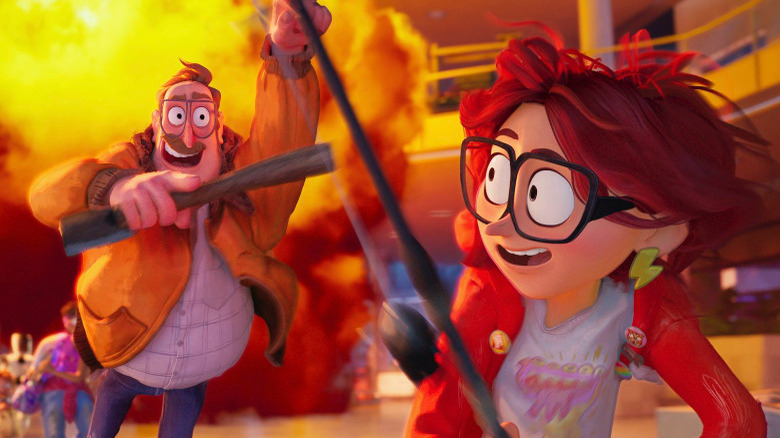 Netflix
Joining Evan Goldberg and Seth Rogen as a producer on "Teenage Mutant Ninja Turtles: Mutant Mayhem" is James Weaver, the president of the duo's Point Grey Pictures label. Elsewhere, "Neighbors" and "Neighbors 2: Sorority Rising" writer Brendan O'Brien is reportedly penning the script, with "The Mitchells vs. the Machines" co-writer and co-director Jeff Rowe calling the shots.
At the 2022 Annecy International Animation Film Festival, Rowe once again emphasized that "Mutant Mayhem" will focus in on the "Teenage" part of the franchise. He also provided a sneak peek at the film's animation, which was inspired by the doodles he would make on the margins of his notebooks in high school. /Film's Rafael Motamayor described the brief bit of footage that was shown at the event as having "a rough, hand-drawn look despite its 3D-CG animated characters, with a layer of 2D effects like those in 'Arcane' that accentuate the rad mind of a teen."
Lastly, Rogen has confirmed the Turtles themselves will be voiced by actual teenagers rather than adult voice actors. Will that union of elements be enough to restore the franchise to its full (Turtle) power? Here's hoping for the best!
"Teenage Mutant Ninja Turtles: Mutant Mayhem" opens in theaters August 4, 2023.