For The Lion King Movies, Seth Rogen And Billy Eichner Do Something Rarely Done In Voice Acting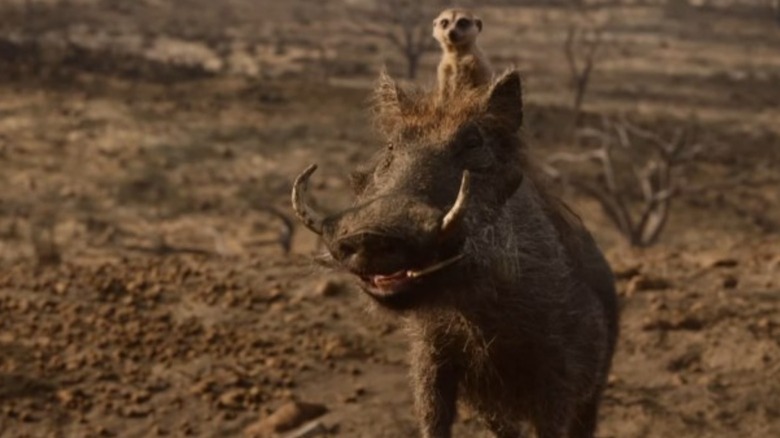 Disney
Hey, remember that prequel to Disney's "live action" version of "The Lion King"? It was announced during the doldrums of the pandemic and is set to be directed by the incredibly talented "Moonlight" and "The Underground Railroad" filmmaker Barry Jenkins? Not only is it still in the works, but it's set to include some familiar returning voices, include Seth Rogen and Billy Eichner as the beloved duo Pumbaa and Timon. In a recent interview with Variety, Rogen spoke about the making of the prequel, and revealed that the recording process for the film isn't quite like the way most voice actors do it.
In a break from voice acting tradition, Rogen told the outlet that the process for "Mufasa: The Lion King" and its predecessor actually allowed him to share the studio with Eichner. By contrast, most voiceover performances are done in separate booths that don't allow for much riffing or in-person comedic chemistry. "It's so rare that I actually get to be in the room with the person that I'm performing with," he told the outlet. "And when it's someone like Billy, who is just so funny and fun to perform with, we have a good dynamic that makes it a real pleasure."
The comedic dynamic duo is back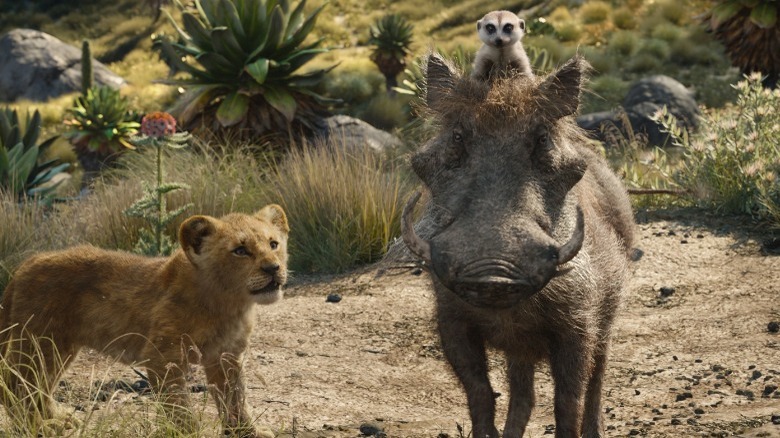 Disney
The pair's goofy sense of humor and comedic timing were certainly among the most memorable parts of the 2019 film, which was among the most financially lucrative entries of the Disney CGI remake era. "The Lion King," a fairly by-the-numbers revamp which starred Beyonce and Donald Glover, raked in over $1.6 billion dollars at the global box office, more than enough to warrant its upcoming prequel.
The new film reportedly won't follow an existing "The Lion King" storyline, but will tell the stories of Scar and Mufasa from a young age. In addition to Rogen and Eichner, "Mufasa: The Lion King" will star two talented young performers, Aaron Pierre ("Old," "The Underground Railroad") and Kelvin Harrison Jr. ("Luce," "Waves") as the lions who will one day play out their own African plains-set version of "Hamlet." 
First footage from "Mufasa: The Lion King" was already revealed at D23 this year, introducing baby Mufasa and ending with voiceover from Eichner and Rogen, indicating they may help narrate the story. "So wait, you're telling the story without us?" the meerkat and warthog interject, interrupting Rafiki. 
"Mufasa: The Lion King" does not have a set release date, but is reportedly expected in 2024.