Teenage Mutant Ninja Turtles: Mutant Mayhem Trailer: It's Time To Cowabunga Again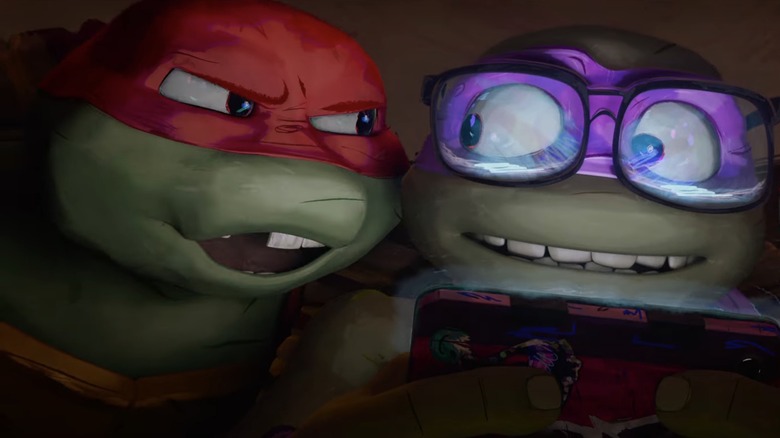 Paramount
No matter if your screen is big or small, you just can't keep the heroes in a half-shell off of it. Following the release of the new logo on the Teenage Mutant Ninja Turtle's Instagram account, the trailer for the new movie, "Teenage Mutant Ninja Turtles: Mutant Mayhem" has arrived.
The film is directed by Jeff Rowe, co-writer of "The Mitchells vs The Machines" and several episodes of "Gravity Falls" and "Disenchantment." The film is produced by Seth Rogen and Evan Goldberg; as children of the 1980s, the pair would have grown up at the height of Turtle-mania.
Rogen has said the film will be "deeply personal," and highlight the "teenage" part of these heroes. The script is credited to Brendan O'Brien, who co-wrote the 2014 Rogen comedy vehicle "Neighbors." This isn't Rogen's first foray into animation — he was a writer and producer on 2016's "Sausage Party" — but I imagine that "Mutant Mayhem" won't have as much of Rogen's trademark vulgar comedy.
Back on the big screen
Based on what's been revealed so far, "Mutant Mayhem" looks like a back-to-basics type of movie. These versions of Leonardo, Raphael, Michelangelo, and Donatello aren't famous heroes yet, but after living in the sewer, they're ready to be accepted by New Yorkers. They make at least one friend, April O'Neil, but soon have to contend with a crime syndicate and mutant army.
There's no sign of the TMNT's usual foes, the Shredder and the ninja Foot Clan. But after all, it's pretty common in superhero movies to save the arch-enemy for the second movie, allowing the focus to be squarely on the heroes instead.
Ever since the '90s Teenage Mutant Ninja Turtle movie, the Turtles have had a long run on the big screen, though not always a successful one. That movie was followed by two sequels, "Secrets of the Ooze" in 1991 and the subtitle-less third film in 1993. After a hiatus, a CGI animated film titled "TMNT" was released in 2007 to middling reception. Then came another shot at live-action, in 2014's "Teenage Mutant Ninja Turtles" and its sequel "Out of the Shadows." The latest "Ninja Turtles" film was a 2022 spin-off of the last TV series, "Rise of the Teenage Mutant Ninja Turtles," released via Netflix. How "Mutant Mayhem" compares remains to be seen, but I'd say setting it in an animated realm is the right direction.
"Teenage Mutant Ninja Turtles: Mutant Mayhem" is set for release in theaters on August 4, 2023.